Wynona Carr
---
Cleveland, 1930s - early 1970s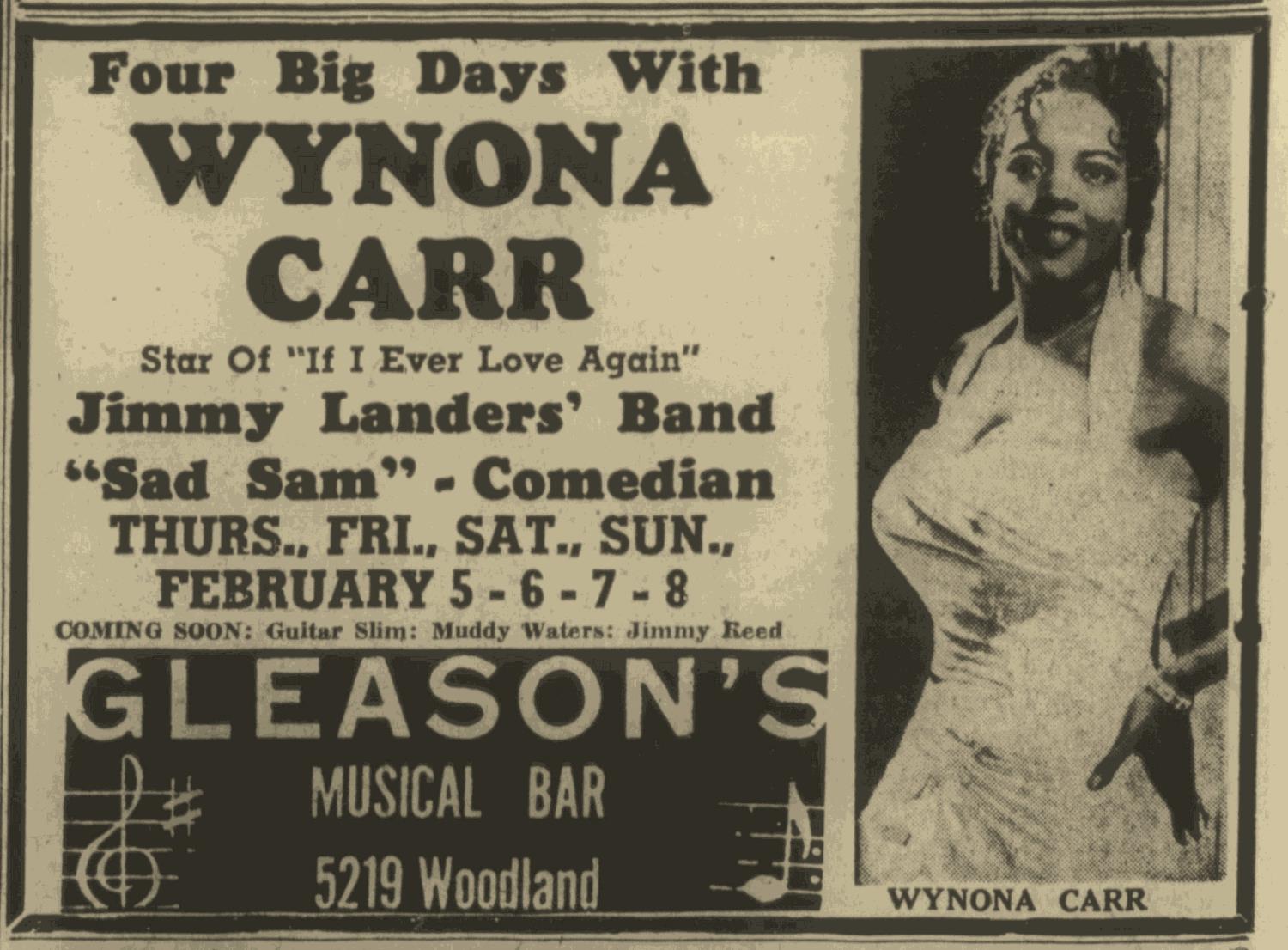 1959 ad, back in Cleveland
Wynona Carr seems to be almost completely forgotten in the discussions of Cleveland music history. There's not even any mentions of her in the Plain Dealer or the Call and Post after the late 1960s, not even an obituary. The biographical info online is often wrong and repetitive.
We'll try and give a brief bio and maybe someone will be inspired to dig deeper and give her the respect she deserves.
In the 1930s, barely in her teens, she was already a leading gospel singer in Cleveland. She performed in Rev Lucas' radio choir, then in the Turner Singers, before forming her own group, the Carr sisters, with her family. Word spread quickly about her talent and she was appearing, as legend has it, at the New Bethel Baptist Church in Detroit, at the behest of Rev. C.L. Franklin. Among the audience was the Reverend's daughter Aretha.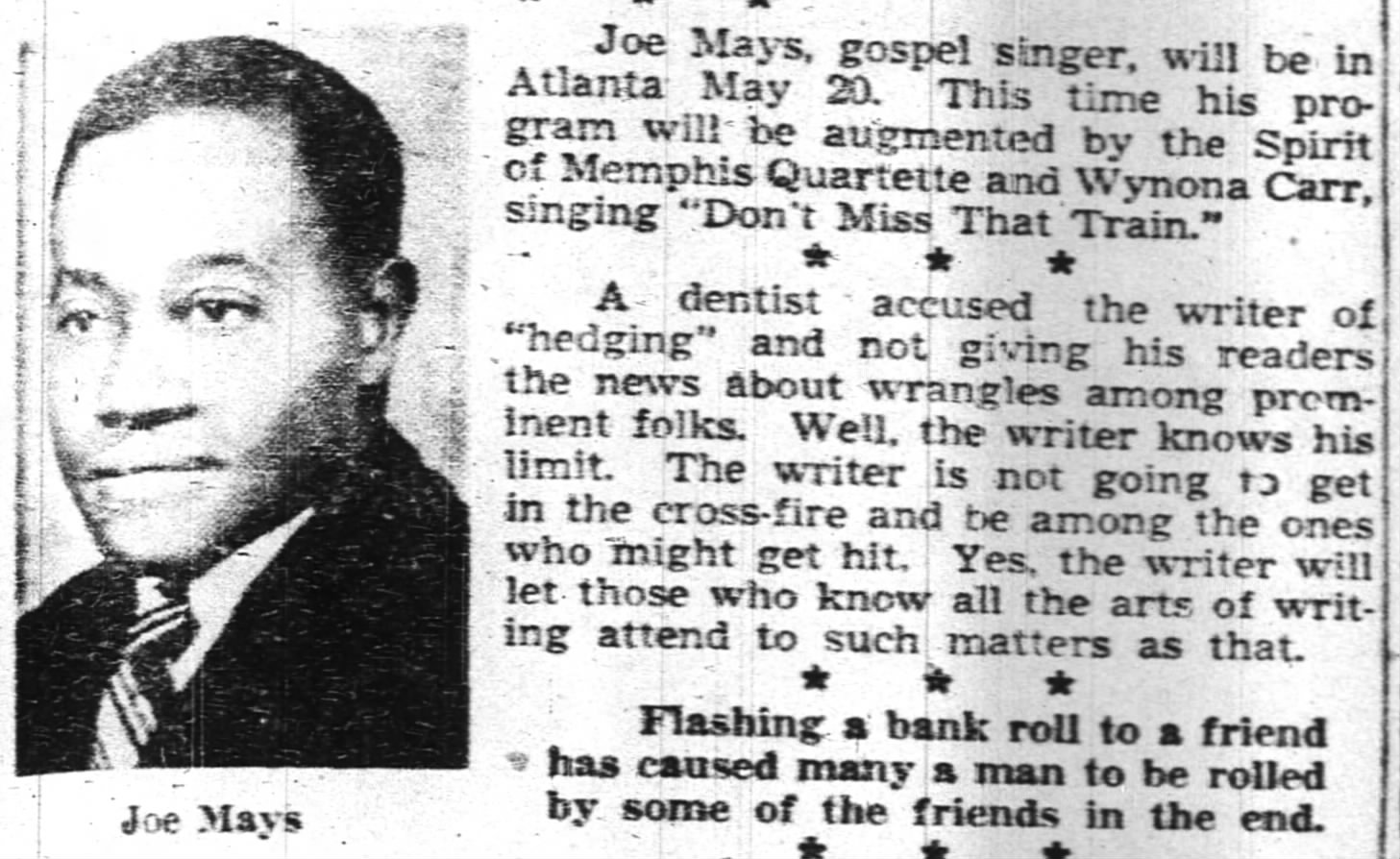 1951
She was scouted by Specialty Record in Los Angeles, at the time one of the leading labels for Black gospel artists. Her first recordings were in 1949, as Specialty paired her with Brother Joe May, and she was billed as 'Sister Wynona Carr" for her recordings. She ended up recording 6 solo records and two duets over the next 4 or so years.
Wynona wrote most of her material, including "the Ball Game", a record that was not a commercial success and laid forgotten until decades later when it appeared a compilation called "Baseball's Greatest Hits", and more recenlty was aired on the Prairie Home Companion radio show.
According to some old accounts in newspapers, she was living in Cleveland and commuting to Los Angeles to record. She also had at least one recording session in Cleveland.
Wynona's gospel recordings got some play but the ceiling for gospel sales was pretty low, even at the height of popularity before secular R&B and rock-n-roll blew up in the 1955-6 time frame. She wanted in on that action, and finally persuaded Specialty to let her record R&B. She took a lot of heat for doing so, similar but on a much smaller scale to Sam Cooke's experience when he went secular in 1956/7.
She had 3 45s released within a year or so, "Should I Ever Love Again" was the only one that got significant airplay and sales. Specialty issued 5 more 45s through 1959 with no big hits. As with her gospel recordings, she wrote most of the songs and played piano on many of the sessions. During this time she was living in Los Angeles and touring the chitlin circuit, including a 2-3 engagements a year in Cleveland.
With nothing much happening sales wise, her contract with Specialty ended, and after spending some time in a group called the Art Foxhall band, based in LA, she moved away from the teen R&B/rock audience and styled her act to nightclubs. The change worked, at least to the extent that she was signed by Reprise records in 1961. Reprise was still owned by Frank Sinatra and his entourage, catering to the adult market, so she was a good fit. She recorded an LP in 1961 and a one off 45, with more teen appeal, in 1963. The LP and 45s were not big sellers. They were her last new recordings.

Wynona moved back to Cleveland and started a pretty active and decent paying career as a club singer in greater Cleveland. Typical of her peers, she played several weeks at one place, took a break, and moved to another club. In 1965/6 she went back on the road as a featured signer for Steve Gibson's Red Caps. Based on newspaper ads from the time, she would go out on the road with the Red Caps, then return to Cleveland and do solo shows locally until the next travelling show.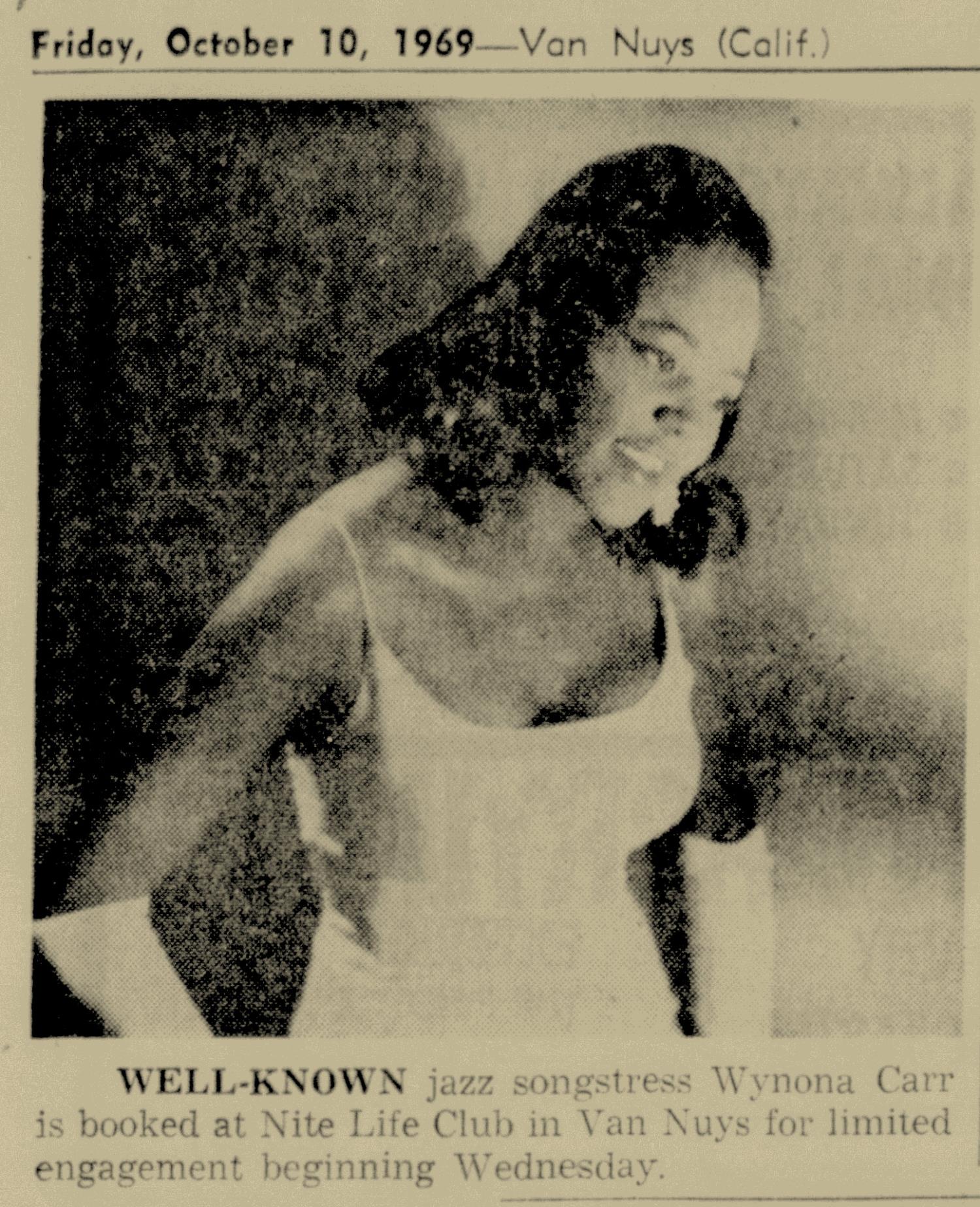 The last performing data for Wynona we could find was in October 1969 in California.
She passed away in 1976, having lived out her life in Cleveland.