the Tree Stumps / Silk
---
Fairview Park/Parma, 1963-70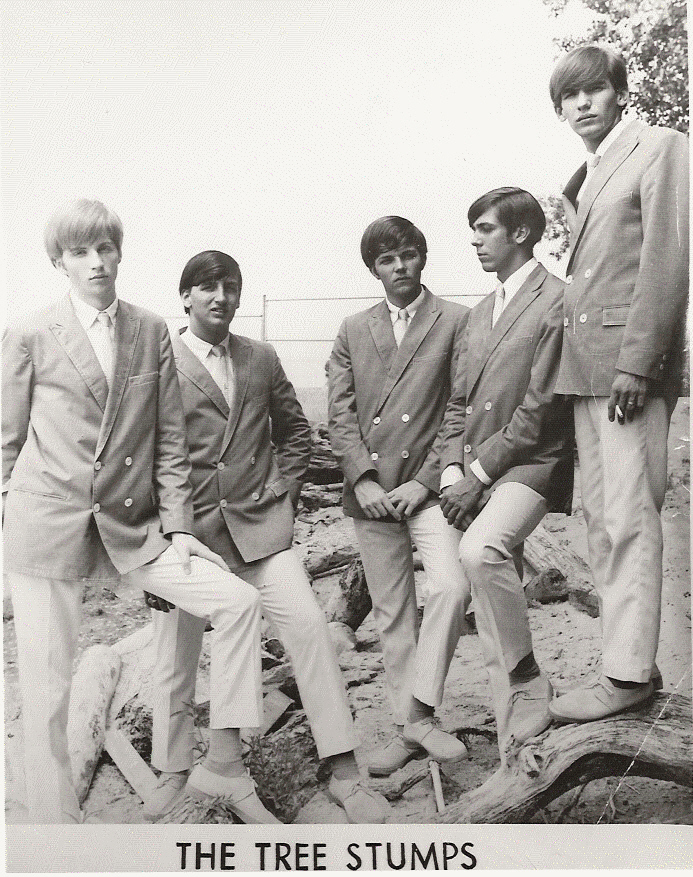 The Tree Stumps burst out of Cleveland's western suburbs mixing a strong British style of rock-n-roll with the best of the Cleveland influences that took the local teen set by storm. They rose to prominence by winning a city wide Battle of the Bands in '65 and continued to be one of the Cleveland area's top bands until personnel and musical changes cut them down. Departed Tree Stumps formed other top local bands like Kicks Inc and Renaissance Faire.
The band originated with guitarists Mike Hay and Ron Jankowski, who added George Strezza on drums and named themselves the Echos. Hay had previously been in the Islanders, one of the west side's first rock-n-roll bands. Once the whole British thing happened, they added Gary Harrington on bass and then Ron's older brother Russ on keyboards. Hay, Strezza, and Harrington were students at Fairview High and the Jankowskis attended St. Ignatius.
The band's (now called the Mike Hay Combo) adoption of the British style did not go unnoticed by the local greasers, who would throw pennies at the group at places like the Legion Hall in Fairview Park, a common form of anti-"British" sentiment for west-siders. In late '64 Strezza was replaced by Courtney Johns, a skilled drummer and also a showman whose stick twirling routines were aped by many a local group's skin basher. Courtney had subbed for George one night and the audience reacted very favorably to the switch, which the band made permanent. With the lineup solid, the group became the Tree Stumps, taken from a 'break song' instrumental "Tree Stomp Part III" which was written by Ron Jankowski.
In February '65 the Tree Stumps, wearing their customary suits and Beatle Boots, entered a city wide Battle of the Bands at Parma's Byzantine High School. Parma had been the domain of the greasers, but the Tree Stumps' new sound and look won over the crowd and judges and is considered by many locals to have been the start of the Mod scene on Cleveland's west side just as the Mods/Choir had started on the east side. It wasn't long before the band became a top draw all over the area. They played the Note for a month in the summer of '65, with Michael (Stanley) Gee (bass) substituting for Gary.
In the fall of '65 Mike Hay left to join the Navy, evetually becoming a Beach Jumper. Late '65 or early '66 a swap of bass players between the Tree Stumps and Montereys resulted in Al Howarth replacing Gary Harrington, whose reaction to all this resulted him in starting his own band, Kicks, Inc. The Tree Stumps were now a four piece and competed in another city wide band competition, this time sponsored by the Cleveland Press newspaper. The Stumps competed with other bands for five spots as opening act for a Public Hall "Teen Fair" show headlined by Paul Revere and the Raiders. The band won (along with Muthers Oats and Mixed Emotions) thanks to fan voting, there was no actual musical competition. By now the Tree Stumps were not only a tight band of excellent musicians but had their own look and act, including a bit by Al Howarth where he would climb out of a black coffin and peform a "Sheba" dance! The band always wore matching outfits, which included checkered coats and almost knee high boots.
The fall of '66 finally provided the first Tree Stumps recording. Backed by their manager Vance Johns (Courtney's father) they recorded two of Ron Jankowski's songs, "Listen to Love" and "Jennie Lee" at Cleveland Recording. "Listen to Love" was intended as the A-side and while it's a really good pop song, the B-side "Jennie Lee" ended up getting more airplay and collector recognition. The record was issued with a one-sided picture sleeve and sold out the 1000 copy pressing, and a second pressing without the sleeve. The record's 'number', 20013, was the street number for the Johns household on Lake Road in Rocky River. Autograph parties at places like Westgate Mall were held and attended by 100s of fans.
In late '66 or early '67 the band added Woody Leffel as lead singer. Woody had a great voice (as evidenced by his singing for Granicus) but did not last long with the band. Al Howarth left the band in the spring of '67, seeking something more progressive, and took Leffel with him into their new band Renaissance Faire. The Tree Stumps replaced them with Chris Johns (Courtney's brother) on bass and Terry Kellerman on vocals.
Soon after the Tree Stumps had a major shakeup that was precipitated by Ron and Russ leaving to form a new band called the Kismet Maze. Ken Stauffer had been in the popular Muther's Oats when he was asked to join the band. Ken - "When Randy Sabo and I joined the band in spring 1967, we were told that we were replacing the Jankowski brothers. Terry Kelleman was already part of the band, and did not play any instrument (He was just the Singer). So the lineup for that year was Courtney drums, Chris bass, Kendall Stauffer Guitar (me), Randy Sabo Keyboards, Terry Kellerman, Lead Vocals. We played a lot of gigs and had we recorded at Cleveland Recording. We all worked on "Dark as Night". In the stairway of the old Cleveland recording I remember Terry in a panic trying to get everybody to come up with more verses. I remember Bill Pettijon (of Sunrise/Dragonwyck) was there - not part of the group, but he hung around a lot and in this case helped on the lyrics - "Bend my mind to infinity" I think was his idea. Terry Kellerman sang this number and might have penned most of it. I played guitar, and after the session was over Ken Hamann told me he thought that was the best solo he had personally recorded. I didn't think it was much, but the best I could do on short notice. The intro and the ending are both Randy Sabo's electric organ plugged through my Vox Wah Wah pedal serial number 26. Ken was into experimenting with sound and told us about how they went across the street to prospect music and got various drums to try on the Lemon Pipers sessions. "Tomorrows Sun" – This was Randy's song, and I think he wrote it. He sings on it. I did some harmony, and Terry did the rest. We also recorded at least one more song, 5 foot 2 eyes of blue (old Dixieland tune)." "Tomorrow's Sun" and "Dark as Night" were cut onto a few acetates, one of which is in a private collection. Both sides are great examples of Doors/Animals intense, moody sounds.
"This was a great experience for me, and I got to play a LOT of places, can't even remember most of them. Ate a lot of burgers from Beardens (next to Johns house on Detroit), I was still in High school, and from a strict family, who wouldn't let me play as often as Vance could book gigs. As My senior year in High school was going by fast, and I was getting the sinking feeling I missed my youth."
"In late spring 68 one of Randy Sabo's parents died, and the band had a time out. I left at this time. I got into the spring play at my high school and tried to do things there. Being in the Tree Stumps was a job. You wore what they told you to wear (various uniforms), played on the amps they thought looked cool (7 foot Kustom amps with gold flecked plastic sides) but didn't sound that great, had to have a secret Fender onstage for tone. You had to talk to members of the fan club during breaks, we all chipped in and did all equipment as well. We made pretty good money, and felt like local celebrities as well! The Johns were very nice people and treated me well, but they were also professional and there was no fooling around."
Courtney and Chris Johns continued the band by adding Michael (Stanley) Gee, who was a student at Hiram College by now. This band gigged as the Tree Stumps for a few months. As a four piece (the Johns brothers, Gee, and Sabo), the band changed names a couple times before settling as Silk. During this time the band was based out of Hiram College. They recorded some songs (mostly originall, with a cover of one of more unlikely Kinks songs to cover, "Rosie Won't You Please Come Home") with Howard Russell from HR records. During this time (1968) Michael Gee was also in the Establishment, who were all Hiram students.
In 1969, now playing as Silk and working clubs in Cleveland such as D'Poos and Luccioni's, they finally got a record deal with ABC, thanks to local connections like the James Gang. Super producer Bill Szymczyk saw them and signed them up. According to Michael Stanley's own website, they were on the verge of breaking up when they got a showcase gig and made the most of it. The LP they recorded, "Smooth As Raw Silk", contains updated versions of songs that were done at the Howard Russell sessions and some new songs. The LP got some attention, even appearing briefly on the Billboard LP chart. When they recorded the LP, they were managed by the Belkin brothers. The band played some regional gigs but in early 1970 Michael Gee left (he graduated from Hiram in 1970) and was replaced by Al Howarth after 3 years away from the band. Greg Reece was added as a singer. This lineup briefly rebooted the band. Mid 1970 was the time for a complete reshuffle in the Cleveland music scene as the biggest 60s bands (Choir, Cyrus Erie) broke up for good, and Silk disbanded as well.
After Kismet Maze, the Jankowskis formed Audi-Badoo and Spring Wheel (which included the back-to-civilian Mike Hay). More info on these bands can be found under their names.
Michael Stanley started performing as a solo artist. Randy Sabo was in Frenz and After Dark in the 1970s. During the 1980s, he started a new band using the name Silk but he was the only original member and the band wasn't around for long.
Discography:
Listen To Love / Jennie Lee - Record 20013 (PS), fall 1966
Dark As Night / Tomorrow's Sun - Cleveland Recording acetate, 1967
LP- Smooth as Raw Silk, ABC 694