the Swordsmen
---
Cleveland, 1968-72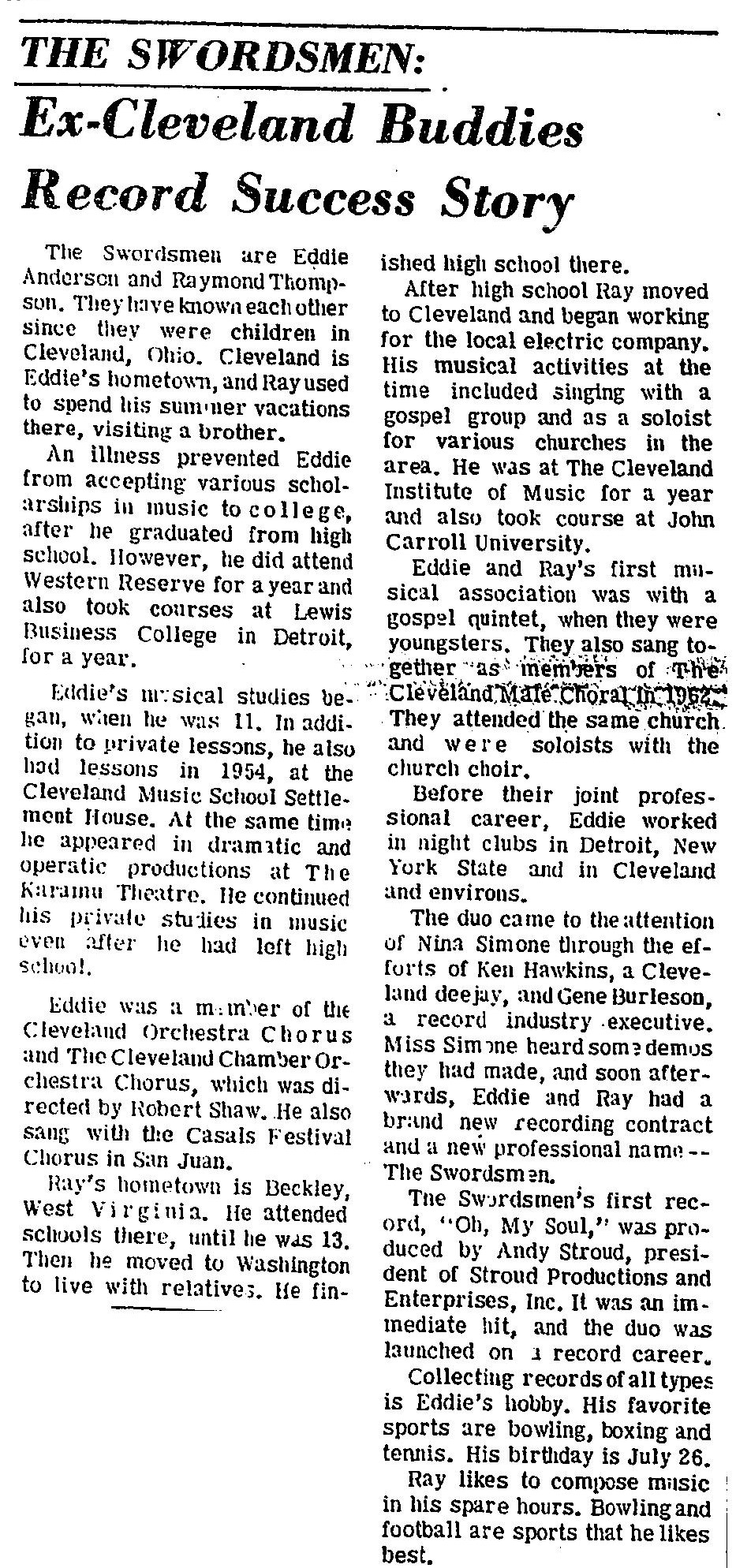 The Swordsmen were a singing duo of Eddie Anderson and Ray Thompson. Eddie was a Cleveland native who grew up singing in a local church and Ray moved to Cleveland as a young adult from West Virginia to take a job at Lincoln Electric. They met at the church, Antioch Baptist, and started singing locally.
The duo were promoted by Cleveland DJ and TV show host Ken Hawkins, who got them an audition with Stroud Productions, a New York based company run by Nina Simone and her husband, Andy Stroud. Together with Nina's brother Sam Waymon they recorded their first 45 for the couple's Ninandy (Nina Andy) label. The record was not really a success, but Stroud was able to get a deal with RCA records to release their productions.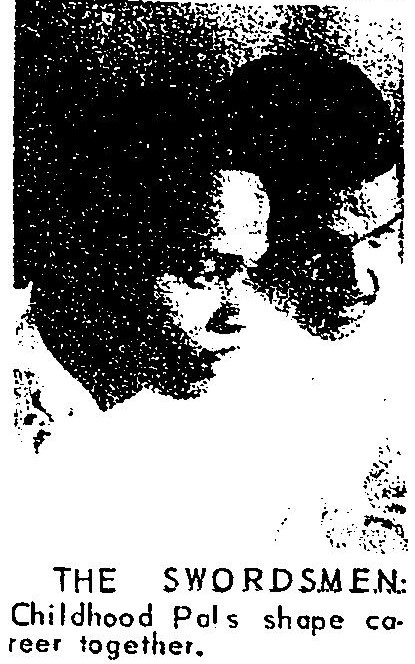 During 1969, Eddie and Ray were busy touring with Nina, first in New York (at the Village Gate for a long engagement, and the Apollo) and other US cities, and then in Europe. In between the touring, they recorded their first LP for RCA and had a couple of 45s released from it. "That's When A Woman Needs A Man" was a hit in some places and kept the group's momentum. The group wrote a number of the songs on the LP.
The Swordsmen's sound was rather unique for local groups, not the hard hitting R&B nor the sophisticated group vocals heard in many other Cleveland groups. They took after their mentors and had jazz, gospel, and pop styles merging together.
While not on the road, which was often, the duo played the Continental Lounge in Cleveland. Later, they played a handful of community concerts and benefits.
The group recorded a second LP in 1970, also produced by Stroud Productions. The second LP is a little different in style, including two Beatles covers, a BeeGees cover, and a cover of the Mamas and Papas smash "California Dreaming". The title song "What's It All About World" was a classic 1970 'message song'. The group recorded one last 45, released in late 1971, their original song "Hip Thang" which brought them back to a harder soul style. They played George's International Cuisine to promote the record in January 1972.
The group seems to have split, as there are no further recordings, nor mentions of them performing.
Discography:
'Oh My Soul / Seems I'm Never Tired Loving You - Ninandy 1014, 1968
That's When A Woman Needs A Man / Grow On Love - RCA 9745, 1969
Here I Am / Gimme Some - RCA 74-0240, 1969
LP- S/T - RCA LSP-4245, 1969
Something / Sho-Be-Do-Be-Da' - RCA 74-0330. 1970
You Came / How Could You Forget Our Love - RCA 74-0421, 1970
It Seem's I'm Never Tired Lovin' You / What's It All About World - RCA 74-0492, 1970
LP - What's It All About World - RCA LSP-4544, 1970
Hip Thang / I'm So Glad - RCA 74-0561, 1971