Suspicious Can Openers
---
Columbus, 1968-74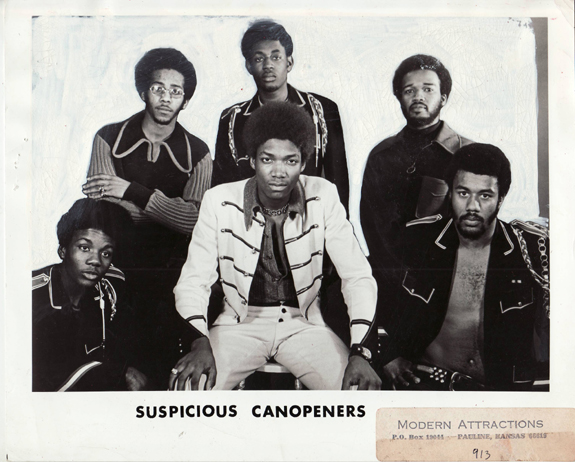 This group got its start backing Timmy Willis before he took his talents to Detroit and Muscle Shoals. The group included several brothers from the McMahan family. After adopting a moniker that came right from the psychedelic scene, they played local clubs for a year or so.
When Timmy Willis returned to Columbus, his manager Roy Hoover and Eddy Parker formed a production team, Mo-Soul Productions. By now the group was a full large horm-funk ensemble. The group recorded a couple of Parker's songs, the tense funker "Fever In Your Hot Pants" and the slow "Tuesday In the Rain" which was a backing track for an unreleased vocal.
During the early 70s the group played the region and midwest. In 1974 Mo-Soul group released another 45 by Vikki Kenyatta, a vocal of "Tuesday In The Rain" using the same instrumental recording that was released by the Suspocious Can Openers. It's possible that the vocal had also been recorded earlier. The Mo-Soul team released one more 45 on the Kandun label, it's not known if any of the Can Openers were involved, the Jupiter's Release band is credited on that label.
Discography:
Fever In Your Hot Pants /Tuesday In The Rain - Mo-Soul no #, Nov 1971 (QCA 111123)