the Strawberry Social
---
Marion, 1967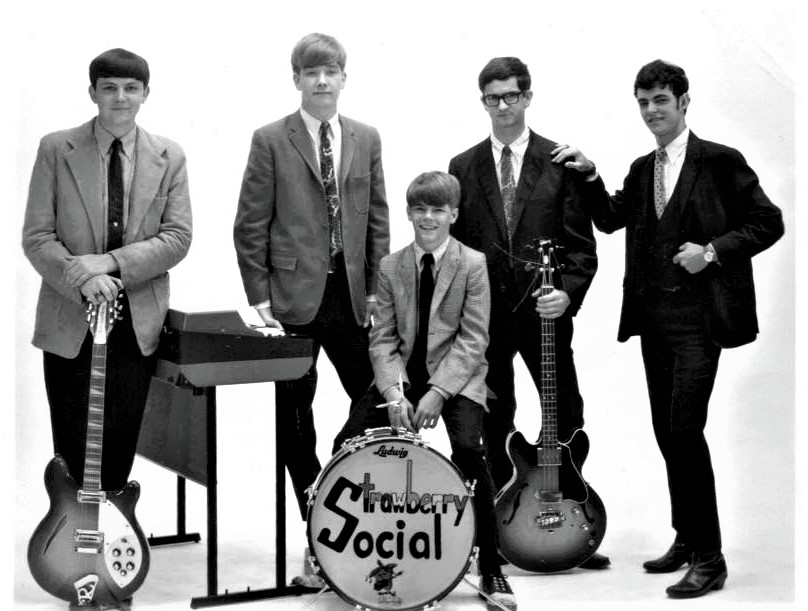 L-R: Kregg Kirts, Steve Steinman, Don Lister, Frank Murray, Danny Hall
The first 'supergroup' from Marion, the Strawberry Social included Kregg Kirts (guitar) and Don Lister (drums) from the Last Times, Frank Murray (bass) and Dan Hall (vocals) from the Soul Survivors, and Steve Steinman (keyboards) from the 69th Dimension. The Last Times and the Soul Survivors were two of the biggest bands around but school graduations and the draft ended them in May/June of 1967.
The recorded a 45 not long after forming, in June of 1967. The band went to Magnetic in Columbus and recorded the Bob Dylan song "Love Minus Zero-No Limit" and a song written by Dan and Kregg, the moody instrospective "The Sunday Before My Life". The record was issued on Hark, a label that was run by Marion promoter/restaurant owner/entrepenuer Forney Crace. Hank had issued a few country/rockabilly 45s in 1960/1 but nothing since. Forney was apparently interested in giving the teen rock scene a try. The record got some decent local sales.
The band played locally during the summer of 1967 but like the predecessor bands, had trouble keeping everyone together. By late 1967 they had reorganized as the Groovin' Soul.
Thanks to Danny Hall and Don Lister
Discography:
Love Minus Zero-No Limit / The Sunday Before My Life - Hark no #, July 27, 1967