the Sprites
---
Cincinnati, 1965
May 1965 story
The Baby Boomers forced the US public education system to accept the changing styles and trends of the times. Among these was the acceptance of rock, soul and modern pop music into the realm of Sousa marches and light classical pieces common in school music classes. Some teachers, usually younger ones, got behind the changes and encourged their students to sing/play Beatles, Dylan, or hits like "Hang On Sloopy" as standard exercises.
The Sprites were a group of 7th and 8th graders from Springmyer School, located in Cincinnati's western suburb, Mack. The schools 'vocal director', Donna Buel, put the group togther from a Christmas program choir.The main group included 11 students, Linda Tyra, Nancy Schunk, Janet Miller, Norma Sumner, Shirley Mangold, all 8th graders, Diane Rodenburg, Diane Schwander, Jill Lampe, Mary Schleue, Diane Spencer, all 7th graders, and Jane Labanz, a first grader.
The article mentions a recording deal with Captiol records that probably never made it past a handshake. The group was supposed to record a couple pop songs, "On A Slow Boat To China", a hit from the early 1950s, and "Hello Dolly".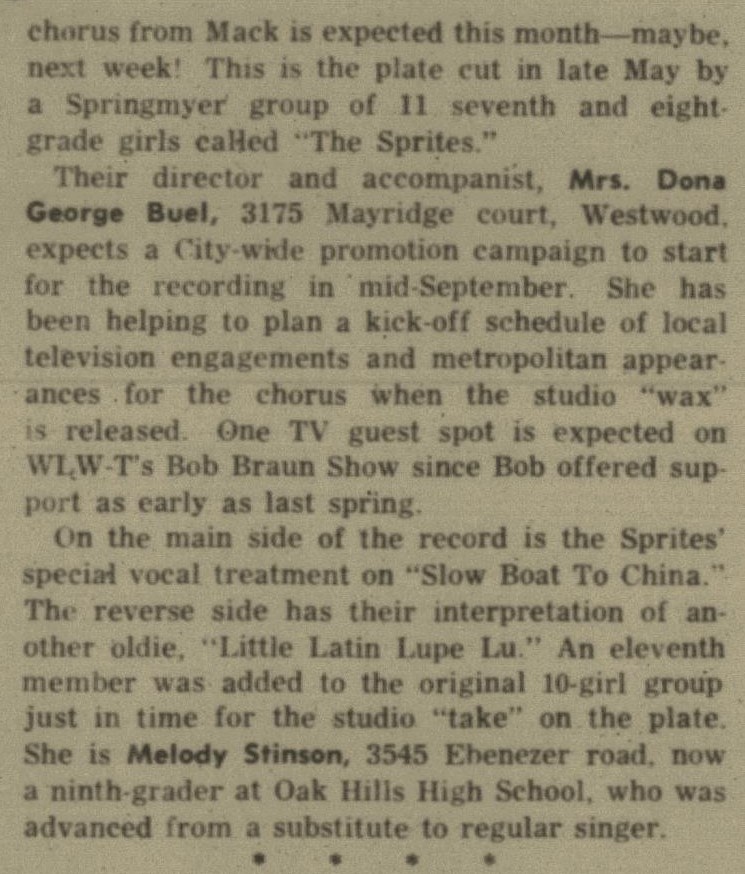 September 1965 article, where the less than 3 year old "Little Latin Lupe Lu" is an 'oldie'!
In September, 1965, a new school year had started and the group had made their recordings. "On a Slow Boat To China" was on the record, with the other side changed to "Little Latin Lupe Lu". Melody Stinson was now a member, and in the ninth grade (all the other members moved ahead a grade to 8th and 9th). There's no details about the recording, but from the record and label, they were backed by a rock band - just guitar, bass, and drums from the sound. The band was billed as the Percussions and from the sound, they were probably classmates with the Sprites.
The group's take on "Little Latin.." gets pretty energetic with one of the girls shouting out "yeah". The other side also has the band playing and that makes it different than the usual orchestrated pop treatment..
The 45 was pressed at Wakefield in Arizona. They don't appear to have sold that many, considering it's a pretty rare record today.
There were no more mention of the Sprites, and no mentions of the Percussions, in the local papers. We assume the group went back to musical revues and school plays.
Discography:
lLitte Latin Lupe Lu / On A Slow Boat To China - no label, no number

.