the Shaddows
---
Warren, 1966-71
L-R: Ed Len, Pete Knapp, Rick Thompson, Mike Donadio, Randy Smith, Dave Mazzochi ; Seated: Bill Scudier, Tony Gigliotti
The Shaddows were a true institution in Warren, lasting from the teen garage rock to soul to hard rock, never failing to draw fans from all over NE Ohio.
The original Shaddows were formed by Warren Reserve high school students Mike Donadio (guitar), Randy Smith (bass), Ed Len (drums, formerly of the Counts), Tony Gigliotti (vocals) and Dave Mazzochi (organ). The Shaddows played top 40 with an emphasis on soul, hitting all the local teen dance action like the Champion Rollerena and Willow Lake Park Club.
Over time the Shaddows started adding horn players including Dave Mack, Pete Knapp, Gary Kekel, and Bill Scudier. The 9 piece Shaddows were a powerful, versatile band that could bring down the house with renditions of songs like "People Get Ready", "I want to take You Higher", "Stormy Weather", mixing in stuff like Vanilla Fudge and Big Brother. The group toured all over the area, playing places like the Buccaneer Room (at Crest Lanes), Cleveland Agora, the Utopia (in Willoughby), colleges in Ohio and Pennsylvania.
The original Shaddows: L-R Dave Mazzochi, Randy Smith, Mike Donadio, Ed Len, Tony Gigliotti
In late '68 a local attorney decided offered to put up some money for the band to make a record. The group wrote a nice soulful shuffle beat number, "Together Again", backed with a live favorite "Stormy Weather". The sides were recorded at United Audio and issued on the house label. "Together Again" got a lot of favorable reactions but didn't go farther than locally.
Over time the group changed to a harder rock sound, playing material like Led Zeppelin. They built a show with all original material and spent several weeks in in NYC recording demos and auditioning, unfortunately to no tangible results.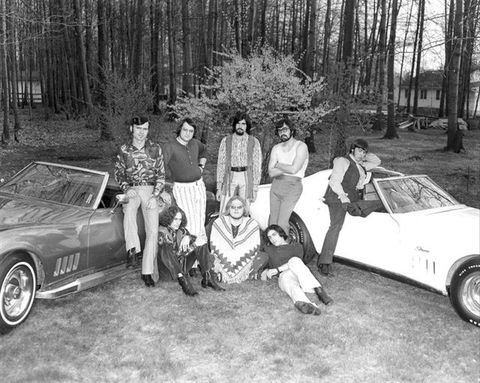 The Shaddows decided to end in 1971. Randy Smith and Mike Donadio went to MF Rattlesnake, Dave Mazzochi and Tony Gigliotti went to Mom's Apple Pie, and Bill Scudier formed Merry Christmas. Gary Kekel went to be Maureen McGovern's arranger. Pete Knapp joined I Don't Care.