Sanhedrin Move
---
Columbus, 1965-73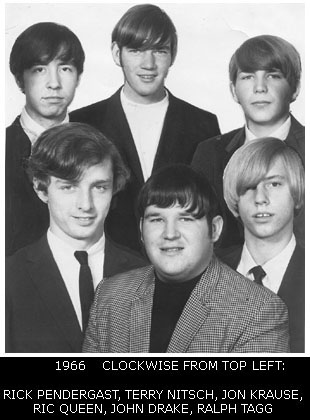 Sanhedrin Move was formed by Ric Queen in 1965 to fill an open slot in a local battle of the bands. "The Move" won the battle and quickly became one of Columbus' most popular local bands, playing numerous school and teen dances, fairs/festivals, battles, and fraternity/sorority parties. Their toilet seat moniker became one of the Columbus music scene's best-known icons.
Soon, the band would start performing at local and regional nightclubs in Ohio and occasionally West Virginia. Sanhedrin Move opened up for numerous national acts, played regularly at just about every local nightclub, as well as numerous W-COL shows at the fairgrounds, but became the mainstay of the popular campus bar, Sugar Shack, where they set a Columbus nightclub attendance record that still stands today. "The Move" also recorded several tunes at Columbus recording studio, Mus-I-Col. The band had a very limited pressing of two Mus-I-Col recordings from 1969, the original song "If You've Got the Notion" b/w a cover of the Rascals "People Got to Be Free". The band hoped to spur interest in a label to get a wider release but nothing else came of it.
The original lineup consisted of: Ric Queen, drums; Jon Krause, keyboards; Charlie Clay, lead vocals; Ralph Tagg, lead guitar; Steve Henry, soon replaced by Terry Nitsch, bass, all Franklin Heights High School students. Later, John Drake (Franklin Heights) was added as a second lead vocalist, as well as Rick Pendergast (Franklin Heights) on rhythm. Pendergast left for the Navy, and was replaced by Jim Wolf (West High) on rhythm guitar. Soon the rhythm guitar position was discontinued. Later, original vocalist Clay left, and original keyboardist Krause left to attend college in Athens. Krause was replaced by Jimi Leonardo (Franklin Heights) from the Orange Noise on Hammond B3. Finally, Nitsch left and was replaced by Phil Stokes (West High), also from the Orange Noise. The last musical style for Sanhedrin Move was country-influenced music featuring a pedal steel guitar along with loud rock & roll guitar and drums, making "The Move" the first Columbus band to play "country rock." During this period, Queen and Stokes recorded several times with Craig Fuller (Pure Prairie League).
The band opened for Bob Seger (at the Sugar Shack), the first of several times. They also played shows with the Grass Roots, Lemon Pipers, and Kenny Rogers when he was still with his psychedelic First Edition band. Sanhedrin Move also made three appearences on Jerry Rasors Dance Party TV show.
"The Move" disbanded up in 1973. Queen was recruited by Bob Ochsendorf (Lapse of Tyme) to form Livestock, which included Mike Kontras (Dubonets) on Hammond B3, Denny Hulse from Circleville on bass, and Jennifer Jones from South Carolina as lead vocalist. Livestock played locally and toured on the Ramada Inn eastern circuit, eventually morphing into the band Jennifer with the same lineup except for Tom Collins replacing Kontras on Hammond B3.
Queen and Ochsendorf went on to play in Six Shooter, Fly-By-Night and Cahoots. Queen later formed Sassafras with Bill Michel (Orange Noise) on lead guitar, Toni Holcomb (Livin' End) on piano and lead vocals, and Dave McAbee on bass. Queen also became the stage drummer for the W-TVN radio live broadcast and show, County Cavalcade, held at and broadcast from the Southern Theater.
Tagg moved to Tennessee. Leonardo moved to Florida, where he performed with several bands. Stokes went on to play with several groups. Krause and Drake never performed again until Queen reformed Sanhedrin Move as an oldies band, performing locally and at Put-In-Bay from 1990 to 1995. Sadly, John Drake, Sanhedrin Move's popular lead singer, passed away in 2003 from pancreatic cancer.
Sanhedrin move is again performing, this time as a blues-influenced group with horns, with original members Ric Queen on drums and Jon Krause on keys. Visit the band at www.sanhedrinmove.com