Phil (Phill) Wilson
---
Dayton, 1958-1962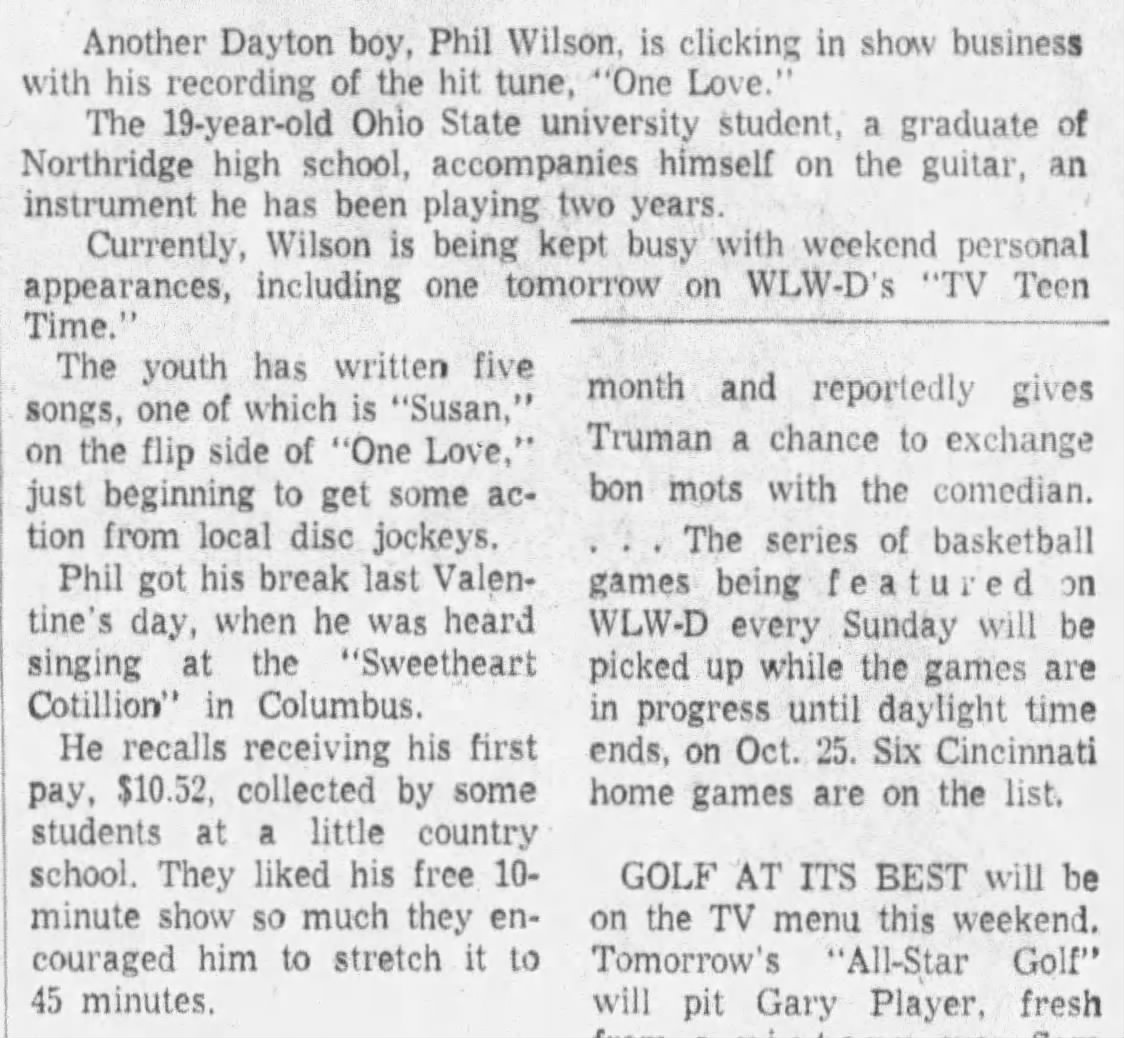 Phil Wilson came from the Northridge area of Dayton. By 1958, his senoir year, he was in a band called the Clean -Cuts. He started at Ohio State in the fall of 1958 and continued with music, joining the OSU Glee Club.
In the fall of 1959. still attending OSU, he recorded a 45 for the Cloverleaf label out of Columbus. The A side, "One Love", was written by DIck Scher and Joe Benedetti, who seem to have been the co-owners of the label. WIlson wrote the B side.
In 1961 Phil's father, Mal Wilson, along with WING DJ Bob Holliday and Everett Hopkins, started the Huron record label. They went to Nashville and hired top session players at the famed Bradley's Barn recording studio, including Hank Garland on guitar, Floyd Cramer on piano, Bob Moore on bass, Buddy Harman on drums, with Harold Bradley on six string bass, Ray Edenton on acoustic guitar, and the Anita Kerr singers. They recorded three songs, with Jim Colgrove, the guitarist in Teddy and the Roughriders writing two, and Phil writing "Wishin' On A Rainbow". This was the first 45 on Huron, and it reached the Billboard Hot 100 for one week. He is listed as Phill Wilson on the record label.
Phil released a follow up 45 a few months later. The A side " A Dream Come True" has been recorded by Teddy and the Roughriders, and was the third song from the Nashville session. The label brought Phil to King in Cincinnati to record his song "Game Of Love". This 45 was not as successful as the first one.
Phil's singing and recording career came to an end, but he continued to stay active at his high school. A 2004 article mentions a presentation he gave for a Hall of Fame cerimony.

Discography:
One Love / Susan - Cloverleaf 1003, October 1959
Wishin' On A Rainbow / Just Me - Huron 22000, June 1961
A Dream Come True / Game Of Love - Huron 22006, October 1961