the Penny Arcade
---
Parma, 1967-9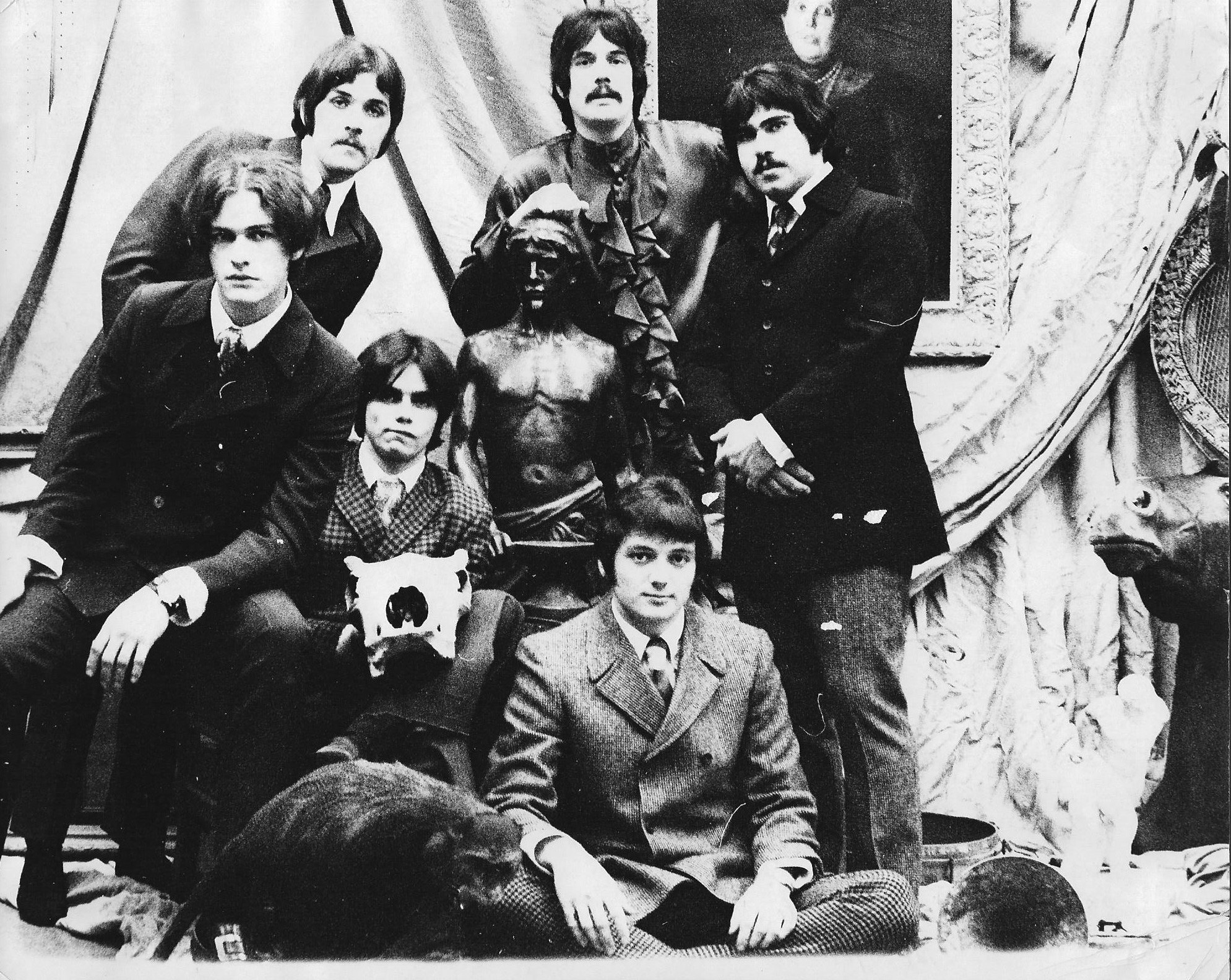 Penny Arcade Mk II - Top row, L-R: Andy Hanzel, Ken Shulz, Bill Aftoora. Bottom row, L-R: Randy Fields, Duane Aslaksen, Tracy Brown
The original Penny Arcade included Andy Hanzel (singer) and Randy Fields (keyboards) from Middleburg Heights, Tom Srail (drums) from Parma Heights, and Terry Lehman (guitar) and Bill Aftoora (bass) from Parma.
The band was tutored by former City Squire and Trohls member Roland Solomon. The Penny Arcade played a lot of Beatles songs, and not just the obvious ones, they played a lot of the complicated songs from "Sgt Pepper", and wore Pepper-style uniforms. This fresh, for the times, look and sound propelled them to the top of the local band scene in 1967 when they won the Cleveland Press sponsored city wide Battle of the Bands, edging out the Lost Souls. The prize for winning included studio time (a record contract was listed as a prize, but no such deal actually happened) and $1000 worth of equipment. The band did record some songs but nothing was released.
The band reorganized in 1968 with Andy, Bill, and Randy from the original lineup, and new members Ken Shulz (guitar), Duane Aslaksen (lead guitar), and Tracy Brown (drums). Tracy had been in the Mike Mann Outfit. The new band opened for the Nazz, Yardbirds, and other rock legends. They were managed by Otto Neuber's Energy Talent, and played a lot at the Mentor Hullabaloo which Neuber owned.
The second vesion of Penny Arcade lasted for a year or so into 1969. When they broke up, Tracy Brown and Duane Aslaksen joined the Sheffield Rush, who were also managed by Neuber.
Terry Lehman played briefly in the Cyrus Erie, and some other bands. He is deceased.
Thanks to Andy Hanzel, Tracy Brown, and Roland Solomon.