N. Patrick Williams
---
Conneaut, 1968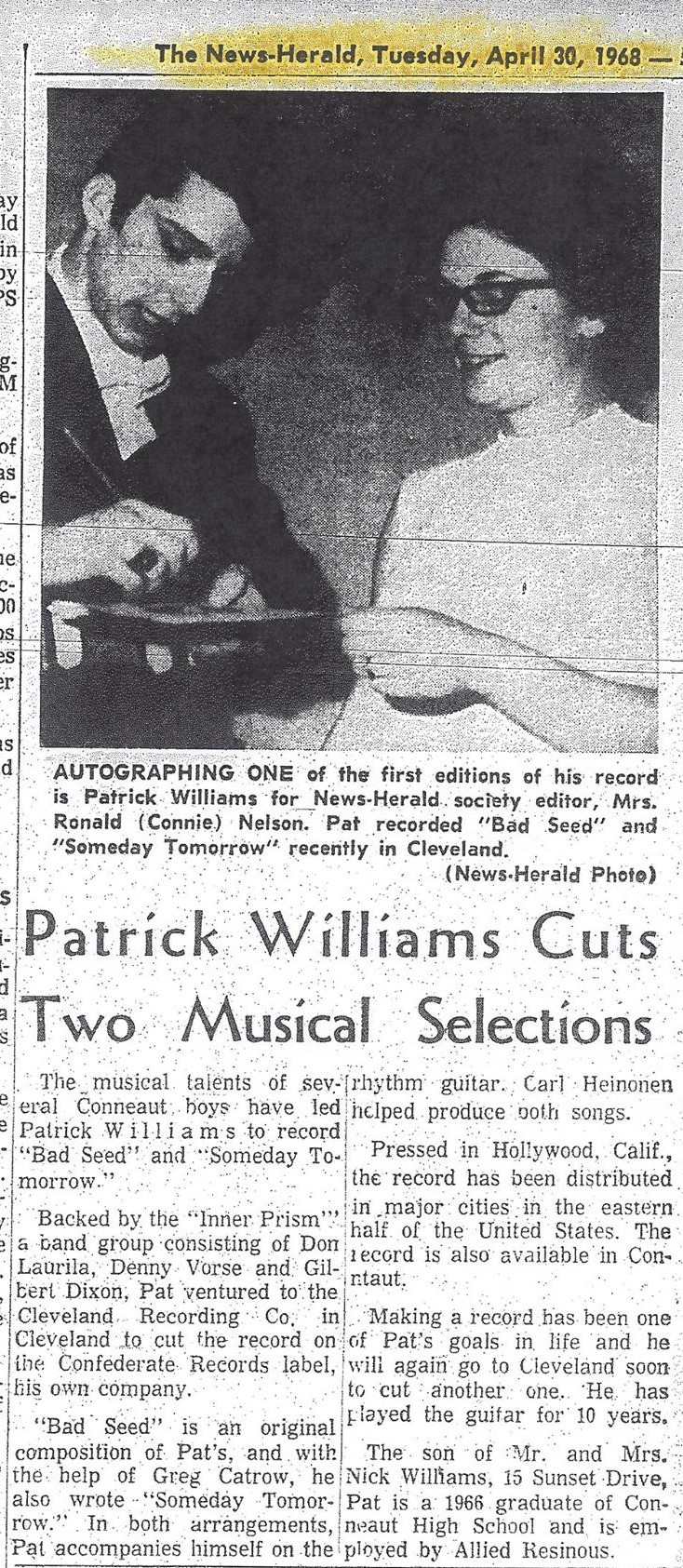 Hailing from the small community of Conneaut, at the very northeast corner of Ohio on Lake Erie, N. Patrick Williams didn't really have the people and resources to create a teen band scene, so he became a full on DIY mastermind who wrote, sang, produced, and released some excellent and unique garage rock 45s in 1968.
Patrick had been in the Scepters, a band of Conneaut high school students, during 1964-5.
On his first 45, recorded in March/April 1968, he hooked up with a short lived band from Conneaut, the Inner Prism, and recorded "Bad Seed", an intense tale of debauchery brought on by a cheating girlfriend, with the classic shout out "All right man, here's my life!".The Inner Prism members were Don Laurila (drums), Denny Vorse (lead guitar), and Gilbert Dixon (bass).
Williams put together a second recording session a few months later, using a couple different local musicians, and cut the anti drug "Bearded Peddler", the anti war "Sirens of War", and the moody downer "Tears I Lost For You", all just as intense, and slightly unhinged, as the 1st 45.
He recorded one more 45 at the end of 1968, under the name of "The Sound Of N. Patrick Williams" which was much more low key. Those were the last released recordings of Williams, who adopted a relatively normal life, eventually becoming a columnist and publisher of a local newspaper. While 1968 was an unsettling year for many in the US, it was a career year for N. Patrick Williams, for which we all continue to enjoy.
The Inner Prism recorded a 45 (credited to Prism) with Patrick's help a few months after they recorded the first 45.
Discography
Bad Seed / Someday Tomorrow - Confederate no #, April 1968
Bearded Peddler / Little Girl - Confederate 1, July 1968
Sirens Of War / Tears I Lost For You - Confederate 2, July 1968
Down Where Devils Play / Don't Be Afraid To Cry - Confederate 5, late 1968
The (Inner) Prism 45 is Confederate 4. Confederate 3 was probably planned but never recorded/released.