Mike Adams / Harry D. Cup
---
Elyria, 1968-1980
There were two Mike Adams in greater Cleveland music, Mike "Mad Dog" Adams, the long time singer/songwriter, and Mike Adams, the radio personality who recorded one country 45 and a couple spoken word records. We are talking about the latter here.
Mike Andrachik was born in Elyria and graduated from Elyria Catholic High School in 1954, before the rock-n-roll generation. He got odd jobs on numerous local radio statioins, WERE, WHIZ, WGAR, WJW, and WCJW (as a country DJ). He recorded three 45s before moving to Florida in late 1970.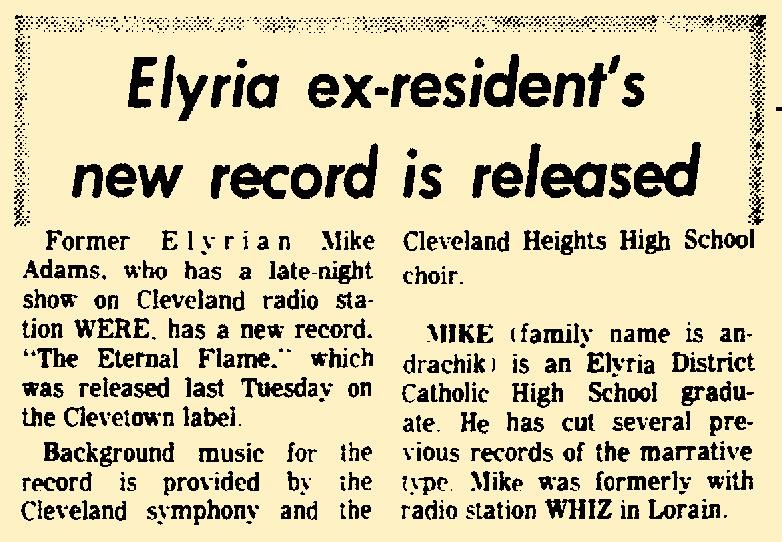 April 23, 1968 story
His first 45 is not positively IDed but we believe it's Mickey Adams on Reserve, released in 1957. It was 11 years until he recorded another 45 in April 1968, a tribute to President John F. Kennedy and Martin Luther King. The record has a spoken word recitation on one side and a song, set to the same music, on the other. Windy Blevins is credited as the composer.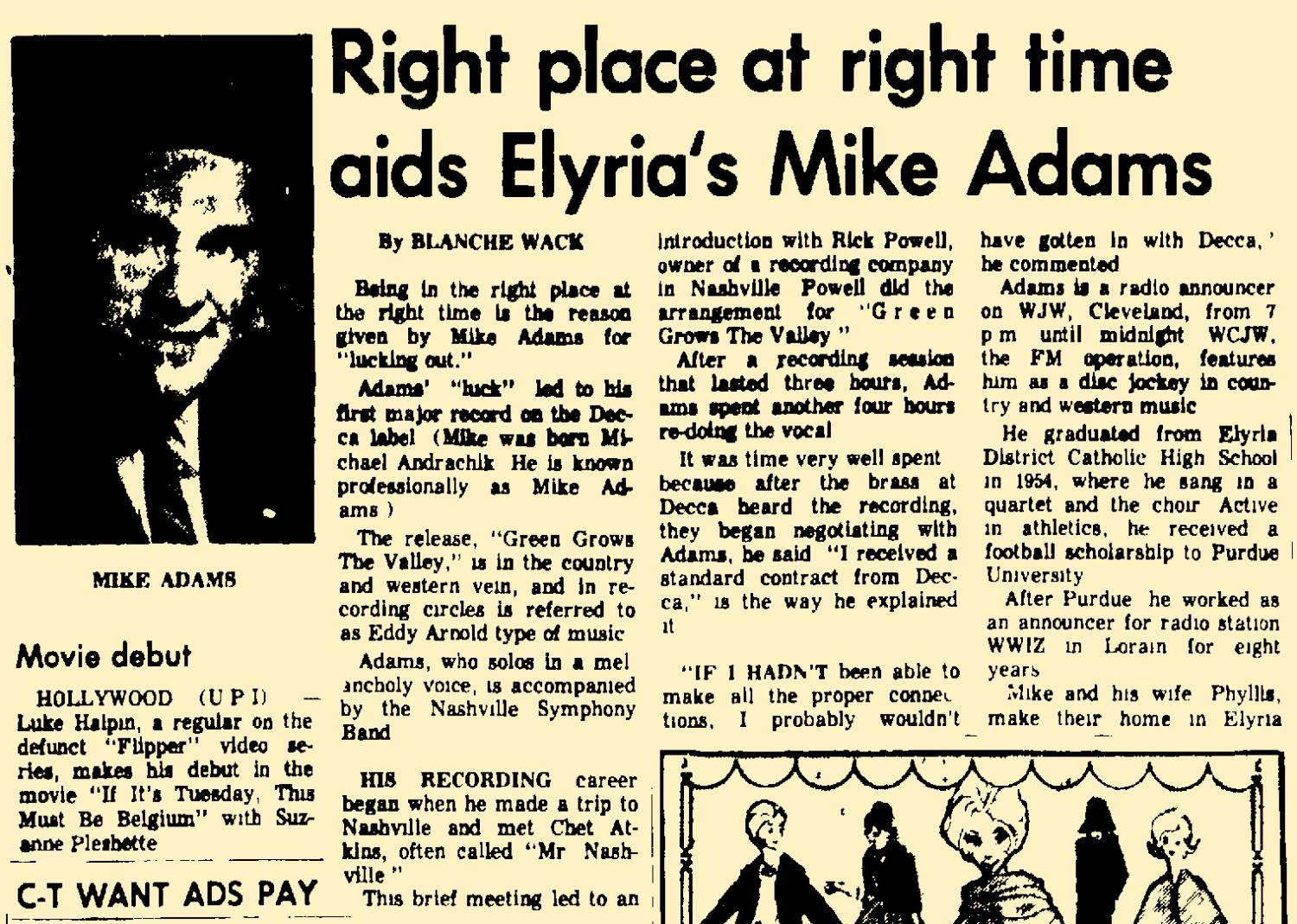 December 9, 1968 story
Later in 1968 he recorded a country singing style 45 for Decca. The A side, Green Grows The Valley was credited to songwriters Fred Burch and Jan Crutchfield, was both recorded by Adams and Windy Blevins (for another Clevetown 45). The flip side "Just One More Day" was written by Columbus folk artist Gene Cotton.
After the Decca 45, he continued on Cleveland radio, most prominently WJW, until moving to Melbourne, FL and station WMEG. He used the name Michael Christian, according to a Florida radio history website.
In 1980, while still working in Florida, he recorded one more 45, a narration with a strong right wing political message, "Sick American". The record, credited to Harry D. Cup, was released locally in the greater Orlando area. Sweet CIty, the Cleveland label home to LaFlavour, re-released it, bizarrely thinking a record that denigrates much of their customer base was a good idea. It flopped.
He continued to work in local Orlando radio until his death in 2000. There doesn't seem to be any more Ohio connections to his career after the Sweet City record.
Discography:
The Eternal Flame / The Eternal Flame - Clevetown 777, April 1968
Green Grows The Valley / Just One More Day - Decca 32419, Dec 1968
Sick American / Love Letter - Sliver Pelican 4300-4/Sweet City 7379, 1980
Mickey Adams (unconfirmed to be Mike Adams)
The Witness / The Message - Reserve 119, 1957