the LaSalles
---
Cleveland, 1956-59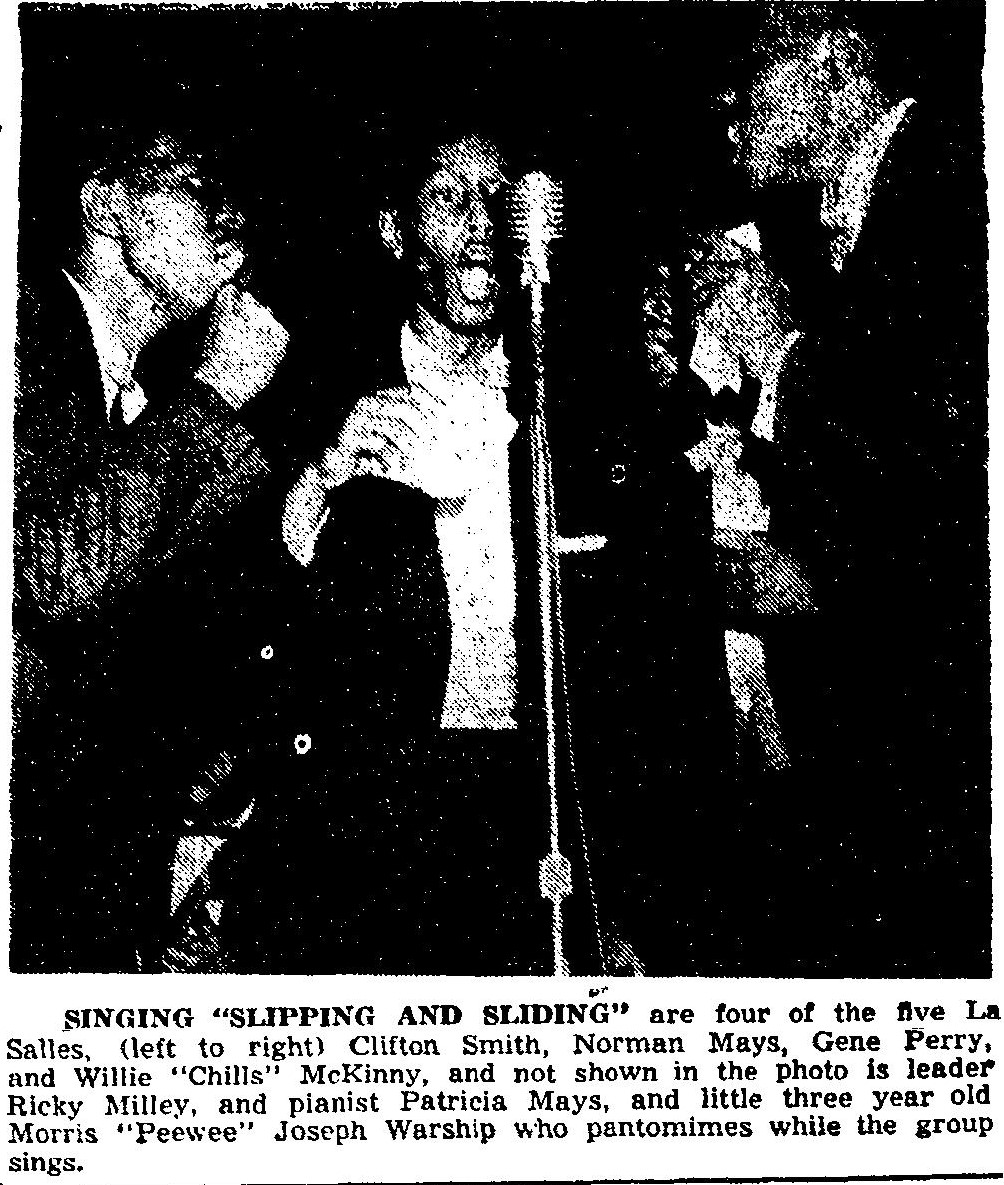 The LaSalles were one of Cleveland's top vocal groups for a couple years. They won numerous 'battle of the groups' and were in demand for live shows.
The group was started by Walter Haddon, and the original lineup included Stanley Edwards (second tenor), Norman Mays (bass), Ricky Miller (lead), Clifton "Chuck" Smith (baritone), and Willie "Chills" McKinney (first tenor). The first mention of the group was as a nameless talent show act at Patrick HenryJunior High school, February 1956 with Edwards, Mays, Miller, Smith, McKinney, and Billy Drew.The group started in the fall of 1956, all high school students at Glenville, and by the summer of 1957, they were hitting their stride. Haddon, and later, Edwards, were drafted, and their places filled by Eugene (Gene) Perry, with the group at five members. Patrica Mays, Norman's older sister, played piano accompaniment. Later in 1957 they had a special guest performer, Morris "Pee Wee" Joseph Worship, the three year old son of Theresa Worship, the group's manager.
In late 1956 they were reported to have recorded two songs, "Tender Love" and "Gots to Have You Baby".
The Circle Theatre at E.105 hosted teen group competitions and the LaSalles won several times, with their main competition being thr Futuretones with Charles Hatcher aka Edwin Starr. The group's most significant group victory was in a show at the Paradise auditorium in July 1957, headlined by Lloyd Price, where they won over 5 other groups to get a contract with Kent records. According to the Call and Post story, their show stopping song was "Slipping and Sliding", with "What If You" also mentioned as one of their numbers.
We don't know what happened with the Kent records deal but the group did get a deal with Duke/Peacock/Backbeat records and recorded a couple songs in February, 1958, with their lone 45 released on March 1, 1958. The songs were "Chopsticks" (credited to Smith and Miller, Miller on lead) and "Yum Yum Yum" (credited to Perry and Scott, with McKinney on lead). Label president Don Robey came to Cleveland for a 'record released party' and caught a Metrotones performance, which led to their Duke label 45 as the Five Jades. The 45 was recorded in Cleveland, probably at Audio.
The group contiuned to perform through 1957 and 1958, including hosting a couple 'annual dances' at different clubs. The group also peformed on Bob and Betty's Bandstand, a radio broadcast on May 25th 1958 at the WHK Auditorium.
A Call and Post article from December 1957 mentions a fan club called the LaSalloetts, made up of students from Glenville and John Hay high schools.
In late 1958 the group's name disappeared from the Call and Post newspaper listings. In 1961 a LaSalles group is mentioned performing at a Glenville High School party.
Discography
Chopsticks / Yum, Yum, Yum - Backbeat 515, March 1958