Jerry Clayton
---
Cleveland, 1960-68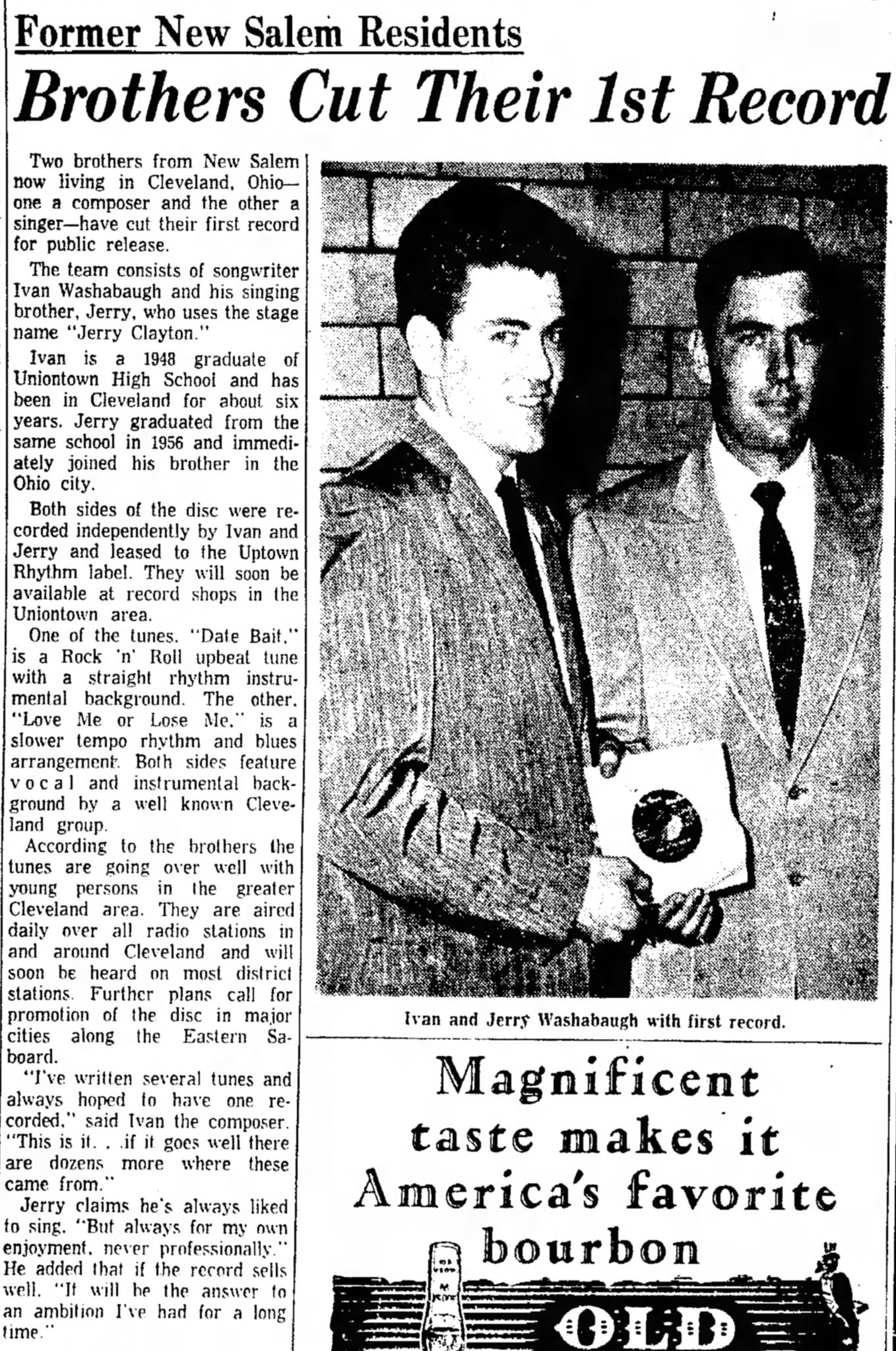 The Washabaugh family was a musical family who lived in New Salem, PA, about 40 miles south of Pittsburgh. The principals were brothers Ivan and Jerry, with a third brother, Clayton and sister. Lillian, who would sing along in their family sessions.
In 1959 Ivan, the oldest, moved to Beford and his brothers and sisters came with them. Once established they began to play in Ivan's basement. Jerry was the lead singer and rhythm guitarist, while Ivan wrote songs and sang. The group, with the help of some other non-family musicans, recorded two of Ivan's songs "Date Bait" and "Love Me or Lose Me". They sent the recordings to a California record company that was similar to Brite Star in that if you paid them a chunk of money they would claim to promote and distribute the record. "Date Bait" is a nice echoey rocker. Jerry, taking his brother's name for his stage name, became Jerry Clayton.
The brothers recorded again in 1964, again using some unknown outside musicians. Ivan's songs kept up with the times, as they incorporated surf and frat rock elements in the songs "Metal Monster" and "Santa Claus". This record released on their own "Big I" label with a Bedford PO Box. Big I was Ivan.
The brothers recorded a third 45 in 1968, released on the K-Ark label. This record was more on the country style but still elements of the teen rock sound with lyrics about long hair and the "Yeah Yeah Yeah" vocals in the chorus.
Rick and Sherry, Ivan's son and daughter, wrote and provided some additonal details on the brothers and their music.
"As a young child, I remember many weekends that my Dad and uncles spent playing guitars and singing in our home on Warner Road, Cleveland OH. Those voices that could harmonize so beautifully gave me my love for music! Our family moved to Bedford Hts., OH in 1959, and it was there that the first basic recording sessions began. Again, many weekends were spent with my Dad's brothers and sisters, singing and harmonizing until they got it down pat. My Uncle Jerry ('Jerry Clayton' stage name) was the lead singer, and my Dad, aunt and uncles sang harmony. "The Metal Monster" and "Santa Claus" were recorded on the Big "I" Records record label. "Big I" was what many guys called my Dad over the years out on the baseball field, one of his other passions. The record label had a P.O. Box in Bedford, Ohio.
The article from Sept 1968 tells how those songs recorded on the K-Ark label out of Nashville were being played regularly in the Cleveland area. I remember that time well. The radio stations would get frequent requests for airplay from many local fans!
My father, Ivan, wrote the songs and sang the bass vocal parts ("Yeah, yeah, little GTO" on Metal Monster). Clayton sang some harmony, but wasn't in the band, as did my Aunt Lilian and her husband Charlie Williams. My Uncle Jerry fronted the band and sang lead and played rhythym guitar. I remember the band practicing in my Uncle Jerry's basement in Garfield Hts., Ohio back in the early/mid sixties. Sorry I don't know who else was in the band or if that iteration of the band had a name.
My father and his brothers (and 2 married sisters) all moved from Buffington, PA, where they were raised, to Cleveland, OH to find work. 3 older brothers served in WW2. My father went to report to serve in Korea, but was sent home as my mother was pregnant at the time. That may be where "Gonna Get My Hair Cut" came from.
My Uncle Jerry was the youngest of 8 kids and Clayton is a couple of years older. Jerry served in the Navy before coming to Cleveland. He was as handsome as Elvis and could do awesome impersonations!
The songs were all recorded in the Cleveland area, but I'm not sure exactly where. Most of the family migrated to the suburbs in the early to mid 60's
The last records were country, not rockabilly. Those were on the K-Ark label. Those songs received local air play on the radio in PA in the Pittsburgh area. I heard them on the radio as a kid while traveling to see my grandparents back in the mid to late1960's. "An Ounce of Truth" and "Seeing Is Believing" both received air play.
The last I know of, my Uncle Jerry's band was Jerry Clayton and the Country Squires. I last saw him perform at Ponderosa Park in Salem?, OH. Some of the acts that performed that day (1974 or 75 it was) included George Jones, Tammy Wynette, Hank Williams Jr. and many others. I don't know of any records being cut after those original songs my father wrote. The Country Squires played mostly covers and those older original C&W songs from the 60's that my dad penned. I know that they gigged in Geauga County, OH back in the 70's, but don't know where - I was too young to attend."
Discography:
Date Bait / Love Me Or Lose Me - Up Town Rhythm 301 - c. 11/60
The Metal Monster / Santa Claus - Big I 301/2 c. 11/64?
Gonna Get My Hair Cut / Not An Ounce Of Truth - K-Ark 860 - 1968