Endeavors
---
Forest Park, 1966-75
The Endeavors were a soul; group from the Forest Park neighborhood of Cincinnati. They had a 45 on a local label, Empurestate, that was recorded at King. The songs feature vocal harmonies and tight playing. The Empirestate label was owned by Nick Hudarow and only lasted for the one 45. They are listed as competing in a 1967 battle of the bands held in Middletown.
The first lineup of members was Eugene Scott, Irving McKinley, James Crawford, Mike Carr, and Jerry Middleton, with John Thomas as their manager.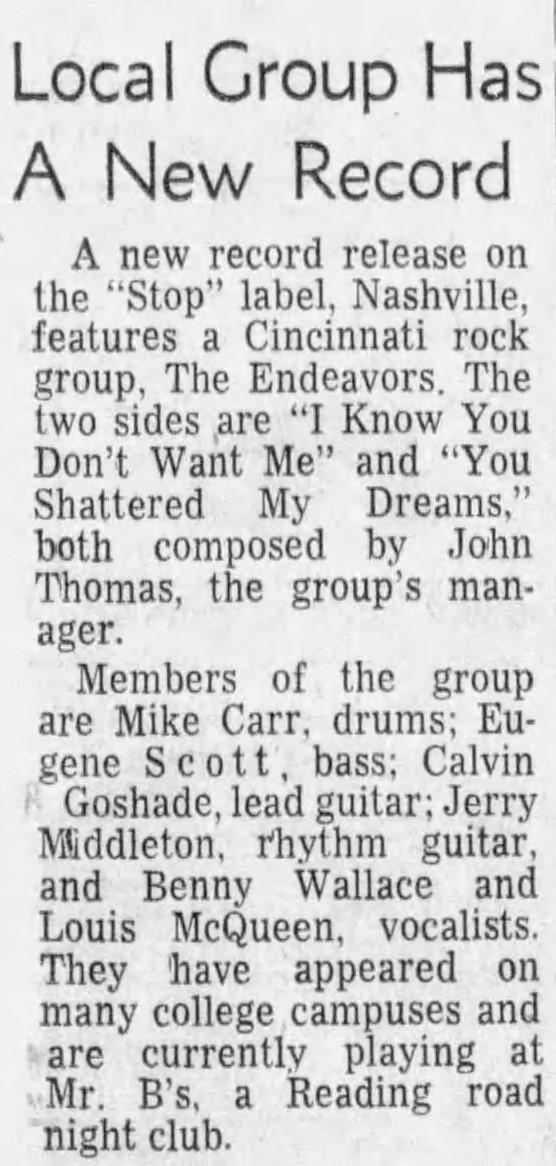 December 1969 article
The band recorded their second 45 in 1969. The members had changed a bit, with Calvin Goshade playing guitar, and featuring two lead singers, Benny Wallace and Louis McQueen. John Thomas wrote the songs.
According to an online source, they relocated to Nashville around 1971. They made two 45s for the Gambit label, and one more 45 for Avco in 1975. The songs they are recorded were generally written by outside writers, except for their last 45 which was co-credited to Mike Carr and D. Thompson, we don't know who that is.In 1979 Benny Wallace with Jimmy Stewart and Charles Glenn, two supposed later members, started Ozone, who recorded 5 LPs in the 1980s. There is a 45 credited to Jerry Middleton and the Endeavors from 1978, with "I'm Your Lovin' Man", a song that seems to have been an older recording.
There was a Cincinnati band from the mid 1960s named the Endeavors IV. No connection between the bands.

Discography:
Beware Of Your Friends / I Can't Help Crying - Empirestate No # (Rite 18797/8)
I Know You Don't Want Me / Shattered Dreams - Stop 372, 1969
Sexy Woman / Who? Shaft Where? - Gambit 006, 1972
Goin' Down / Manchild - Gambit 010, 1972
Tighter And Tighter / A Piece Of The Good Life - Avco 4662, 1975