Crystal / Parade
---
Cleveland, 1975-6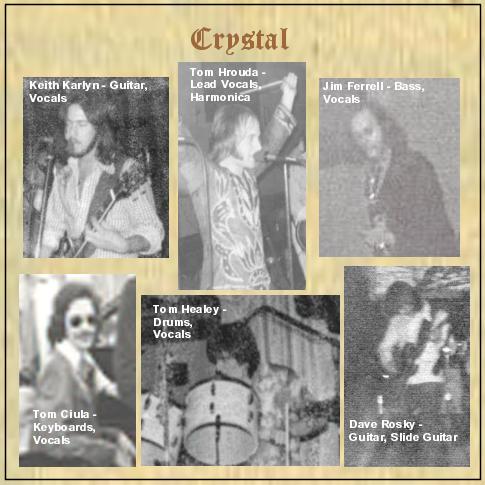 Crystal evolved from Crystal Mountain.
The band was Tom Hrouda (lead vocals, harmonica), Tom Ciula (vocals, keyboards), Dave Rosky (lead and slide guitar), Keith Karlyn (lead guitar, vocals), Jim Ferrell (bass, vocals), and Tom Healey (drums, vocals). Later, Jim Ferrell left and Bob Kadlec joined on bass and vocals.
Crystal played regularly at JBs and JBs down (a favorite gig) in Kent and the BBC in Akron. They also played high schools, They covered songs by the Sensational Alex Harvey Band (a performance favorite) (editor note - SAHB was huge in Cleveland at the time), Todd Rundgren, the Eagles, Joe Walsh/Barnstorm, James Gang, Aerosmith, CSNY, Styx, Queen, Small Faces, Traffic, Foghat, the Spencer Davis Group, and others. Crystal also performed a few originals,
In 1976 they changed the name to Parade. The band's cover material and performing venues also expanded.into the Joker (in Elyria) and places in Lorain, Ashtabula, and Columbus, They were regulars at Today's Odyssey in Maple Heights and became the unofficial Saturday house band. The song list added Bruce Sprinsteen, Yes, Genesis, Average White Band, Sly and the Family Stone, David Bowie, Ambrosia, and more.
Thanks to Dave Rosky