Crack The Sky / Words
---
Weirton, WV / Steubenville, 1973 -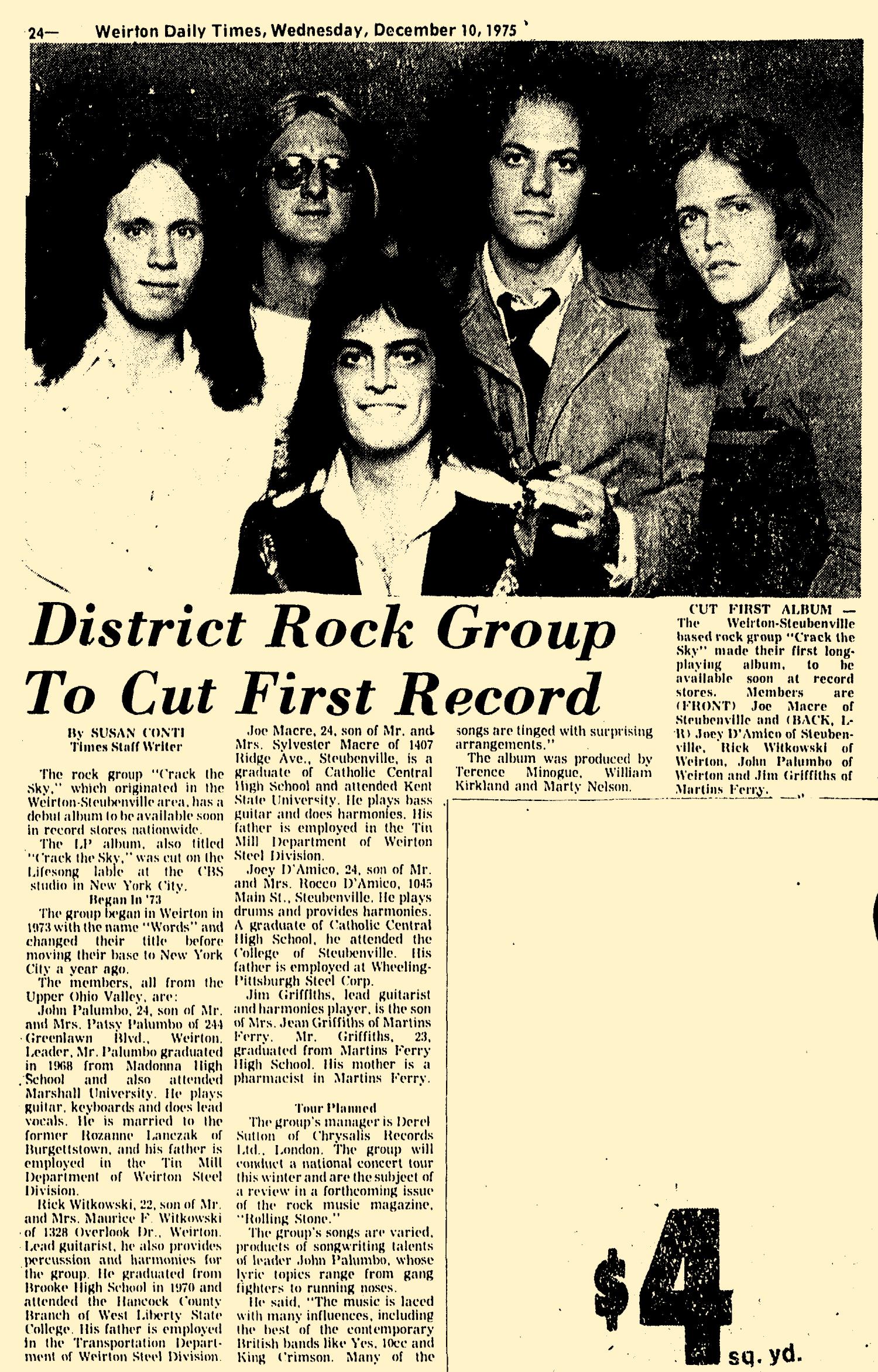 Article from Dec 10, 1975
Crack The Sky has been lauded and followed by a rabid group of fans since their 1975 debut LP. The band is still very active, releasing new recordings in 2021 with 3. sometimes 4, of the original 5 members involved in their recent releases.
There are many sources for CTS news, interviews,.and recent bios, so we're going to concentrate on the band's formation and early years, which doesn't seem to be that well documented besides some repeated (and sometimes, incorrect) bits of info.
The band formed in 1973, under the name Words (not 'The Words', just Words). The two principal (and,except for a couple years, constant) members are singer/songwriter/keyboard player/guitarist John Palumbo and guitarist Rick Witkowski. Both were from Weirton, WV. Accoriding to archival interviews with both, they met at a local music store in 1972/3 as John was playing a riff from a Grand Funk Railroad song. The story before that is a little unclear or misleading. John had supposedly returned from travelling around the country, however he was in two local bands, first Trinity from 1971-2 and then Uncle Louie from 1972-3. Both bands were described as from Weirton in local papers, although John was also said to lived in Pittsburgh and gone to college. This was probably prior to Trinity as we're not able to trace his name anywhere else. He did graduate from Madonna HS in Weirton, class of 1968.
Rick Witkowski was playing in a band named Sugar in 1973, before Words. He was a couple years younger than John and graduated in 1970 from Brooke HS. Before Sugar, he was in People's Choice, a fairly popular band that featured a woman singer. Other sources have mentioned that he cut a record before Words, possibly with People's Choice. If so we have no idea what that is but it's possible they are confusing that with the Trinity 45.
The lineup for Words was completed with 3 Ohioans. Joe Macre (bass) and Joey D'Amico (drums) had first played together in the Movin' Violation while students at Steubenville's Central Catholic High School. They both graduated in 1968. Macre was a member of the Universal Joint for awhile. Finally, Jim Griffiths (lead guitar) was from Martin's Ferry about 25 miles south..
The best guess for when Words debuted would be late summer/early fall 1973. Uncle Louie was playing locally through May 1973 and Sugar through August 1973. Palumbo and WItkowski could have left before those dates, though. The first ad for Words playing in the Weirton/Steubenville area was January 1974. In August, 1974 the name change to Crack The Sky was announced in the club ads. One ad noted they were back from New York.
Ads from the Aug 31, 1974 Weirton paper....having a little trouble with the new name!
The New York trip seems to match up with the standard CTS formation story. According to interviews, Words included up to 10 members. likely using horns. Around this time, Palumbo and Witkowski went to New York City and shopped their songs around, leading to a deal with CashWest productions. The same referenced interviews said that CashWest told them to 'get a band together'. This was probably spring of 1974 and when they returned home, they paired down Words to the original five and changed the name to Crack The Sky. Ads from August, 1974 would suggest that month the band changed their name. A couple other online sources mention the band name 'Arc Angel" but there is no evidence a band by that name played out. The main interviews with Palumbo and Witkowski only mention Words as the CTS predecessor.
The band recorded their first LP in 1975 for the Lifesong label and was released to some significant critical acclaim (especially in Rolling Stone magazine). The record had airplay in several major cities,especially Baltimore, where they were a huge success and drew crowds equal to many concert headliners.
The rest of the band's hsitory, and discography, is covered well online. There are several interviews with Palumbo and Witkoswski that have a quick overview of the band's formation. Oddly, for a band with a cult following like CtS, there does not seem to be a strong fan forum online that could bring forth more details.