Barry Lee and the Actions / Barry Lee / Buddy love
---
Cleveland, 1963-8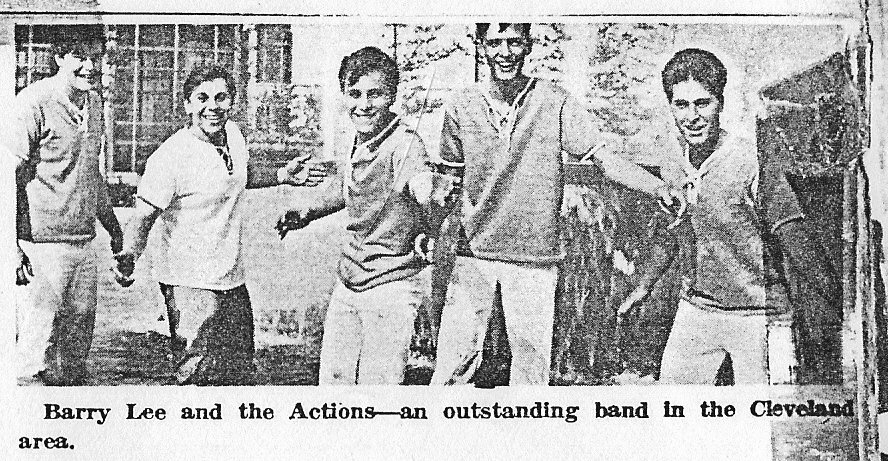 In 1964 Lee Cuilli followed Bocky's path out of Cleveland's Little Italy neighborhood and into the management fold of Redda Robbins. His first release, "Make It", appeared on the Redda label as the more pronouncable, less ethnic sounding Barry Lee. The record had a sound similar to Bocky & the Visions' popular recordings of the time and became a hit on local radio. The backing band was Richie & The Fortunes, the same as Bocky. All involved really shine on the flip side, "Things Gotta Change", a rockin' combination of Doo-Wop, R&B and garage band styles, which we here at BuckeyeBeat refer to as "The Cleveland Sound". The master was leased to United Artists, who released it nationally on their Veep subsidiary. The record failed to chart outside of the Cleveland area and no immediate follow up was issued.
A month or so later, the same group (Barry with Richie and the Fortunes) went back to Audio Recording and recorded a 45, a pounding version of "Heartbreak Hotel" that is much different than the Elvis classic, with Richie Green playing a nice lead and Buddy Maver pounding the drums. Barry is credited as "Buddy Love" one the 45, released on the one shot Proud label. The flip side is a greaser ballad "High School Days" written by Barry and Tony Bodanza.
Barry continued to perform locally, assembling his own backing band, The Actions, made up mostly of area high school students. Members included Dave Zaller (guitar), Vince Baskovic (bass), and Ken Ruscittio (drums). Another stab at recording came in 1966 with the one-shot Wine & Roses label. "For Such A Little Wrong" was a fine pop effort, in the style of Jay & The Americans minus the production budget. The flip side, "Try Me", leaned more in the British Invasion direction. Once again local airplay led to a national release, this time on different United Artists sub label, Ascot Records.
The band continued on for another year or so with Milt Muth replacing Vince. There seem to have been some other different members,
A 1968 single by the Barry Lee Show is an unrelated UK artist.
Discography:
Make It / Things Gotta Change - Redda, Veep
Heartbreak Hotel / High School Days - Proud 101, 1964
For Such A Little Wrong / Try Me - Wine and Roses, Ascot