the Alcon Shades / Soul Gathering
---
Cleveland, 1968-1972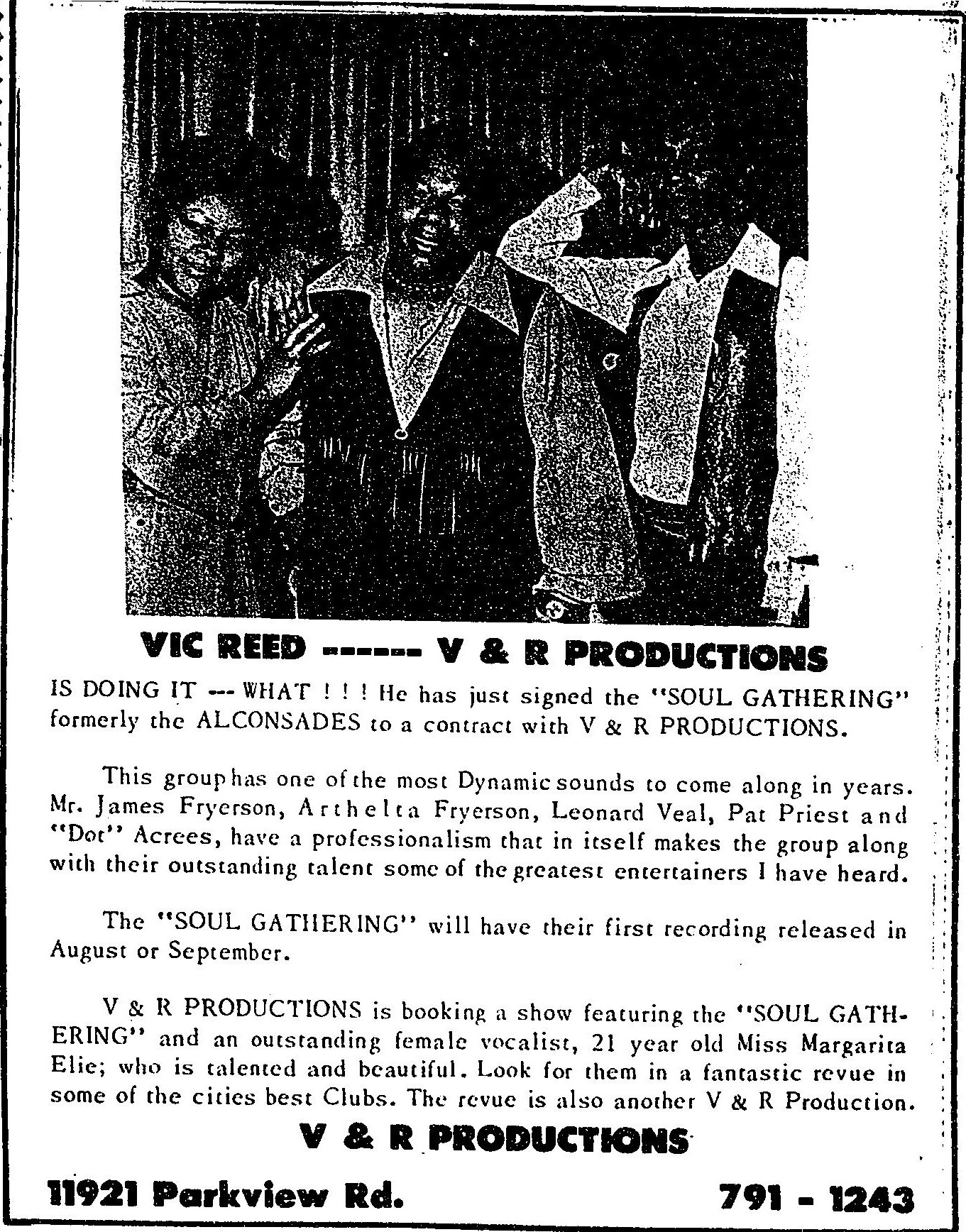 The Alcon Shades were a Cleveland group who recorded a 45 for the Blue Rock label. The orignal group included the husband and wife team of James and Arthelta Freirson. James had been in the Metrotones/Five Jades.
The group was mentioned a couple times in the Call and Post, performing on a large show with several performers in 1969.
The 45 was probably recorded at Audio Recording and includes a couple originals. The A side "All is Forgiven" is a nice funky swinger, written by Frierson and Lee Davis, featuring the female singer on lead. Accoridng to copyright, Lee Davis is a pseudonym for Hildegarde Boettcher. The other side is "Midnight Light", credited to Lee Davis, featuring the man on lead vocals. The same song was later recorded by Charles Davenport, with the writer credits as Carl Maduri and Bob Turek. Maduri was definitely involved with the Alcon Shades session as both songs are published by his Carlman publishing and Magic Productions. Bobby Hill is listed as the producer. We don't know anything else about Hildegrade Boettcher.
In 1970 the group was reborn as the Soul Gathering. In addition to the Friersons, the group included Leonard Veal (who had been in the Metrotones with Frierson before joining the Hesitations), Pat Priest, and Dot Acrees, accroding to the ad. It's not known if any of three had been in the Alcon Shades.
The Soul Gathering performed locally, including opening shows for the Fifth Dimension in 1970 and the Stylistics in 1971. They recorded at Boddie, with one song, "You Can't Fool Yourself", surviving on an acetate.
That's all the info we have
Discography
All Is Forgiven / Midnight Light - Blue Rock 4068, October 1968
You Can't Find Yourself / blank - Boddie acetate, 1970