Vicki and the Rest
---
Kettering (Dayton), 1964-7
The story of Dayton's first all girl band, as told by drummer Leslie Cash - "My sister & I got interested in music when the BEATLES came along, they were our only musical roll models. We would go to Frances' house and pretend we were the Beatles, play their records and each be the one we loved, of course I was JOHN! (Penny Cash, my sister, loved George and Frances Davis loved Paul, so it all worked out, I even signed my name John Lennon on my school papers and my teachers knew who it was until one day we had a substitute and she looked up and said who's John Lennon? All the kids turned and looked at me and boy was I embarrassed!) So one day Frances told us some other girl at our school was trying to find other girls to play in a band with her. We showed up at Vicki Van Winkle's house on a Saturday, along with Merri Hill (neither one we knew.) Merry brought along her guitar, Frances already had a guitar, but Penny didn't have a bass and I sure didn't have drums. Since the drummer spot was the only thing left, I said ok, knowing I could keep a beat, although not really thrilled about playing drums in front of any audience, since Penny & Frances were going to do it, I went along with it. Our poor mom had to buy a bass & amp (Penny was ecstactic to later find out her Harmony bass had belonged to Randy Hobbs of Rick & the Raiders, he recognized it at one of our Forest Park jobs and told Penny, and she already had a big crush on him anyway!) She also had to buy my drum set, at first trying to save money she only bought a big field bass drum and a snare for me, but very quickly Tom Fortner of Tom & the Tempests who was a friend of Vicki's told me I wouldn't be able to use those, so back to the ol' music store and mom had to get me a nice new champagne pink set of Ludwigs, wow! Since she had to buy all this on time, every job we got we gave mom our money to go toward the instruments, she would let us keep $1 ea., but we figured sooner or later they would be paid off! (and now that I look back, even if we'd let her keep our $1, they were prob. never paid off in the span of our band's big career, poor mom! hahaha...).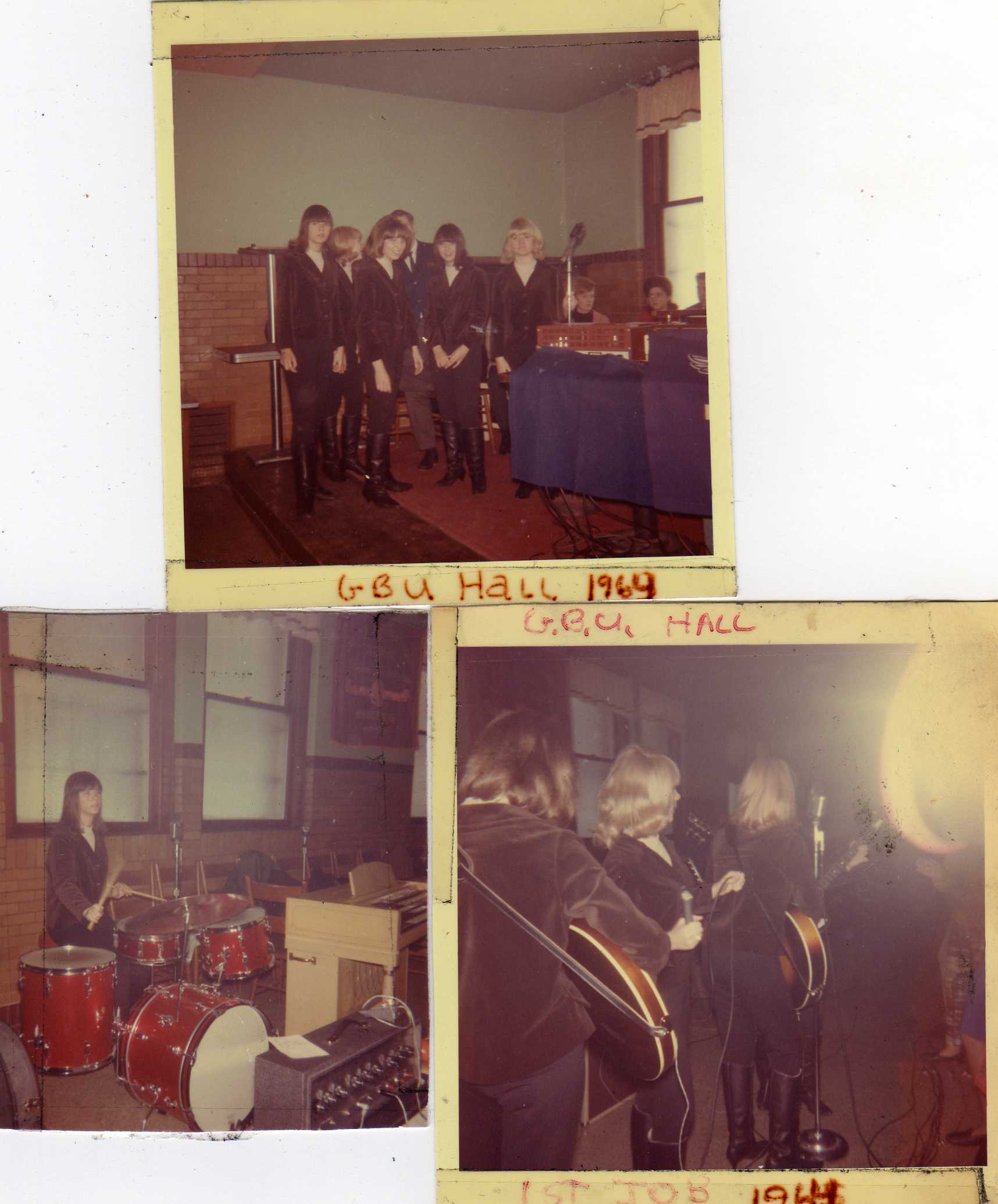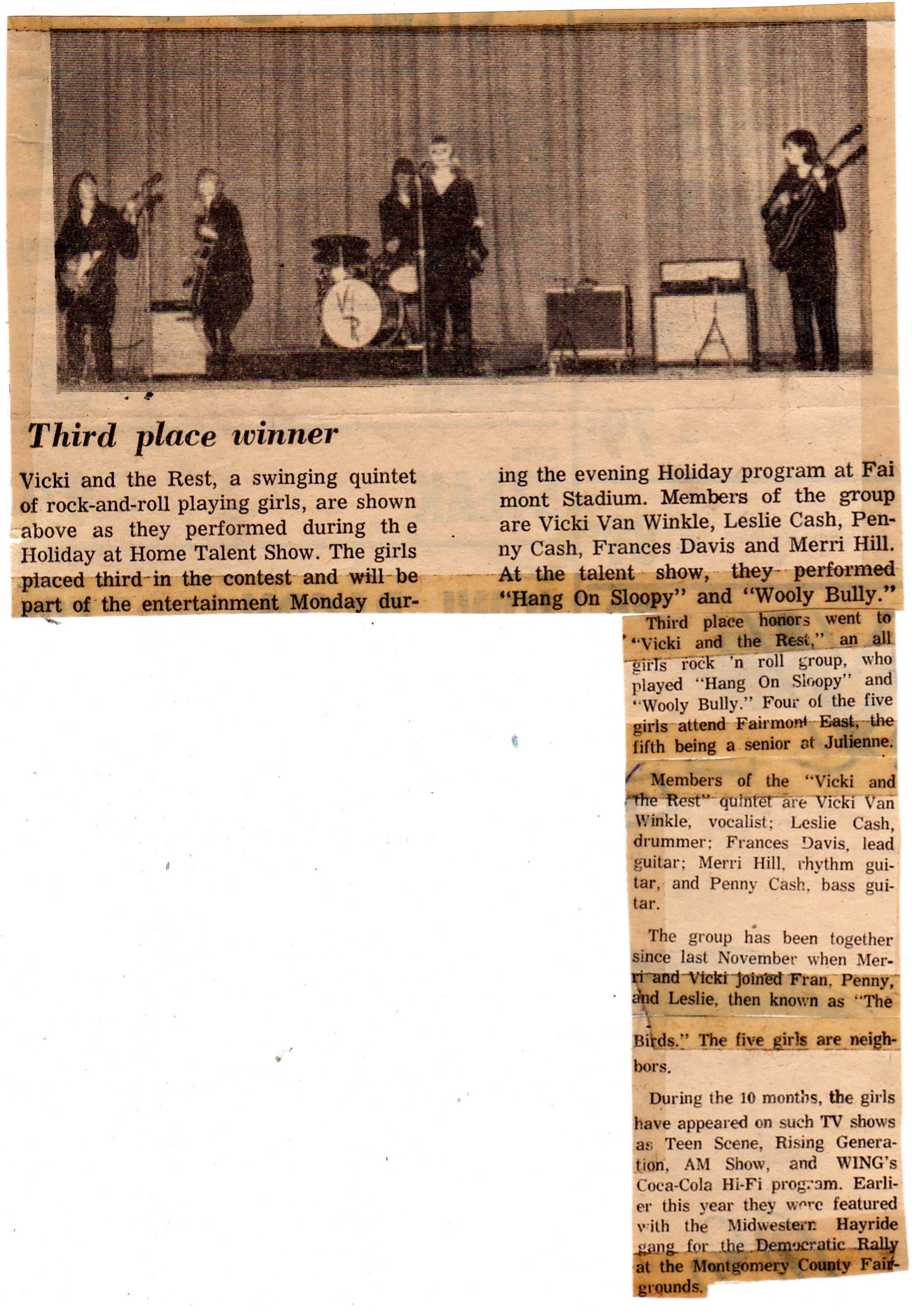 Everyone was amazed when we made our debut at the GBU Hall battle of the bands, and won, that was in late 1964. People were on each other's shoulders to watch as they couldn't believe there was an all-girl band, (I was only 14 at the time, the others were 15 and 16.) We had gotten together just a couple weeks previous to our debut, but somehow we managed, luckily Frances & Merri already knew the basic chords, and I used someone else's red drum set that was already set up there, and the bass drum kept sliding out and I was terrified, had to keep pulling it back between beats, later used a small chain to hook my bass drum to the seat legs, worked great! Four of us went to Fairmont East in Kettering, Merri went to Julienne. We played cover songs of hits of the day, we sure loved the Beatles, but played songs we liked. We got jobs all around Dayton, played at same jobs as the Pictorian Skiffuls (I later married their leader Roger McIntosh.) Also played with Rick & the Raiders, who later became the McCoys, as you know, as well as most of the top bands around Dayton at the time. (the only difference was our girl band was paid about 1/3 of what they paid the boy bands, oh man!) We were on various tv shows, Rising Generation, etc. and featured in the Dayton Daily News a few times too, we won talent contests and even played in the Kettering Holiday at Home parade, we were quite an oddity at that time being girls. Of course guys in the audience called us Vicki & the Breast, and requested the name game song with Chuck...after a very embarrasing time, Vicki caught on and instead of F..., she would say Good Luck, and groans would be heard from the crowd. We were together all through 1965, '66 & '67. We recorded a demo record in Dayton,by Ken Hutchinson Production Co., one side had Be Gone With You, the other was Young and Dangerous, both written by Vicki and both sounded really lousy! We decided the demo was quite enough and not to make it into a real record(we were much better than that when we played other hit songs!) Merri left after a while and we brought in Frances' boyfriend Dan MaLoon for some good guitar playing, that was only for a short while near the end. After we decided to break up, a couple other girl bands started making the scene, one of which my sister/bass player Penny decided to join, the Bittersweet (or Bittersweets.) But Vicki & the Rest was the first and the best of course, a real surprise to the band scene at that time for sure!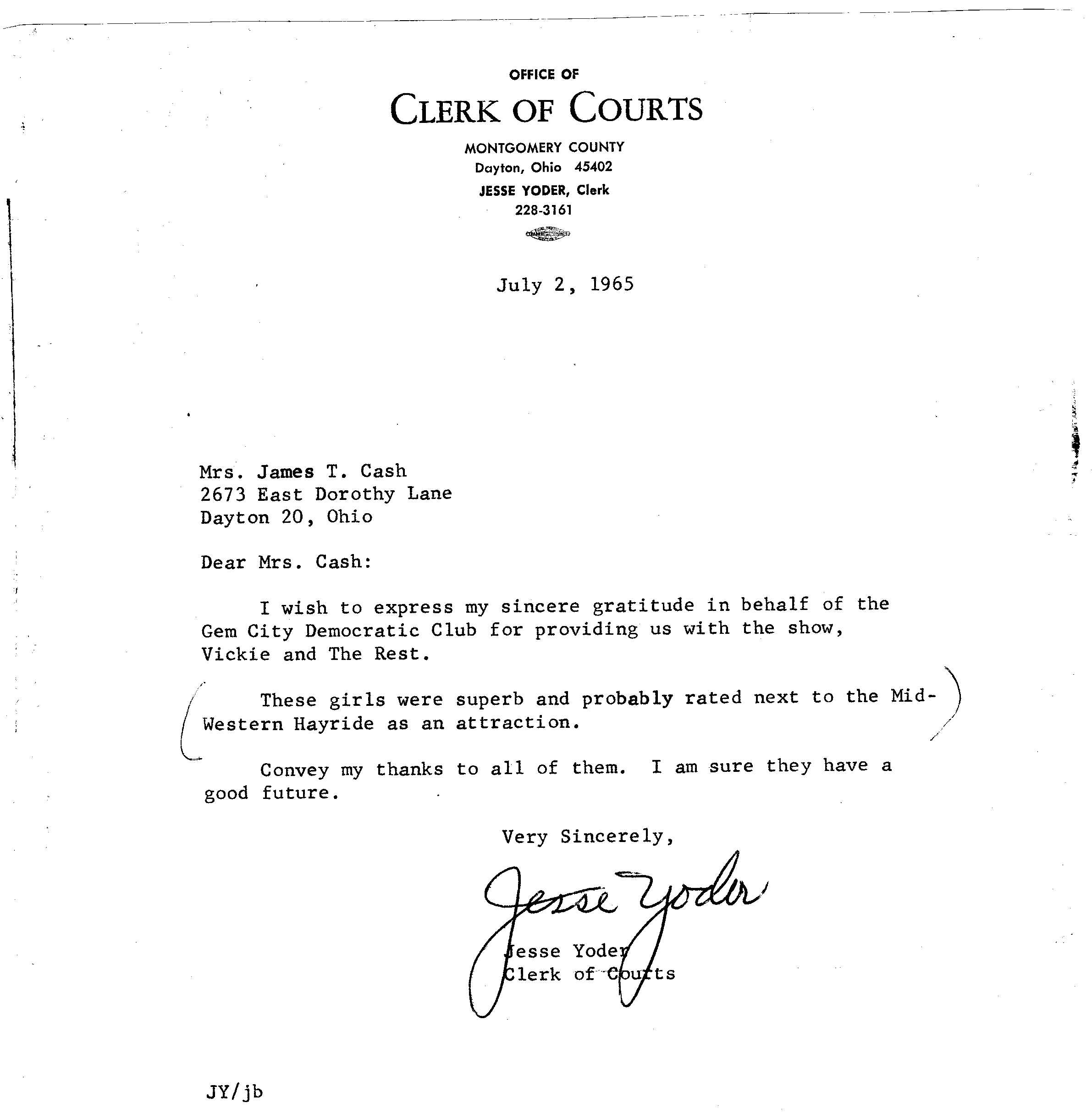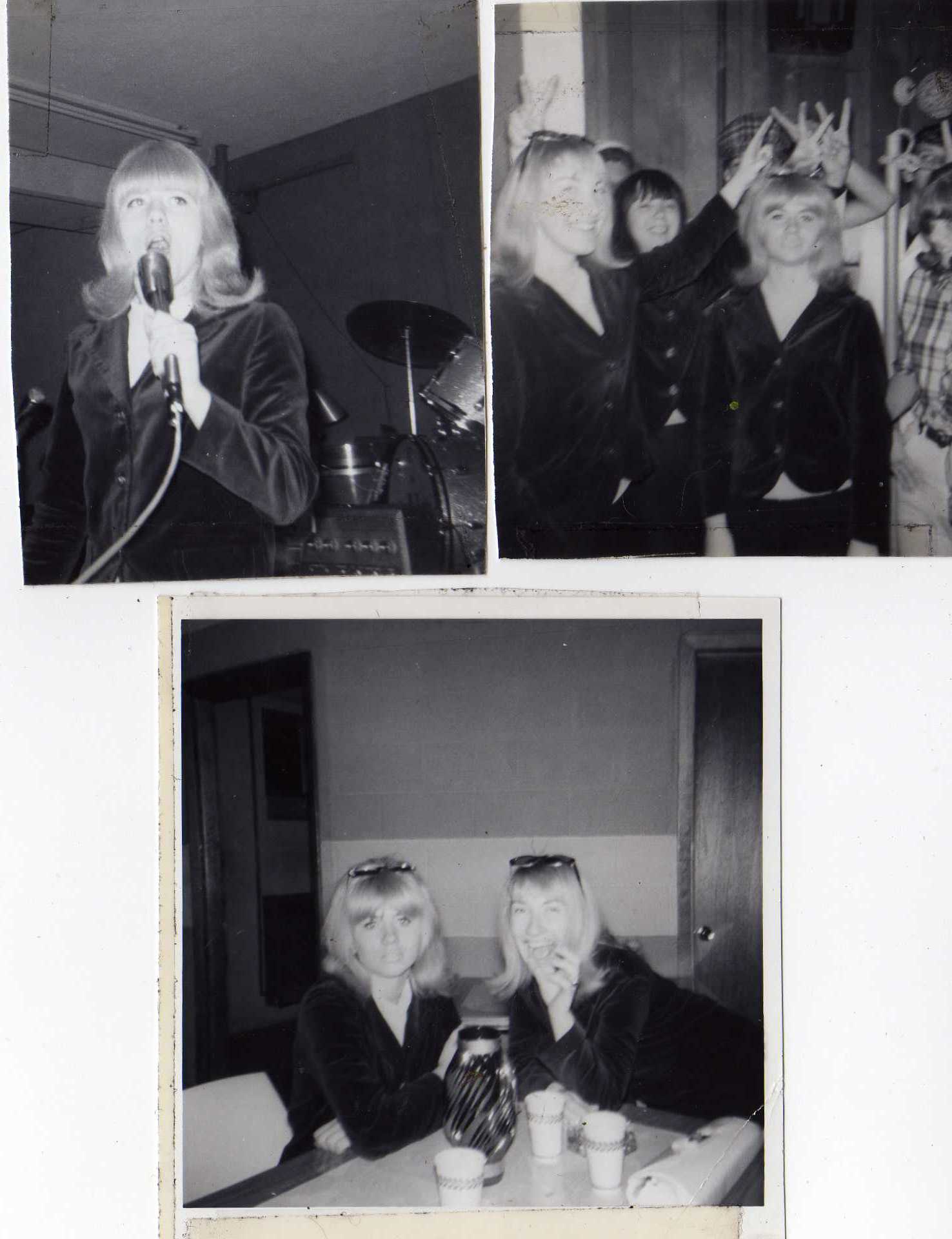 The closest thing to a manager was my & Penny's mother Betty Cash, she called around and found jobs for us, later a girl at our high school said she would be our manager, Jessica Ellis, didn't really get us any jobs, but snuck 3 of us in with reporter passes to talk to the Shangri Las in their hotel room when they were in Dayton. One of the articles says we gave them our demo, but I don't remember doing that, I thought it was awful, but it was fun talking to them, they bought us some cokes which I thought was such a nice thing for them to do! One of the articles mentions some of the tv shows we were on, at WHIO and WLWD, and on a WING live radio show once.
At school everyone knew we were in the band, lots of guys would ask me for a date, but I would tell them their hair was too short. (I was safe since our school wouldn't let boys grow their hair.) I think I got the most attention the day I had to bring my snare drum & stand with me to school & keep it in my locker so we could do the newspaper interview at Vicki's house right after school. We one time played at a girl's poolside birthday bash with all her friends there (we didn't know any of them, and we kept getting shocked out on the wet pavement by the pool), but one of the girls there was later in the Las Vegas band scene, and she told Penny she thought we were such big stars when she saw us there that day. Penny later played in their band, and that girl Cathy and her husband now produce Vegas shows and teach about hotel management, he's the Dan Nelson Productions. We kind of figured after playing a while and getting the reactions from the crowds, that we had pretty much "made it" as much as you can locally anyway, we played everywhere the top people could play. We even got a steady job at a nightclub called The Tropics in Dayton, we were all to young to even go in there, but our moms signed a consent form. So after school every day we went home got ready and headed for the Tropics for the evening, and we kept it up for about 2 weeks until Vicki passed out sleeping on her desk, and the school found out about it, so we had to quit (and prob. a good thing as we were all just exhausted, and besides the old owner Georgie Rudin walked in on us a couple times while we were trying to change clothes in their cramped little dressing room, we were outraged!!). Also that was the era where the girls wanted board-straight hair, and poor Frances had naturally curly hair. She would even iron it before a band job, and then we'd get into the place and it would be humid and boing, her hair would curl up again, she would cry over it.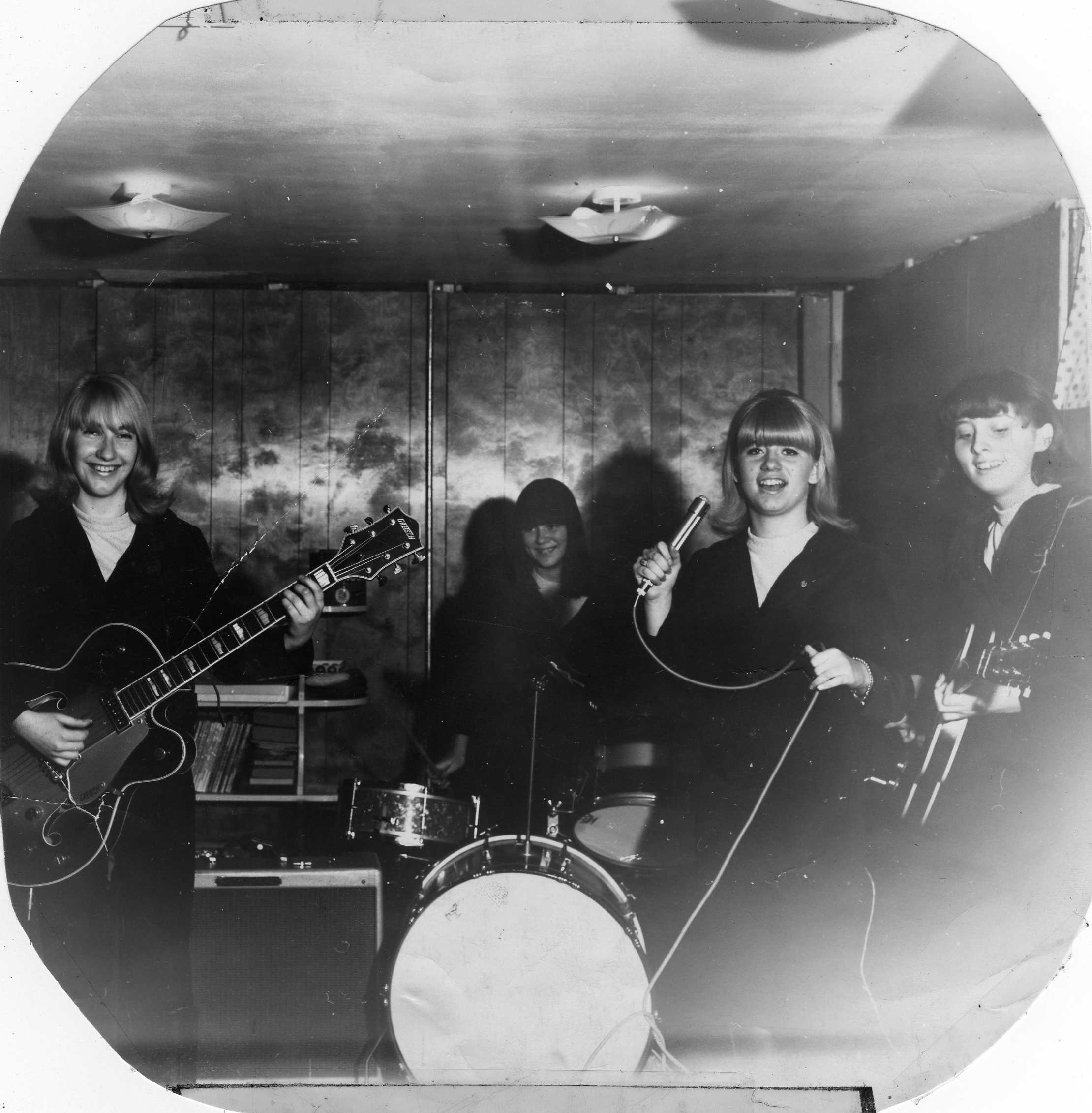 I always had my bangs way down almost over my eyes, so I could hide with my head down as I played, I was so scared and shy, I couldn't even look at the people, I asked them if I could play behind a curtain and not be seen! Vicki made me curl the bottom of my hair for our first job, and I was so mad about that, I liked my hair just straight, but that was the one and only time I did that! I was so scared of drawing attention to myself, I didn't ever want to do any fancy drum parts, but we were ready to go on live tv and were playing a Beatle's song, which had a stand-alone drum part from snare to small tom-tom to floor tom, and I told them I was going to skip that part. Vicki and I went back and forth about it, and I made up my mind there was no way, but we started playing on live tv, and mid-song just before it was to be there, Vicki (off mic) turned quick and said DO IT in a mean low voice, and my hands just automatically did the whole thing! What a riot sometimes, I was never meant for the spotlight, that's for sure!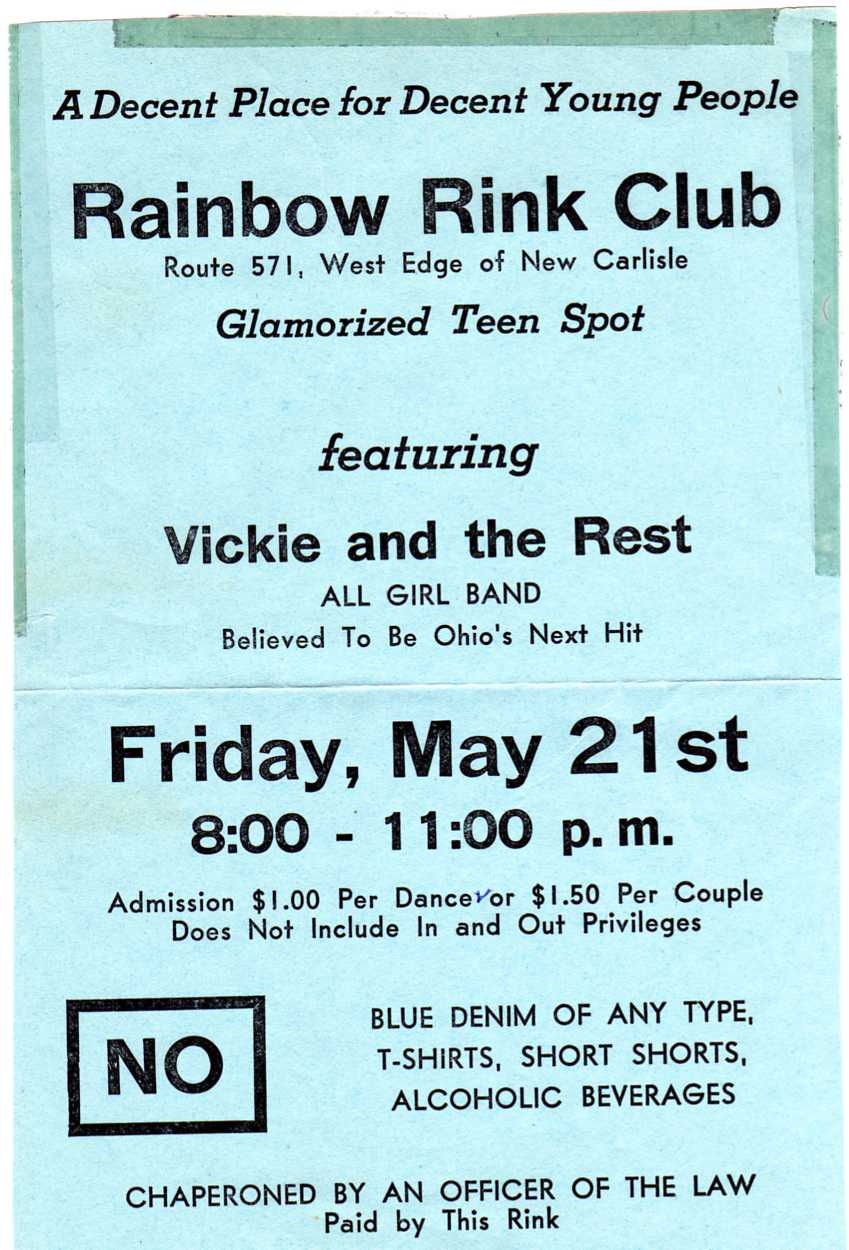 They were so strict back then about dress codes and proper behavior, even at school our office/unit supervisor called Penny & me in and lectured us about cutting our bangs, can you believe it?! Sexist things such a Vicki & the Breast and much lower pay than the boy bands happened, and we thought we might be getting close to our big break, when we gave our band's business card to Paul Revere & the Raiders, we waited and hoped they might want us to tour with them. A couple weeks later we got a phone call, it was their singer Mark Lindsay & he wanted Vicki's phone number, we gave it to him and held our breath, OH BOY this is our big break!...when we talked to Vicki, she said he only asked her if she would send him a photo of herself in a nightie!!!!!!!!! UGH!!!!!!! I just recalled our most embarrasing stage moment last night you might enjoy, we were playing at a high school dance, and started out the first set with an Animals hit song "We Gotta Get Out Of This Place" which had a lead in lone bass part Penny knew well. She started and played it really great as usual, but when the 2 guitars chimed in together, they were WAY off key, Penny & I of course figured it was their fault. We just stopped dead, and the audience broke into applause and laughter, boy were our faces bright red! It only took a few seconds to figure out it was PENNY's fault, she's the one who started out in the wrong key, what a laugh it was later on, but not at that particular moment!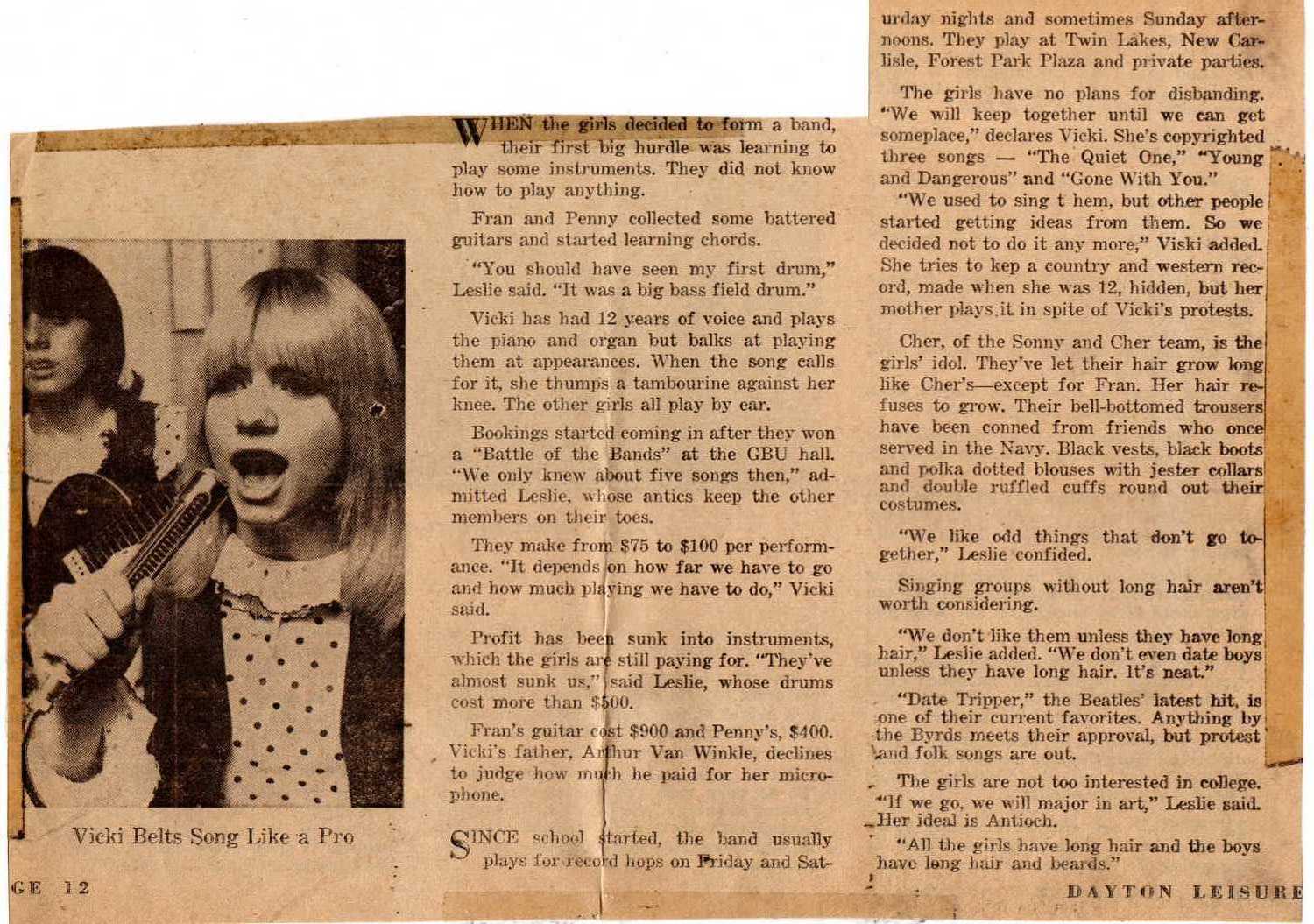 An agent lady, Shane Taylor's mother, had contacted the Ed Sullivan people and if we would change our rough look and wear gowns as the Supremes were doing back then, they could put us on the show, and we told her NO WAY! ... dumb us, huh? Another lady at the Rising Generation show told us we should not wear pants, only dresses, and I told her it would look real nice for a drummer with her legs apart to wear a dress!! They also didn't want us to sing the 1st song we learned and were good at, House of the Rising Sun, because of it's meaning, and we didn't even know what it meant back then, it was a number one song and we liked it, that was all. The song we played everywhere people loved and made us keep it going and going and going was Shout, and they would dance themselves into a frenzy after that lonnnnnnnnng version!
The ridiculous poem I wrote with Vicki when we saw a Dayton Daily news Tempo article about Dayton bands, and a new girl group named the Chanelles complained because they weren't mentioned. Oooo, we got steamed since they had the nerve to gripe, and we were the first ones, and we weren't mentioned either! So they printed our dumb poem and also did an article about us again, this time after Frances' boyfriend Dan joined us replacing Merri, and boy he sure played well!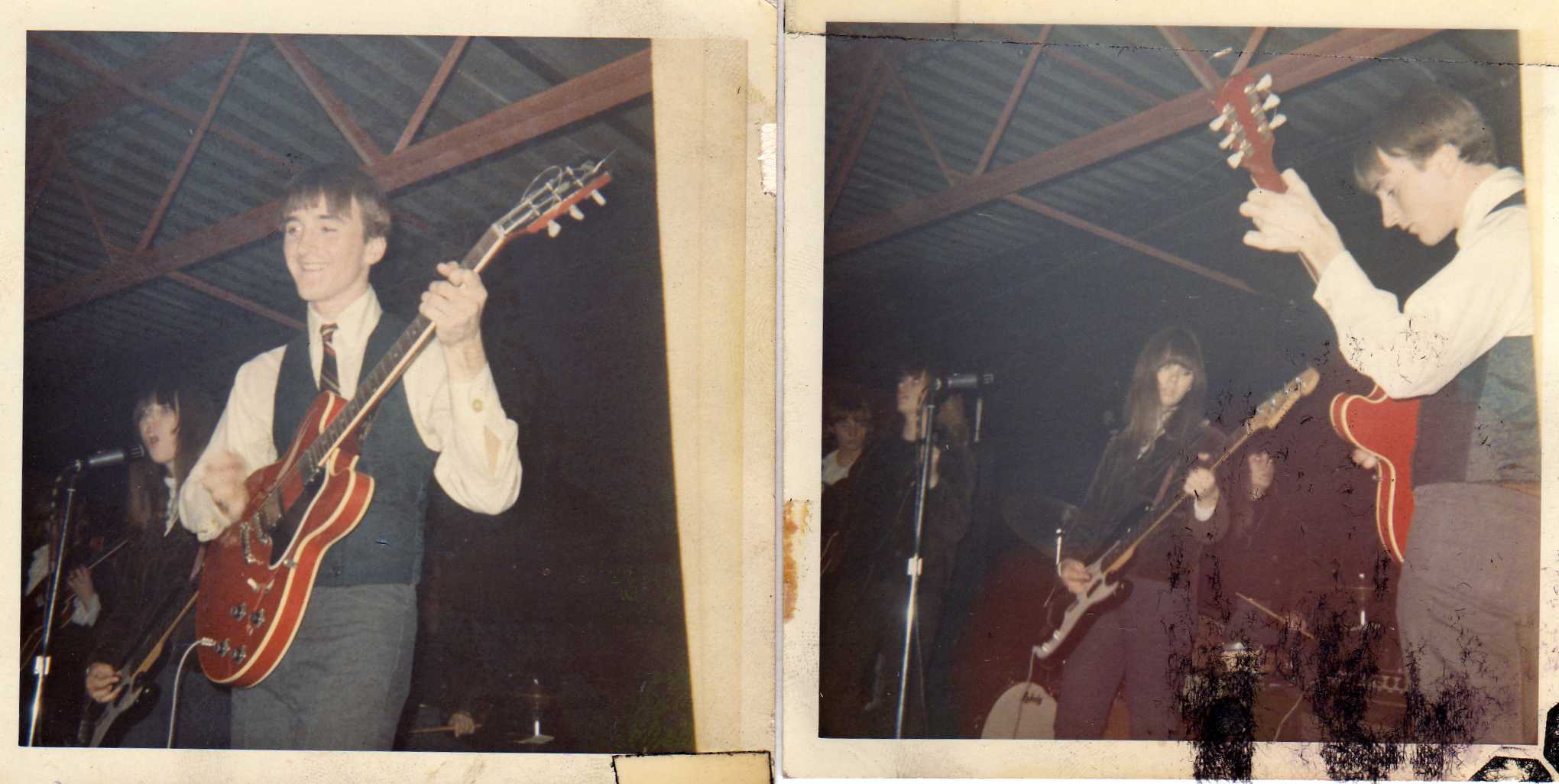 These were pictures after Dan joined us, (Frances later married him and they had 2 kids, now divorced.) Vicki had dyed her hair brown at that time, so you won't recognize the singer, but it's her! She had made a record when she was 12 yrs. old down in Nashville, (There Goes My Heart/Little Blue Eyes), pure country, and Dottie West was one of her back-up singers along with the other studio lady singers back then, and she had a blind piano player. She wasn't into country by the time we all got together, and just died if her mom would mention that record, but it got to #1 in the state of Florida back then, must have been about 1960." (Ed. note - the 45 was on Ken H records, owned by Ken Hutchinson, same person who recorded the band's demo).
Thanks to Leslie (Cash) Sickler for the AMAZING pics and story!