Veline Hackert / Velon Hacker - the Paris Brothers - Buddy Covelle
---
Alabama, 1959-1960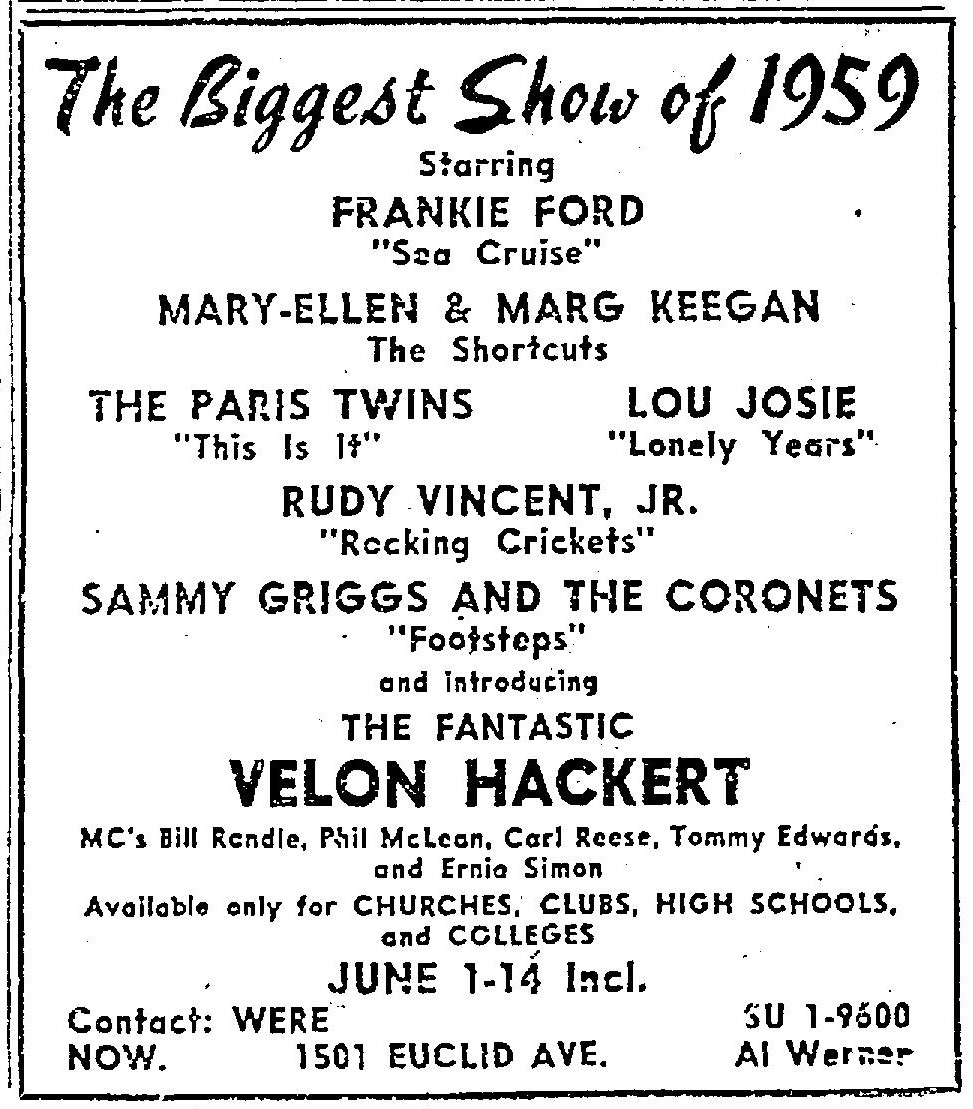 The Decca record company, like many other US record companies, started signing rock-n-roll acts in the late 1950s, with little knowledge about how to record and market the new style of teenage music The label, along with subsidiaries Coral and Brunswick, developed a relationship with Cleveland's Audio Recording studio.
The three artists listed, Veline Hackert, the Paris Brothers, and Buddy Covelle, were from Alabama. They were signed by Decca/Brunswick/Coral and sent to Audio Recording to work with Lou Josie and J.C. Hill. Lou and J.C. wrote most of the songs and play on the recordings, which all have a similar sound in the backing band.
Veline Hackert's real name was Velon Hacker. He was from the Florence, AL area. During his time in the Cleveland area, he made at least one live appearance as Velon Hackert. We don't know why the 45 uses the name Veline. After making his 45 at Audio, he formed a band with other family members called the Hackers back home in Alabama. In 1966 they made a 45 in the teen garage band style called "Keep On Running, Girl"
The Paris brothers were from Vina, Alabama, twin brothers Floyd and Foy Parrish. They were cousins of Velon.
The true identity of Buddy Covelle is not confirmed, but according to Lou Josie, he was part of the group that came north. Our best guess us that Buddy was a recording pseudonym for one of the Hacker brothers, or one of the two Parrish brothers. The second Paris Brothers 45 and the Buddy Covelle 45 have consecutive Decca label family master numbers, so we're thinking he was one of the Parrishes going solo.
Discography
Paris Brothers
This Is It / Our Love's Here To Stay - Brunswick 9-55132, May 1959
Funny Feeling / Heartaches, Heartaches - Coral 9-62220, July 1960
Veline Hackert
Show Me How / Billy Boy (Where Have You Been) - Brunswick 9-55151, Oct 1959
Buddy Covelle
Lorraine / I'll Go On Loving You - Coral 9-62181, Mar 1960
Sometime in the 1970s, a record collector made a bootleg copy of the record using the Forest City label.. The Forest City boot has the same recordings as the Coral label orgin