Triumphs
---
Newark, early 1960s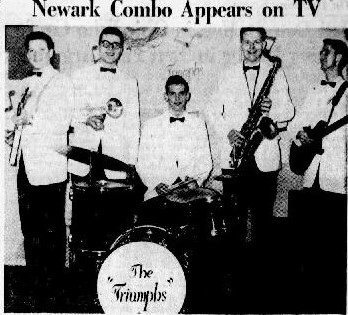 L-R: Earl Loar (guitar), Bruce Cady (trumpet), Greg Miller (drums), Fred Moorehead (Sax), and Fred Gartner (guitar)
The Triumphs were an early rock-n-roll band from Newark. They recorded a rockin' instrumental "Draggin' Wagon" that was a local hit and continued to get airplay and (bootleg) sales in Pittsburg during the 1960s.
The band was started by local high school students around 1959-1960. Earl Loar was the founder and leader. An ealry lineup featured Loar, Gartner, and Miller with Jack Tiebout on sax. The band practiced in the Miller family home basement. As one of the few local rock-n-roll bands, they played a lot of local shows. Priot to the Triunphs, Fred Gartner is mentioned in the Newark paper as leading the Hepsters in 1958.
The band recorded the 45 in Columbus and issued it on their own label. The band played "Draggin' Wagon" on the Gene Fullen Hi-Fi Club TV show in Columbus and the record was aired in Newark and Columbus.

Later, the band added female singer Vickie Hixson and bassist Ralph Spangler. Bruce Cady was gone.
Fred Gartner later recorded with the Ferraris - for certain he was a fan of foreign sports cars!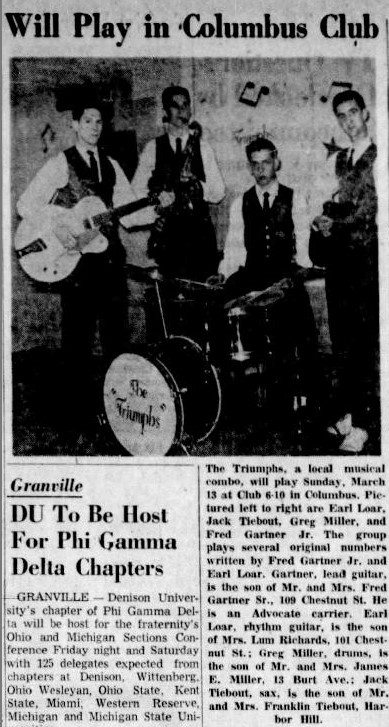 Discography
Draggin' Wagon / Fender Bender - Triumph 1001, Jan 1961