the Tradewinds / T-Birds / My Generation / Marty's Gang
---
Wooster, 1965-70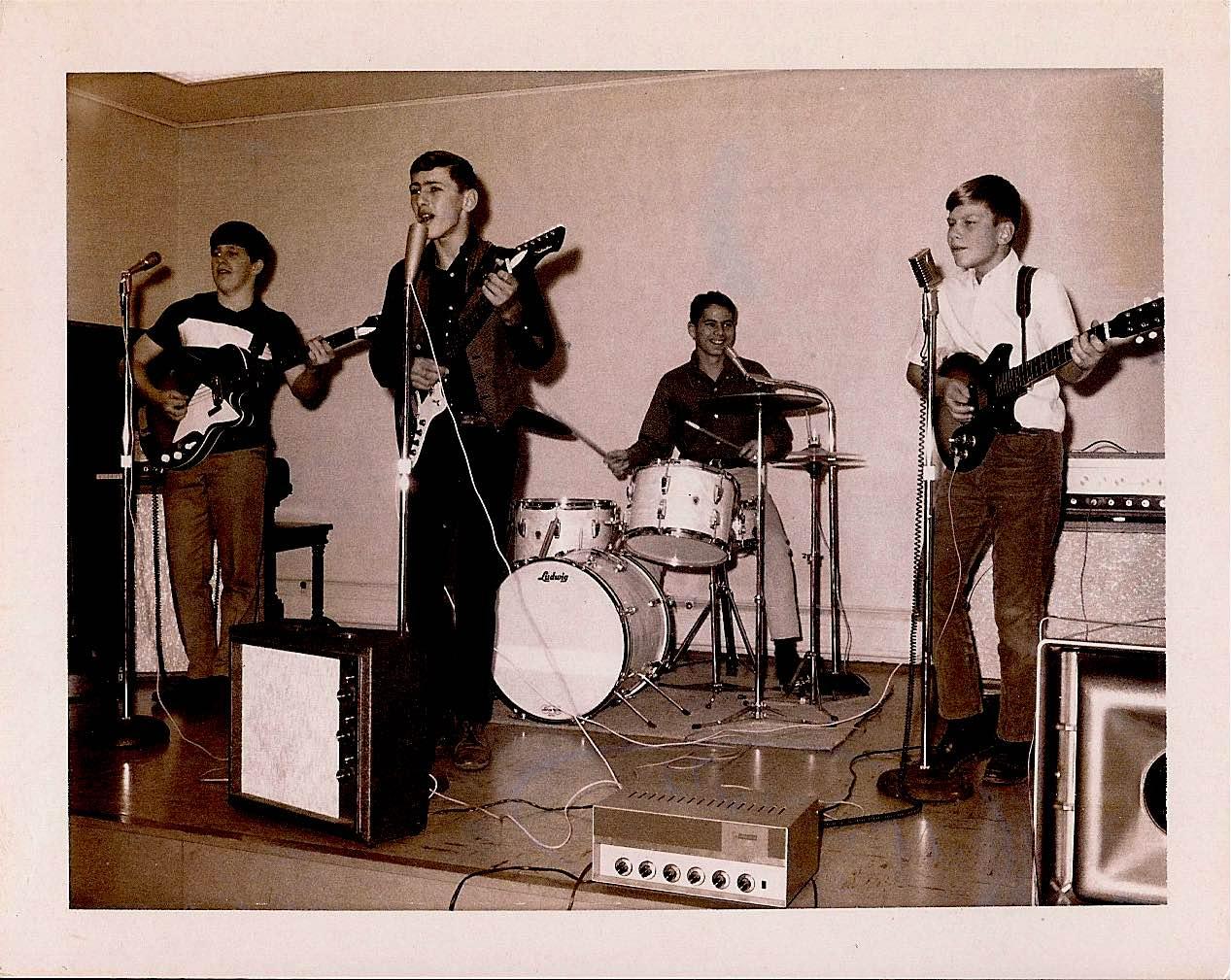 Tradewinds at a teen party, October 1966: Jim Waggoner (bass), Tim Taylor (rhythm guitar, vocals), Dave Andreas (drums), John Rhode (lead guitar)
On February 7th, 1964, television changed the world's teenage pop culture. John Rhode: "I remember my family plus a few neighbors sitting in the living room getting ready to watch The Ed Sullivan Show. You could cut the excitement in the air with a knife. The BEATLES came on, sang three songs, including "I Want to Hold Your Hand." I have never seen and heard such an act that looked so exciting, fresh and original. There was a special appeal to their look. They were happy, excited and reveled in their art, especially John Lennon. His onscreen performance was so charismatic. I told my mom I wanted a guitar. I was only eleven. Little did I know that it would change my whole life."
T-Birds, basement party April 1965: L-R Tim Taylor (singing), Dave Andreas (drums), John Rhode (lead guitar)
In the following year in seventh grade, Dave Andreas played the drums, Tim Taylor played rhythm guitar and sang vocals, and James Fox backed up as Rhode played lead guitar in a cover band called THE T-BIRDS. Jim Waggoner replaced Fox on bass. Rhode reiterates: "We were a cover band that played garage rock,VENTURES' surf hits, BEATLES', STONES', and ANIMAL'S songs. We were playing teen parties and junior high dances. I can't tell you how many basement parties we played at. We also won several battle of the bands contests at the YMCA. One of our famous covers was the dirty version of "Louie, Louie" by the KINGSMEN. We killed that version so well that we gathered a reputation of high school principals sneaking behind us and pulling our amp plugs during the song. And we were only fourteen! At that time, we were having so much fun playing covers." They changed their name to THE TRADEWINDS as another band also called the T-BIRDS came out with a national hit.
T-Birds, basement party, May 1966: L-R Tim Taylor, Dave Andreas, Jim Fox (guitar), John Rhode
It seemed liked every teenager in Ohio was forming a band. Rhode: "My brother played drums in a band called The OVERLORDS. One of my best friends, Rick Nolletti, had a band called THE EMBLEMS. But we all looked up to the high school band from Wooster called ME AND THE GUYS. Joel Culp, a very talented musician, formed the band and was my guitar teacher. But we were extremely impressed with a fantastic band from Orrville called THE OLIVERS. They were an incredible cover band that played with unbridled energy that would be equivalent to GREEN DAY today. All the local bands played at a ranch dance hall with a snack shop called The Lazy J Ranch in the summers". Says Rhode, "We were having so much fun doing covers we never thought of being singer-songwriters…. which is mistake #1."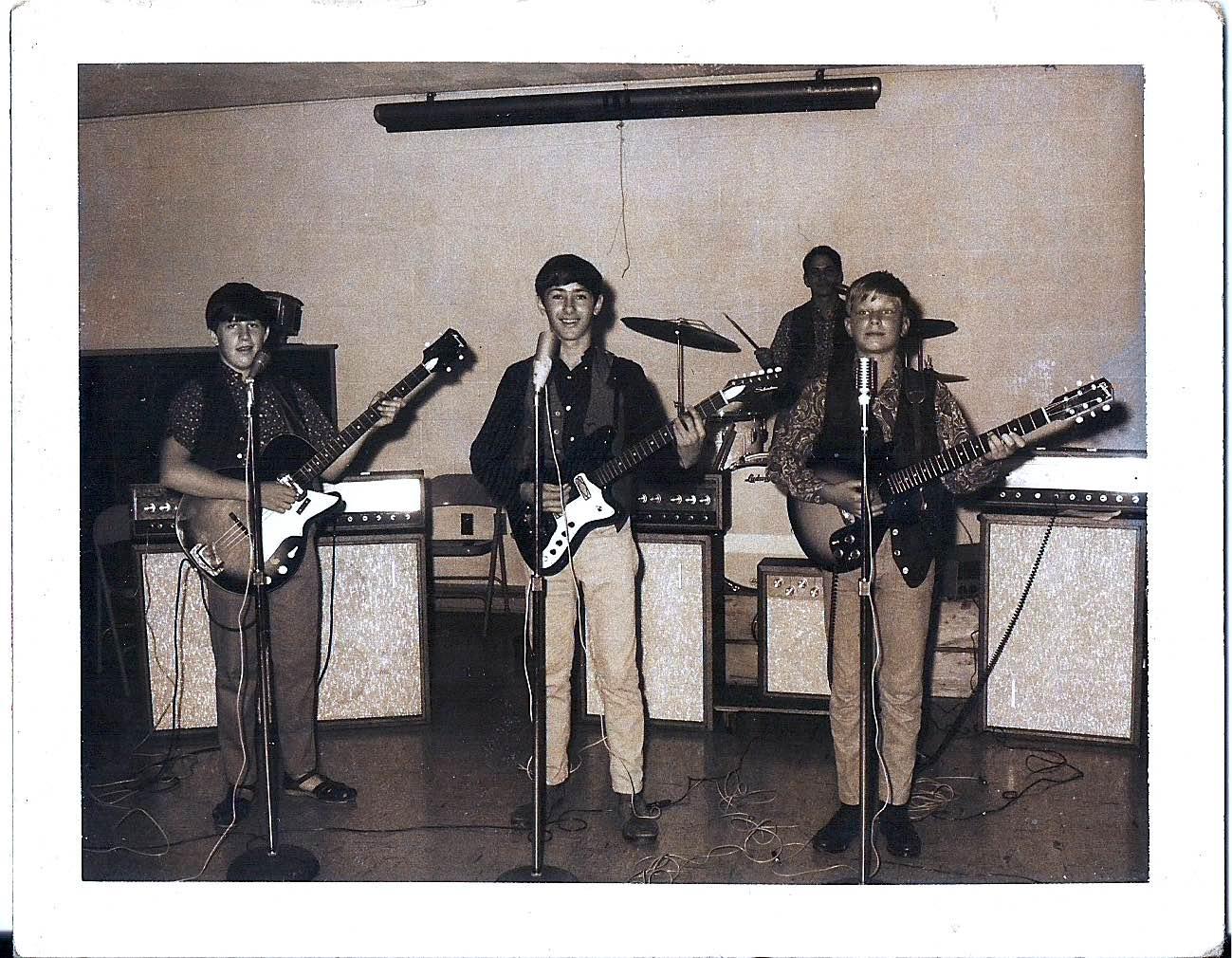 Tradewinds, April 1966 at YMCA Battle of the Bands: Jim Waggoner, Tim Taylor, Dave Andreas, John Rhode
Being junior high school students with odd jobs, their equipment arsenal was a mix of Sears Silvertone guitars and amps. If they used a Fender amp, it was borrowed from ME AND THE GUYS.. But the serious contender in Wooster was a dark horse group formed by the Albright brothers called The STREYS which bought expensive Sunn amps and showed a lot of muscle and found success in New York City. "The STREYS should have broken through. They had a kickass song called SHE COOLS MY MIND. You can hear it on YouTube." Later Rhode migrated to Gibson guitars and Fender amps. "In the those days, PA systems were very primal and consisted of Electro Voice horn speakers on stands with a 100watt Bogen PA amplifier. Every band had that setup."
The Tradewinds was primarily a junior high group that began playing through Northern Ohio at more teen parties and high schools such as Wooster, Northwestern and Triway. Their mothers drove them and their equipment to the gigs in station wagons. "We had a few songs that really connected. One was "Johnny B. Goode" by CHUCK BERRY. Once we played it, we were asked to play it 5 more times in one night. People loved to dance to it." Some of the other songs they played were "House Of The Rising Sun", "Wipeout", "I'm Crying", "Paint It Black", "Satisfaction", and "Under My Thumb".
As far as Ohio went, major success stories were Rick Derringer's THE MCCOYS, "Hang On Sloopy," and the band from Cleveland THE OUTSIDERS with the national hit "Time Won't Let Me". Rhode and his band mates would often sneak into the College of Wooster concerts to see these success stories. "But the band that made the most impression was THE CHOIR. They were fantastic. They played great, had excellent harmonizing voices, and were well-equipped with Fender Bassman and Bandmaster black-faced amps."
With the success of the Tradewinds growing, friend Steve Mattern who was an intern at the local radio station made them an offer— come and record in their studio. Gary Rhamy who was a DJ at WWST engineered the session on a Friday night. By this time, the average age of the Tradewinds was 15 years old. "We we're both scared and thrilled. We were going to cut a record and knew nothing about recording. " Lead singer Tim Taylor wrote an original love ballad and the B side was a cover of the ANIMALS "Its my Life", with the band also recording "Johnny B. Goode". "We never made it to publication and record pressing because we didn't know what we were doing and had no management. But I'll never forget that night."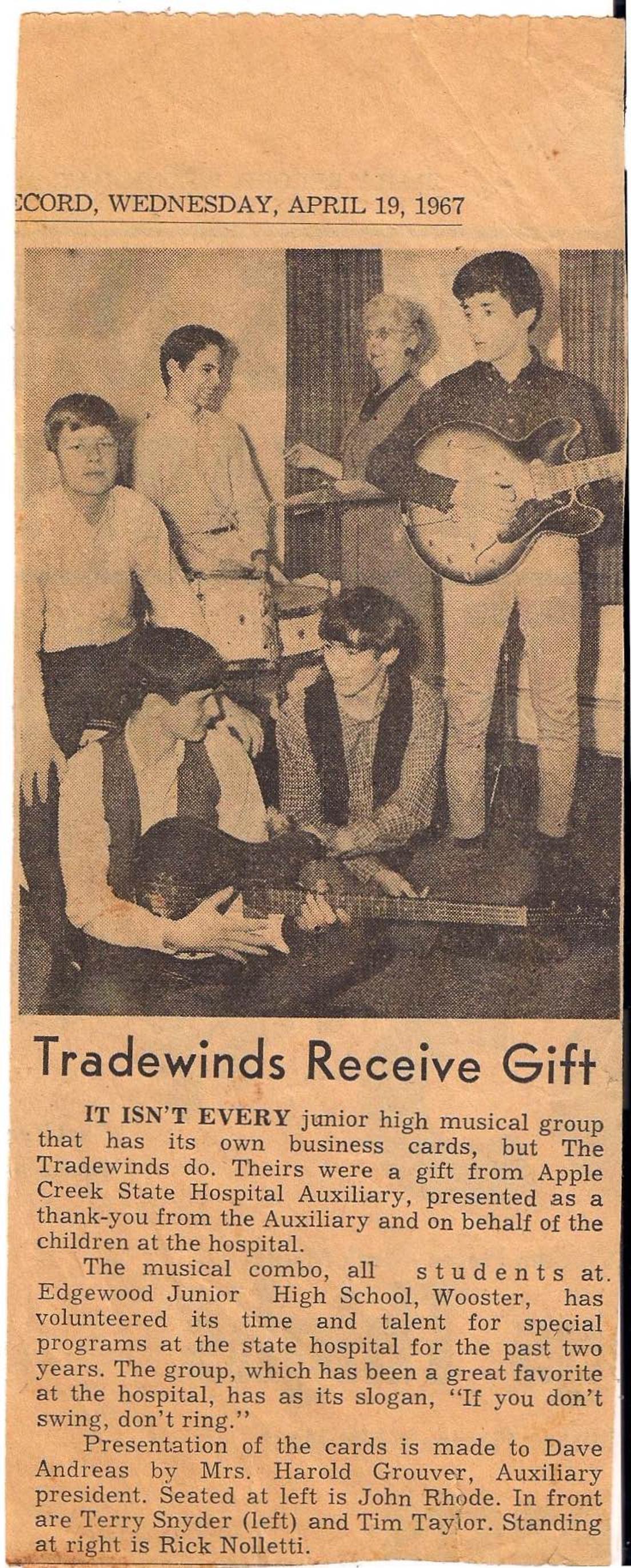 One gig that was highly unusual was the Tradewinds playing at the Applecreek Mental State Hospital. "We got out of school that day for this gig which was highly unusual. They cleared out the tables and chairs in the cafeteria and we setup. But no one was there except nurses, doctors and administrators. Slowly they brought in the patients on wheelchairs, crutches, and gurneys. They ranged in age from elementary school to adults. Some of these patients were in terrible shape and extremely handicapped if not mentally then physically. We didn't know what to expect but were told to start playing, Suddenly, a miracle happened—the patients began to wiggle, sway, and move their bodies to the rhythm of the music. Some of them howled with excitement. Some of them tried to get out of their wheelchairs and dance and asked us if we were THE BEATLES. Some were shaking with a smile on their faces. The power of rock n roll music not only consumed us but them as well. We were filled with elation that we added some thrill and joy to their lives. I realized that music was life itself. At the end the nurses said they had never seen anything like it."
The Tradewinds continued to play at high schools and teen parties but by the time they were sixteen, internal squabbles, raging hormones and other distractions took its toll. Jim Waggoner was replaced by Terry Snyder on bass and Rick Nolletti was added as additional guitar. Soon the band split off.
The spinoffs: During the summer of love, 1967, Dave Andreas (drums) and Tim Taylor (rhythm guitar) formed a summer band called MY GENERATION which played at the Wooster City swimming pool night dances. Rounding off the group was Greg Taylor (vocals), John Buehler (lead guitar), and Ron Waggoner (bass).
Belmonts at Wooster HS, 1968:: L-R John Rhode, Lawrence Walker, Jim Stang, Jim Waggoner (cut off)
In 1968, Lawrence Walker approached John Rhode to back up an IMPRESSIONS influenced band called THE BELMONTS. There were 3 black singers including Walker, Steve Bryant, and Brian Tarpley. Jim Stang played drums, Jimmy Blackwell played Farfisa organ, Jim Waggoner played bass, and Rhode arranged the music and played lead guitar. Their first gig was the 1968 Wooster prom to play in the auditorium. Years before, Nick Amster Fischelson, played the same gig as a Dylan impresario and made quite a stir. THE BELMONTS played at other high schools including Triway and the Lamplighters Lounge, a meeting club for rent. Sometimes David Andreas subbed on drums and Steve Santangilo subbed Rhode on guitar. Songs included SAM & DAVE and ISLEY BROTHERS covers.
Belmonts at the Lamplighters, May 1968: L-R Jimmy Blackwell, Jim Stang, Jim Waggoner, Steve Santangilo (guitar)
Times were changing at the end of 1968 as Coltrane style long jams and progressive album tracks were dominating the 3 minute AM Top Forty song lists. Rhode, Taylor, and Andreas founds themselves passionately involved in bands emulating the Michael Bloomfield/Al Kooper Super Session album as well as long DOORS jams in different incarnations. MARTYS GANG was a band with Keith Crabtree on organ, Bob Tomassetti on bass, Andreas, Rhode, and Taylor. The band was named after Marty Zimmerman, owner of Zimmerman's Music Store, a colorful and generous supporter of the local music scene. But
By the time 1970 rolled along, the gang went their different ways to college. Also, a super power trio dominated Northern Ohio, THE JAMES GANG, composed of Joe Walsh on guitar and Jimmy Fox on drums. Rhode:" No one in Ohio had ever seen anything like them. Not only we're they excellent musicians who could compete with anyone in the US or Gt. Britain, but Joe Walsh was an superb frontman and composer. His songs were reminiscent of not only hit 3 minute rock songs with great hooks but longer songs with deep lush orchestrations and flowing symphonic movements". It was time to move on. Rhode continues to play in blues and jam bands to this day and plans a Tradewinds regroup for the next Wooster High School reunion. .
Thanks to John Rhode for the story and pics