Quantrill Electric Band
---
Boardman, 1968-70
In 1968 four Boardman High School classmates Tom McHugh/lead guitar, Phil Jones/bass, Steve Rohrbaugh/drums and Craig Roberts/vocals, formed The QUANTRILL ELECTRIC BAND playing local dances in and around Youngstown, Oh. The name originated from Quantrill's Raiders of civil war fame. It sounded bad-ass but the band admitted they weren't really sure whose side they fought for.
The Chesterland Hullabaloo (near Cleveland) and an E. Liverpool teen club were the farthest they traveled to perform, and QUANTRILL became the house band at the Dream Merchant, a hippy bar in Fosterville, a local neighborhood on the southside of Youngstown across the street from the Park Inn.
This pic of lead singer Craig Roberts was taken during the winter of '69/70 at a Crestview High School Homecoming Dance. QUANTRILL played loud hard-core rock and were banned from performing at the Youngstown's famous teen club the Freak-Out by manager Jack Gerchak, because he said they played too loud!
QUANTILL drummer Rohrbaugh was one of the first drummers around to use a double bass drum which sounded like a freight train when both feet got going. QUANTRILL was also known for its very long and dramatic endings of their songs with some endings lasting several minutes.
Sample Set List: I Gotta Line On You - Spirit Born to be Wild - Steppenwolf Back in the U.S.S.R. - Beatles Nazz Are Blue - Yardbirds Mr. Soul - Buffalo Springfield Babylon Blues - Blue Cheer Crossroads - Eric Clapton Fortunate Son - Creedence Murder in my Heart for the Judge - Moby Grape Happy Jack - Craig Roberts Jeff's Boogie - Jeff Beck (instrumental was played at the end of each set).
Prior to moving to Boardman in 1968, Roberts attended Howland HS and one of bands he played rhythm guitar with was THE KARNIVAL. Jeff Jones was the band's manager and for a time in 1967 THE PIED PIPERS, also managed by Jones, was having internal issues and canceling many of their gigs. So, JONES would book THE BLUES OPTION (another of his bands) to play the PIPER's gigs and THE KARNIVAL would fill-in for THE BLUES OPTION! THE KARNIVAL, a new band without many gigs, was now busy most every weekend!
Phil Jones (RIP - 2008) went-on to record and tour with legendary North Coast rockers POOBAH with another Boardman classmate, lead guitar/vocalist/songwriter Jim Gustafson. Another classmate was Phil Keaggy, one of the founders of Christian rock. Keaggy still impresses audiences worldwide and Gus continues to perform, write and record his rock.
In the mid-70's Roberts became a local disc jockey with WYFM/Y103, Sharon, Pa and part-time newscaster at sister station WPIC. Roberts hosted teen dances in the area and was the DJ during the disco era at the Paradise Inn in Sharon, Pa. He then used his DJ experience and began working as a sales representative at WHOT/WSRD in Youngstown. After a 40-year hiatus from music Roberts continues to write & record his songs and in 2019 released SMOKY MOUNTAIN WAY via Cashbox and it hit #28 in its first week on the international country charts!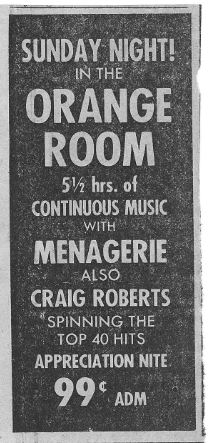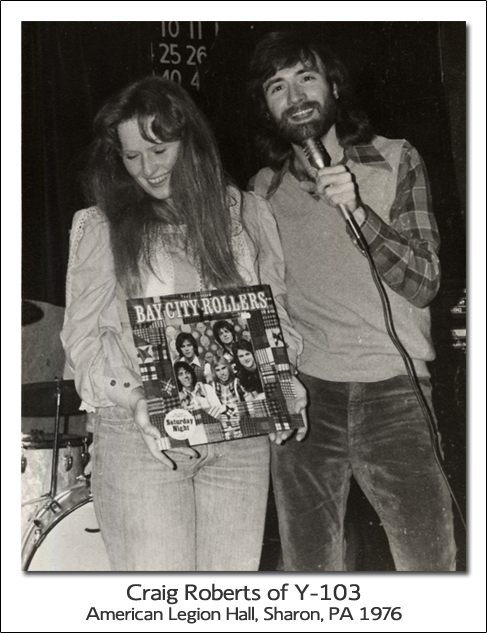 Story by Craig Roberts