the Purple Image
---
Cleveland, 1969-1974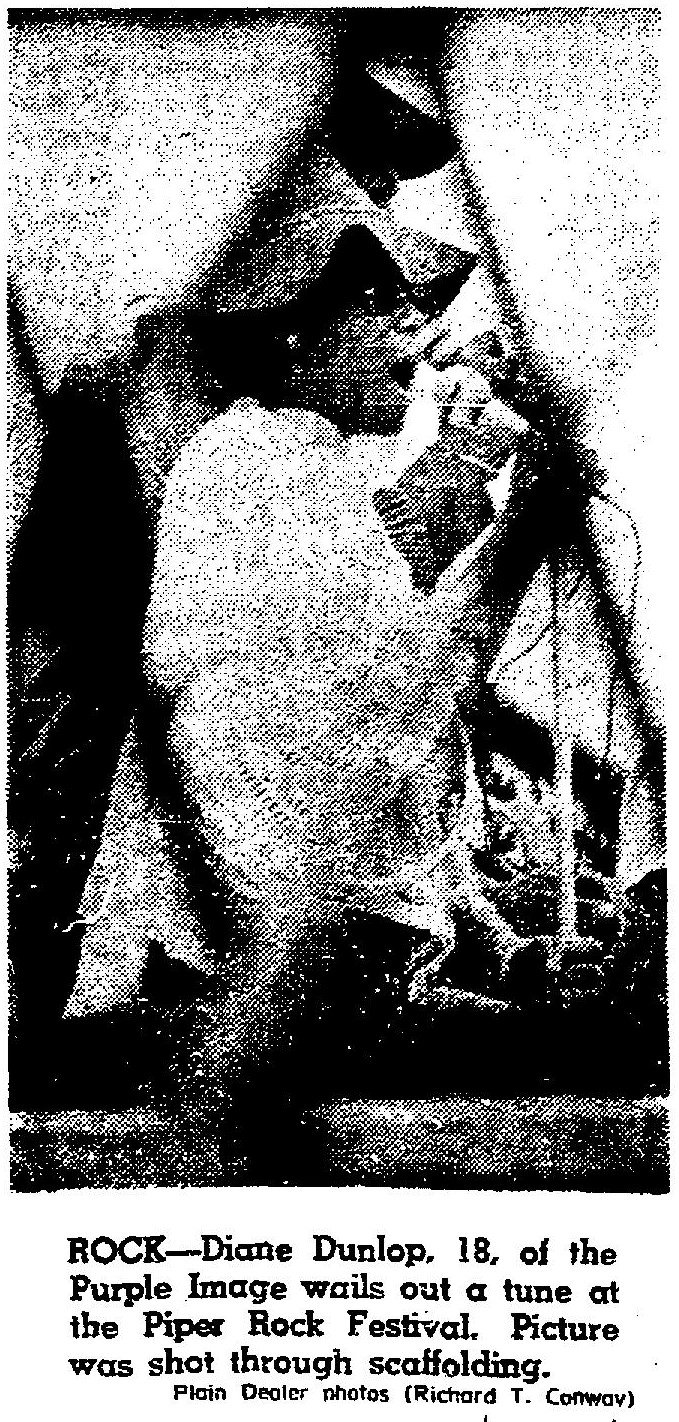 Purple Image were Cleveland's top band in the psychedelic rock-funk-soul hybrid that was pioneered by Sly and the Family Stone and Funkadelic. Although their recording catalog is only 1 45 and 1 LP, they played for many years and 'crossed over' into the teen dance and rock club scene.
The band's founder and leader was Warren Adams, who was inspired to start a band in the style of Sly and co. A family friend, Victor Reed, knew Bill Jacocks, who had been writing music going back to the 1950s with Cleveland's Fabulous Flames. Bill had a song called "Marching To A Different Drummer". Warren put together a band, starting with his brother William, and a school friend Kenny Roberts on vocals. They used their local circle of friends and musicians to add Frank Smith on guitar, Richard Payne on drums, Del Moran on bass, and Ed Snodgrass on sax. Diane Dunlap was added on vocals. All the members were from the south Glenville neighborhood. Eventually Warren came up with the name Purple Image for the band.
The band worked up an arrangement to "Marching" and recorded it at Audio Recording in late 1969, along with a band compostion, "Why?". They had the record pressed at Pama, with Jacocks using the name Robert Craig. The upbeat record was right for the start of a new decade and got some good local airplay, reaching the top 5 on Cleveland's WXEN radio station. The record is one of biggest sellers of the Pama custom pressings.
Jacocks was really motivated to support the band and travelled to New York City, getting a recording deal with De-Lite/Map City records, which was just starting to gain ground with it's primary act, Kool and the Gang. De-Lite re-released the 45 and gave the band the go ahead to record an LP.
The band worked up a bunch of songs, while starting to play out live. Their live shows had them playing R&B and rock covers along with a few originals. They were the opening band at the ill-fated (weather, mostly) Piper Rock festival on May 24 1970, the only all-Black group to play there.
They recorded their LP at Audio Recording in the summer of 1970, with George Stage as the engineer. The LP included 6 songs, including a remakes of "Different Drummer" and "Why?" The LP used a picture of the band under the closed (since 1966) Liberty Theatre at the corner of E. 105th and Superior, a former landmark in Glenville and a sad reminder of Cleveland's decay in the 1970s.
The LP wasn't a big seller but it has gained a following for collectors and was reissued in the 2010s. The band recorded some more songs that have never been circulated outside of a lucky few. The band promoted the LP by making trips to major US cities on the east coast during 1970-1.
The band's last appearence in a local club was 1974. Between 1971-4 they played opening act for a few shows and played rock clubs and dances to a mixed, if not mostly white audience. They also played a live show on WNCR on August 2, 1972. In August, 1970 they were listed as one of the groups on a "WXEN Pop Festival" along with Eli Radish, Harvey and the Phenomenals, Cat Black, Momtclairs, Stone Flower, and a couple others. Can we ask for a miracle and have these recordings found?
Discography
(Marching To -----------) A Different Drummer / Why? - Var-1 MC-70, Jan 1970, De-Lite 526, March 1970
LP - Purple Image - Map City 3015, 1970