Three Blond Mice / Promises
---
Cleveland, 1962-mid 1970s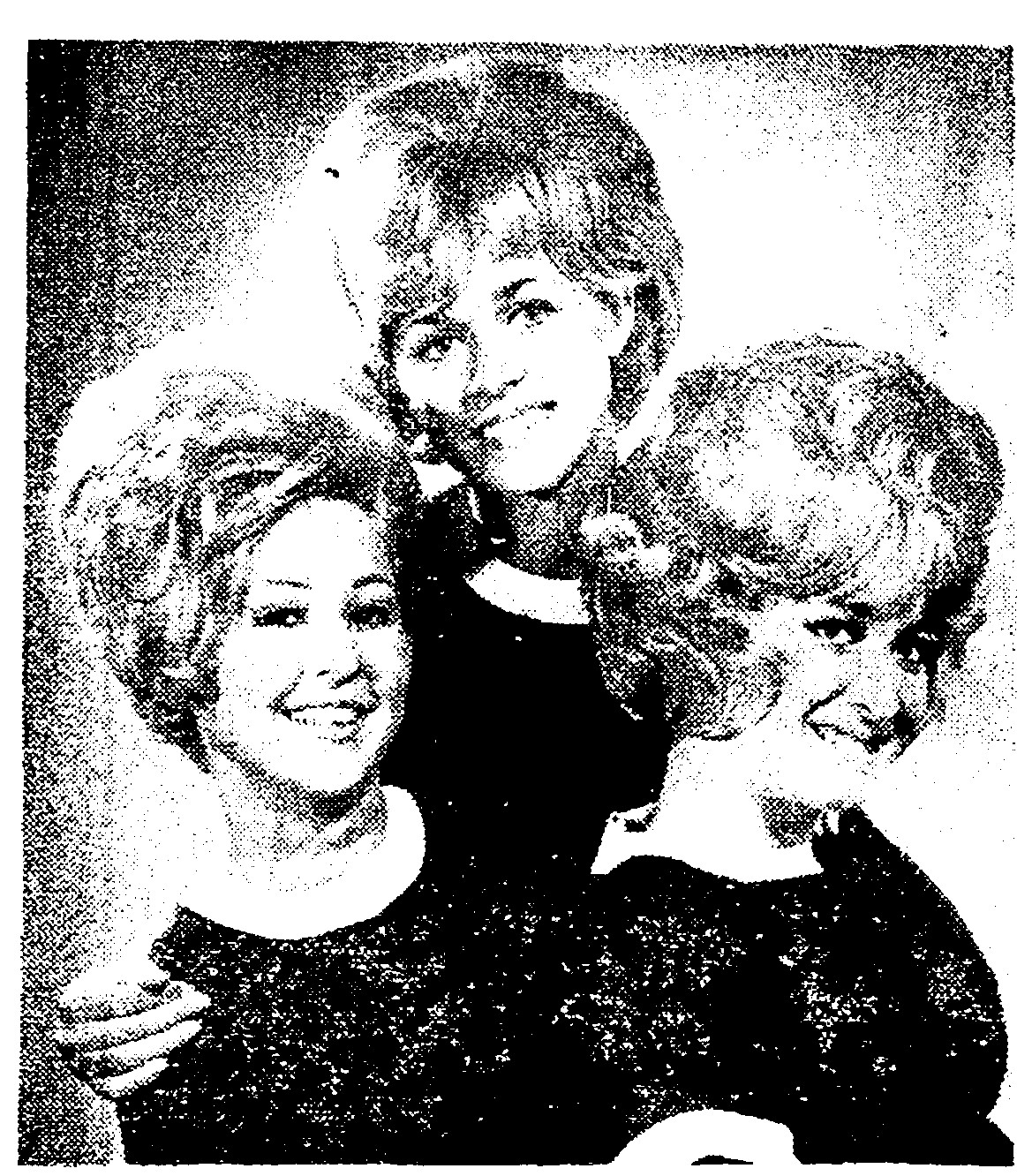 L-R: Bonnie Racin, Sandy Mooney, Ramona Garcia
The Three Blond Mice started out as three blond teenage girls who often performed on the Gene Carroll Show, a Cleveland TV variety show that included amateur and semi profressional musicians and dancers. The original three were Mary Lou Mural, Sandy Mooney, and Ramona (Mona) Garcia. Because of their popularity in town, they got a record deal with Atco and had one 45 called "Ringo Bells", a Christmas/Beatles themed record in 1964. The record was a hit in some cities. The group also sang backing on a Motions recording. A second 45 was released, a vocal version of the huge instro hit "Alley Cat" and a take on "What I'd Say". The group did tour the US and a few other countries for four years, including shows for US troops at overseas military bases.
In 1966, the group was renamed the Promises, with new member Bonnie Racin replacing Mary. This group released a 45 on Ascot. No real details about this recording, except one side was written by Dale Davis from Blue Onion records. Over the next several years, the group had some different members and eventually as the girls grew up the group became dormant.
Sometime around 1972 the group was reactivated with Sandy and Ramona and new third member, Sheri (not sure of the spelling). They restarted as the Promises, and a new record deal with Brunswick records. It's a bit of a mystery how a group of white women from Cleveland got on one of the legendary Chicago soul labels (Jackie Wilson, the Chi-Lites, Gene Chandler, Barbara Acklin, etc) but they were given first class recordings. Their first record was a gender changed remake of a lesser Chi-Lites hit called "Living in the Footsteps of Another Girl". This record got some airplay in Cleveland and other cities, and Brunswick (on their BRC subsidiary) released a second 45 of similar quality smooth soulish sounds. The song "This Love Is Real" was a remake of a Jackie Wilson recording. This was their last 45, though. There has been rumors that an LP was recorded but nothing to verify that it was ever completed.
After this, the story on the Promises goes cold. The group appeared on a Gene Carroll Show retrospective that aired in 1973 doing a lip sync of "Living....:". Gene Carroll had passed away and former Upbeat show Don Webster was the host.
Discography:
Ringo Bells / The Twelve Days of Christmas - Atco 6324, 1964
Alley Cat / What I'd Say - Atco 6353, 1965
I Don't Want To Talk About It / Try It Again - Ascot 2201, 1966
Living in the Footsteps Of Another Girl / Love Is - BRC 104 1972
This Love Is Real / Oh Boy - BRC 109 1973