Piney Brown
---
Dayton, 1940s-2009
Halloween 1968 with James Wayne.
Piney Brown's music career started at the beginnings of the modern R&B era, as World War II ended and music, live and recorded, experienced a major boom. He was born in Alabama, but took the Great Migration route up to Chicago. He recorded a number of sides for Apollo, and King, starting in 1949. For a brief time in the late 1950s he was part of the duo Brooks and (Billy) Brown who recorded for Duke.
His Ohio connections started sometime in the early 1960s. The specific date is hard to pin down, as he was a Dayton club semi-regular in 1964. but billed as a Chicagoan in 1965. The move seems to have prompted by marraige to a Dayton woman in 1964. Late in life interviews have reaffirmed 1964 as when he settled in Dayton.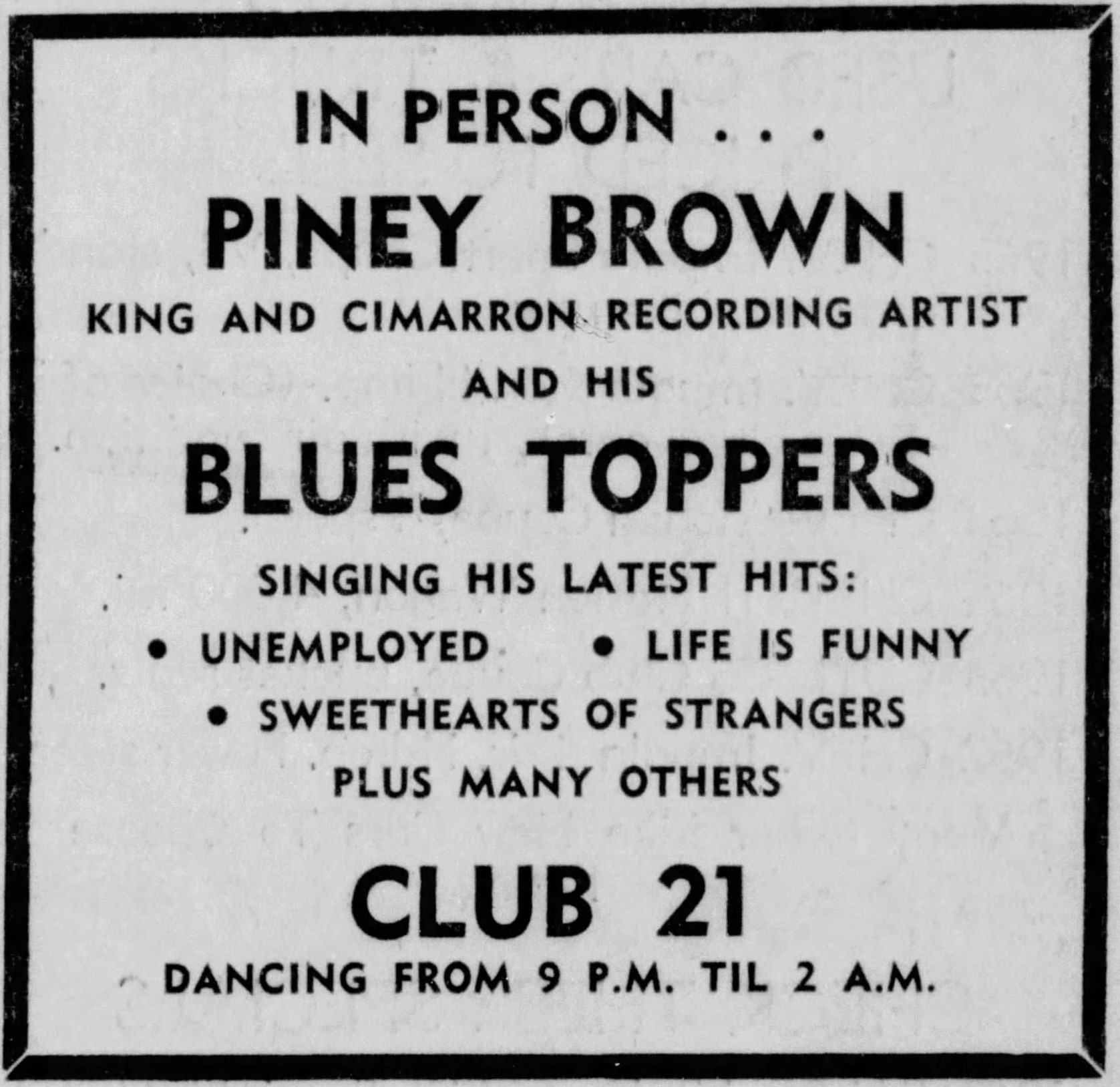 1964 ad from Washington Court House, OH
Piney led a band called the Blues Toppers. a name that dated back to the 1950s and he brought that name with him to Dayton. Although active on the club scene, his recording career was quiet until 1969, when he recorded a couple funky R&B songs for the local one-shot Deep Groove label. This record led to a deal with the Sound Stage 7 label. In 1968 he was billed as the featured singer for the Soul Soothers, the Dayton group led by James Wayne and a locally performing band on their own. We don't know if that was a one-off or a longer lived pairing. Little Hiawatha McKinney played with both Piney and James.
1965 ad from Muncie, IN
Piney had two 45s on SS7, released within a few months of each other. The first one was "Bring It On Home", a modern funky R&B song written by Tony Joe White, not related to similarly titled Sam Cooke classic. The flip side was a cover of the Five Royales "Baby Don't Do It" ,a song that had been in Piney's repetroire since the original release. The record was a local/regional hit so SS7 put our another 45, a slow blues original called "One Of These Days". The record was not a hit and meant the end of Piney's time as a contemporary recording artist.
1980 story with Piney's first revival
Piney took some years off, at least from playing gigs advertised in the papers. Around 1980 he came back to live shows with a new band, the Turntables, and a new 45 that including a . Over the next 32 or so years he was a regular in SW Ohio and played around the region, although with only record, a 45 done at Jewel in 1988.
He received his greatest success and acclaim at the age of 80, with a couple CDs and a lot of press coverage. The Dayton newspapers published several stories recounting his past and promoting his new recordings. Sadly, age caught up with him and in 2007 his health forced him to retire. He passed away in 2009, at the age of 87.
1981 story
2006 story, one of Piney's last big shows
Discography: (Ohio based recordings only)
Everything But You / (I'm Tired Of) Running - Deep Groove no # (Rite master 23931/2), March 1969
Bring It On Home / Baby, Don't Do It - Sound Stage 7 2644, Sept 1969
One Of These Days (You're Gonna Want Me) / Nashville Wimmin - Sound Stage 7 2657, March 1970
Just A Little Bit / She's Super Bad - New Worlds 00015/6, 1980
Two Lips In The Dark / Ain't It A Shame - D-JKN 8813, 1988