Peter's Backyard
---
Cleveland/Brook Park/Parma, 1967-69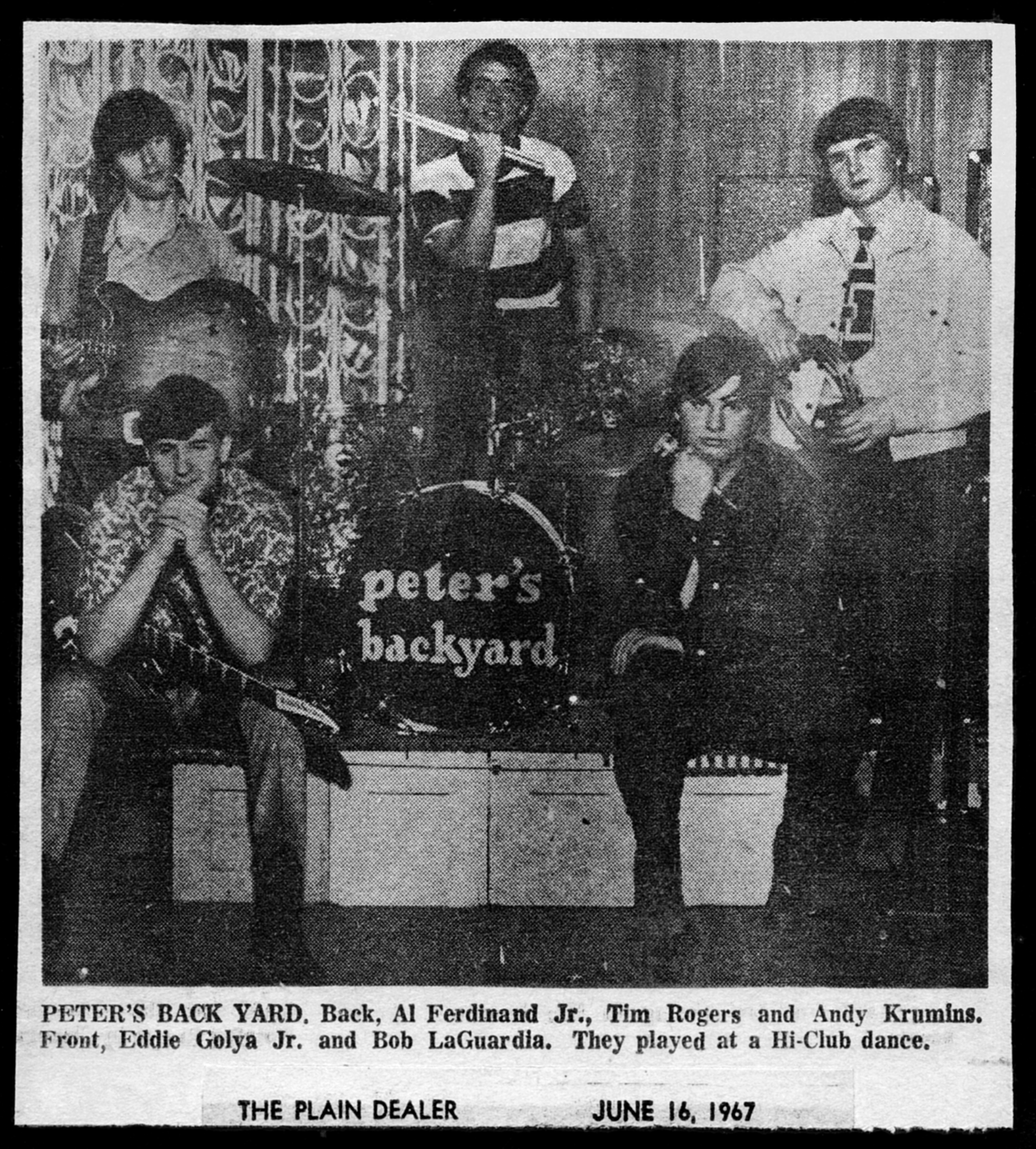 Peter's Backyard was a cover band organized by lead singer Bob LaGuardia and drummer Tim Rogers. Those two met while playing in a 5-man group called The Gremlins, which broke up in late 1966 after establishing itself as a popular band for fraternity and sorority parties at Case Tech University and Western Reserve University and at many high school/CYO dances on the West Side of Cleveland, Brook Park and Parma.
Three members left in early 1967 and LaGuardia and Rogers joined Andy Krumins (keyboards), Ed Golya (lead guitar) and Al Ferdinand (bass). Eventually, Ferdinand was replaced by Tom Evans, who had been with the Baskerville Hounds and gave the band an expanded musical and vocal presence.
PBY became the house band at Berea night spot Town 'n Campus and became popular with students from nearby Baldwin-Wallace and the West Campus of Cuyahoga Community College.
The band had versatile vocal capabilities with four talented singers and covered the works of the Rolling Stones, The Who, Yardbirds, Vanilla Fudge, Grassroots, Animals, Cream, Rascals and Moody Blues and others from that era.
In the summer of 1968 the band spent one month in Cincinnati, where it opened several times for the McCoys and the Lemon Pipers while playing at The Roundtable, Pickle Barrel and Hyde Park Country Club. There also was a trip to New York City, where it auditioned at the legendary Cheetah Club (one week after The Rascals) and had another audition with legendary night club owner Trude Heller, who offered a contract to play at her club, Trix. Both offers were turned down for several reasons and the band returned to Cleveland.
The band dissolved a short time later as life got in the way. LaGuardia became a psychologist and owns a successful practice in downtown Cleveland. Krumins is an emergency medicine specialist in Sleepy Hollow, N.Y. Golya became a sound engineer based in Los Angeles and has won a number of Emmy Awards. Evans spent 34 years working with the Cuyahoga County Court of Common Pleas and still dabbles in music and Rogers became an award-winning sports writer with The Cleveland Press and Cleveland Plain Dealer during a 36-year newspaper career.