the Page Boys
---
Cleveland, 1958-65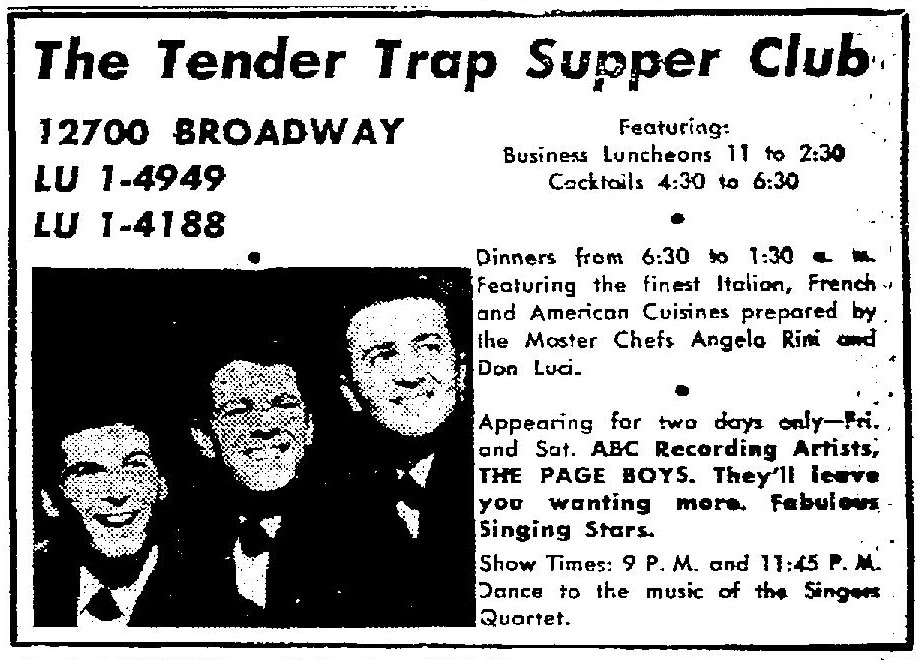 This 1965 shows the 'boys' have grown up!
The Page Boys were a three member vocal group. The members were Frank Santora, Terry Murphy, and Tom Redman. The group started when the guys were still in high school and lasted until about 1965.
Tom Redman was a student at Lakewood HS. We don't know what school the others attended.
The group performed locally, at first for teen sock hops, then moving into the nightclub circuit. Some of the places they performed were the Copa Supper Club, Hoover Auditorium in Lakeside, the Tender Trap Supper Club, and the Aragon Ballroom..
The trio made 4 45s (with one repeated side). Their first 45 was done in 1959 for the United Telefilm (TEL) label. The first 45 has a 'teen' sound with some nice vocal interplay.
The group recorded two 45s for Whirl records. On the second Whirl 45, they incorporated two trends of the time, the Twist dance and space travel (by name checking Enos, a chimpanzee who made a brief space flight in 1961). The backing band was the Starfires. The Enos record is definitely the most rockin' 45. The song "Road of Life", the A side of their second 45, was later recorded by Jerry G and Co. as the flip of "She's Gone"
They made a 45 for ABC records in 1962. The sound was more sophisticated, in the style of the Lettermen, or more likely, the Four Coins who played Cleveland often. The A side was written by JImmy Testa, who was behind many of their songs, and guitarist Gene Toney. Testa's production style is clearly heard. The record was played on American Bandstand, accoding to an ad from the time.
The ABC 45 was their last record. but the group is listed as peforming into 1965. The fate of the three members is unknown.
Discography:
Hey Now Baby / Out To Lunch - Tel 1007, 1959
Road Of Life / Donkey John - Whirl no #, (RCA master M8OW-6678/9) July 1961
Twist Enos Twist / I Got The Blues Again - Whil 126, 1962
Lonely Sea / Road Of Life - ABC 10323, April 1962