the Originals
---
Cleveland, 1967-70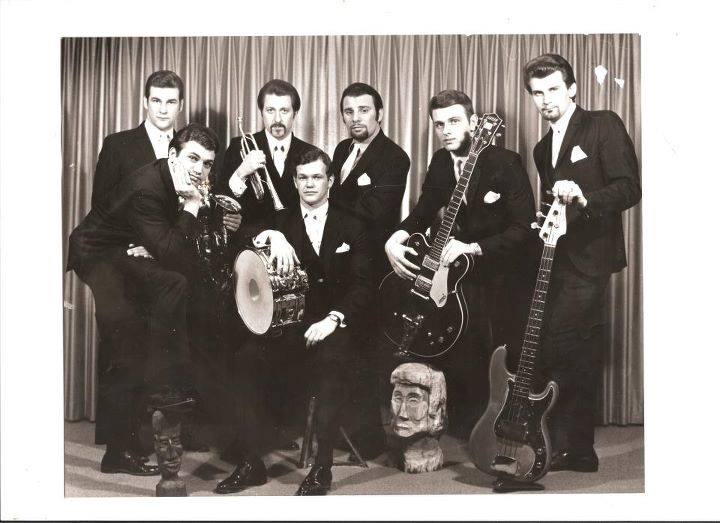 L-R :Denny Samsa, Jimmy Vince, Tom Baker, Richie Pavlick (seated), Tony Liotta, Al Austin, Mert Madsen
The Originals, with their classic Cleveland sound of blue eyed greaser soul. were a top local band in the late 1960s. The group was formed by members of the top local greaser bands. The original lineup included Mert Madsen (bass), Ron Harkai (drums), and Al Austin (guiitar), formerly of the Outsiders (all three played on "Time Won't Let Me"), and Denny Samsa (sax, vocals) and Tony Liotti (vocals) of the Twilighters. The band was led by Tom Baker (trumpet), who had worked with and played with Lou Ragland and the Outsiders.
In addition to those mentioned, the band included Jimmy Vince (formerly of the Proof Sets and Mixed Emotions) on trombone and vocals. The band became the house band at Leo's Casino, where they backed many soul and Motown legends, and also had a regulat gig at the Agora.
Ron Harkai left and was replaced by RIchie Pavlick. Al Austin was killed in a car accident which led to a new lineup, a new guitarist who we don't know the name, and Tom Baker taking over on bass from the departed Mert. Tony left and Denny and Jimmy did the vocals.
They recorded one 45, a cover of the Temptations song "Ain't No Sun" that was a moderate local hit. Denny Samsa is the lead singer. The record has two pressings (one at Pama, one at Ter-Mar/Chess in Chicago), with the recording on both sides. It was recorded at Audio.
The band lasted until 1970. Tom Baker provided much of the music for the infamous shot in Cleveland cult film "The Sign Of Aquarius" aka "Ghetto Freaks". He continued to work with Lou Ragland and other Way out studio related recordings.
Thanks to Mert Madsen, Tom Fallon, Tom Baker
Discography:
Ain't No Sun (Since You've Been Gone) / Ain't No Sun (Since You've Been Gone) - Suspension 1001, 1969
Gold label Pama press, black label Ter-Mat (Chess records) press