Kitty Kaye (and the Cats)
---
Cleveland, 1950-64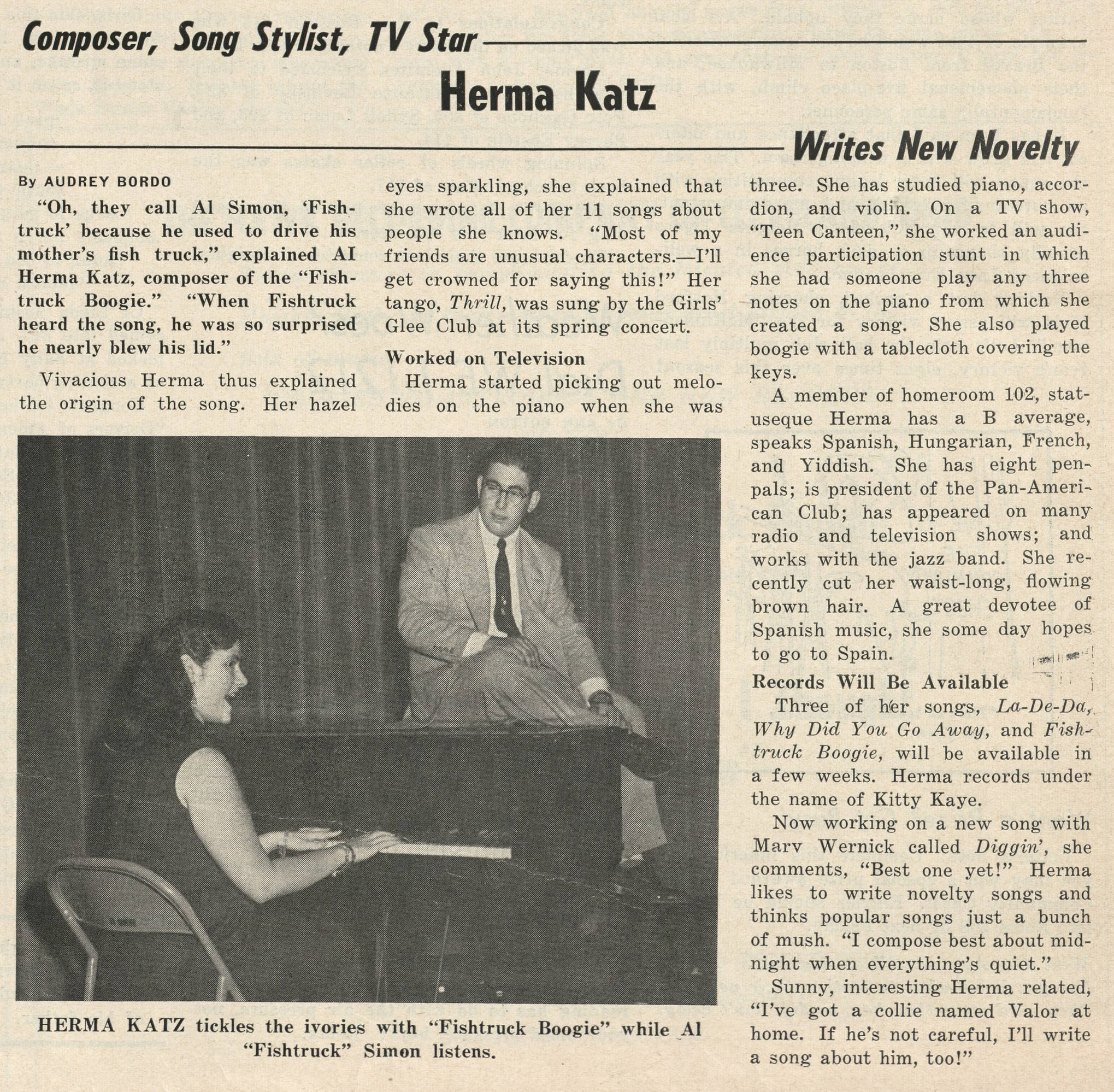 In the debate over Cleveland's first rock-n-roll record, the teenage singer/pianist Kitty Kaye deserves a mention. Her 1953 record "Fishtruck Boogie" certainly has the ingredients for rock-n-roll, coming from the boogie-woogie/jump blues side of rock roots but with the flattened out rhythm that led rock away from swing.
Her two recordings were issued as seperate A side on the only two records released by legendayr Cleveland DJ "Walkin' Talkin'" Bill Hawkins, Cleveland's first black radio DJ and someone who played R&B records in Cleveland before Alan Freed arrived. His Hawk label was Cleveland's first black-owned record label, 7 years before Boddie.
There's been a lot of speculation. among hardcore Cleveland music historians, about the identity of Kitty and Mr. Fishtruck, the subject of the song. Was Mr Fishtruck some obscure R&B DJ, predating Alan Freed, Bill Randle, and the Mad Daddy?. At last, here is Kitty's story, for the most part.
Herma Katz was born in Cleveland in 1936 and was recognized as a musical prodigy. She started taking lessons and playing out locally at the age of 10. According to a 1962 newspaper story, she was a winner on Ted Mack's Amateur Hour TV show in 1950.
She attended Cleveland Heights High school and was very active in the school music programs as both a singer and pianist, frequently playing for school assemblies and shows. Heights HS had a very strong musical program and was the alma mater of many well known Cleveland musicians....but that was later on. We are still back in the year 1952 that produced the so-called "first Rock-n-Roll concert", the Moondog Coronation Ball. Herma had some friends/acquaintances that were in a Heights High trio callled Two Sharps and a Flat. At the end of the 1952-3 school year, her classmate Al Simon became a member as someone graduated.
In the fall of 1953, she wrote "Fishtruck Boogie" about Simon, who was nicknamed 'Fishtruck" after his family's occupation as fishmongers. The lyrics mention the "Two Sharps and a Flat" and suggest Simon was a DJ. He was not a radio DJ, perhaps he played records at parties. The above article from the CHHS newspaper, October 9, 1953, calls the song a novelty. This is hard to relate when viewed through 67 years (at this writing) of rock-n-roll history, as back then, songs that were not serious pop love songs (or 'a bunch of mush' as described in the article) were usually considered 'novelties'. especially if they had a rock-n-roll beat. This music was considered to be a fad, disposable, like a hula-hoop or a coonskin cap later in the decade.
We don't know how Herma connected with Bill Hawkins (perhaps she and/or Simon were fans and contacted him) but they recorded "Fishtruck Boogie" and her song "La-De-Da" with a tight, swinging band that included sax, guitar, bass, and drums, aloing with Herma's piano and vocals. Hawkins released the songs on two simultaneous disks (both on 45 and 78). The other side of the records are recordings by Allen "Fats" Thomas' band and Nate Spencer's band. Fats Thomas was an R&B shouter in the Joe Turner style, so his band, according to the credits, not him, are playing on the instrumental "Blowing My Horn". There's no more details about the musicians playing on the sessions, and whether Herma used some CHHS players, members of the Thomas or Spencer bands, or people that Hawkins brought in. There's a male voice shouting, which could be Hawkins.
Unfortunately there is no evidence of the song "Why Did You Go Away" nor the intrigingly titled "Diggin'" being recorded. There are couple more mentions in the CHHS paper about Herma and her songs, but nothing more about recording. She graduated in 1954, and then started at Mather College (which was absorbed by CWRU in 1972). After her graduation the trail for Herma Katz goes blank, and Kitty Kaye is soon playing Cleveland clubs, eventually going out on the road in the late 1950s. She had been with the Leo Reisman band (another possible source of the record backing), and she played the Purple Tree in Cleveland's Manger Hotel. She also played with Norm Geller as a twin piano act.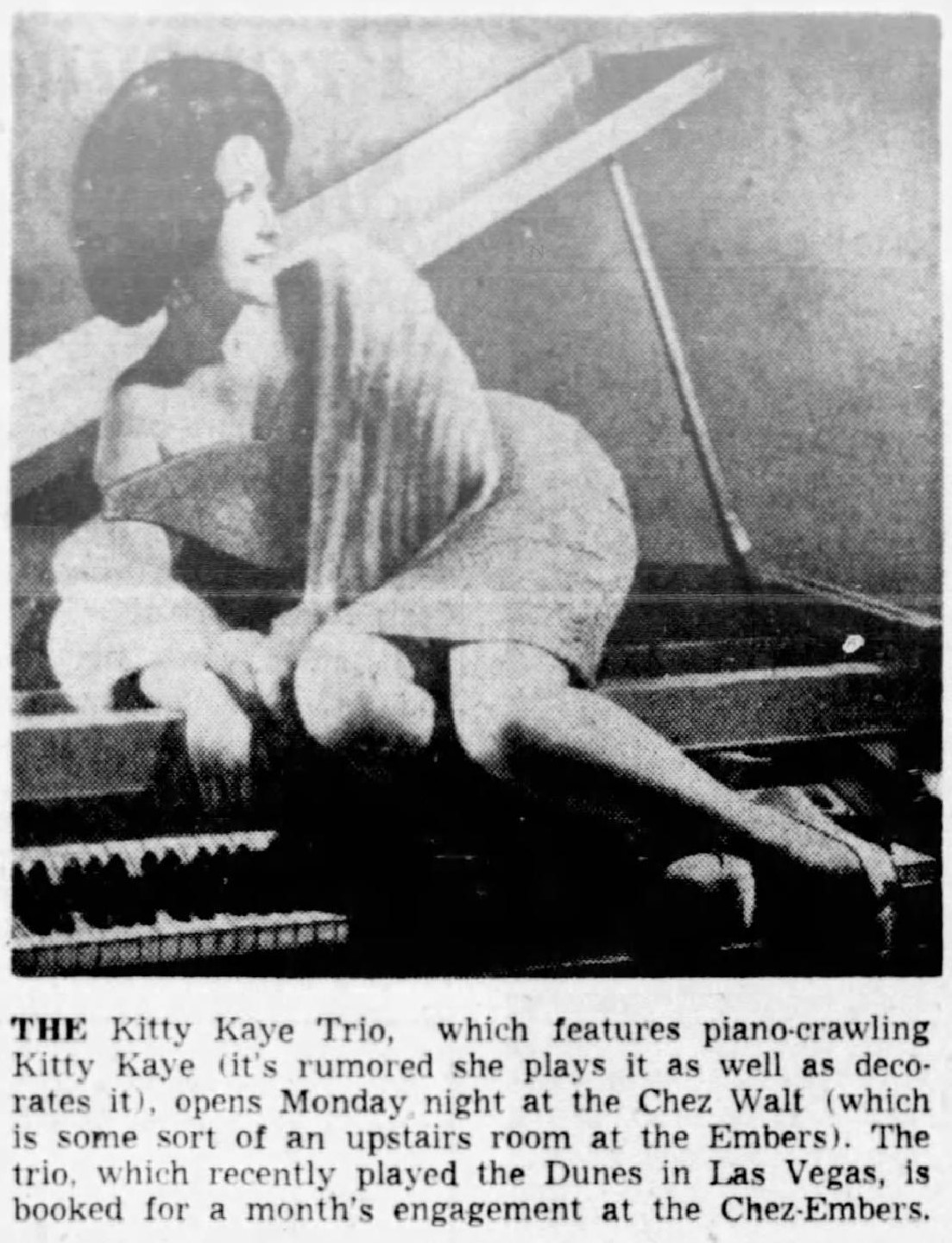 She appeared on the One O'Clock Club a few times, got married, had a couple childre, and reappeared in the club circuit around 1960. She hit the road, playing New York, SW Ohio, and according to a 1962 Plain Dealer story, planned to meet with Frank Sinatra about a movie role.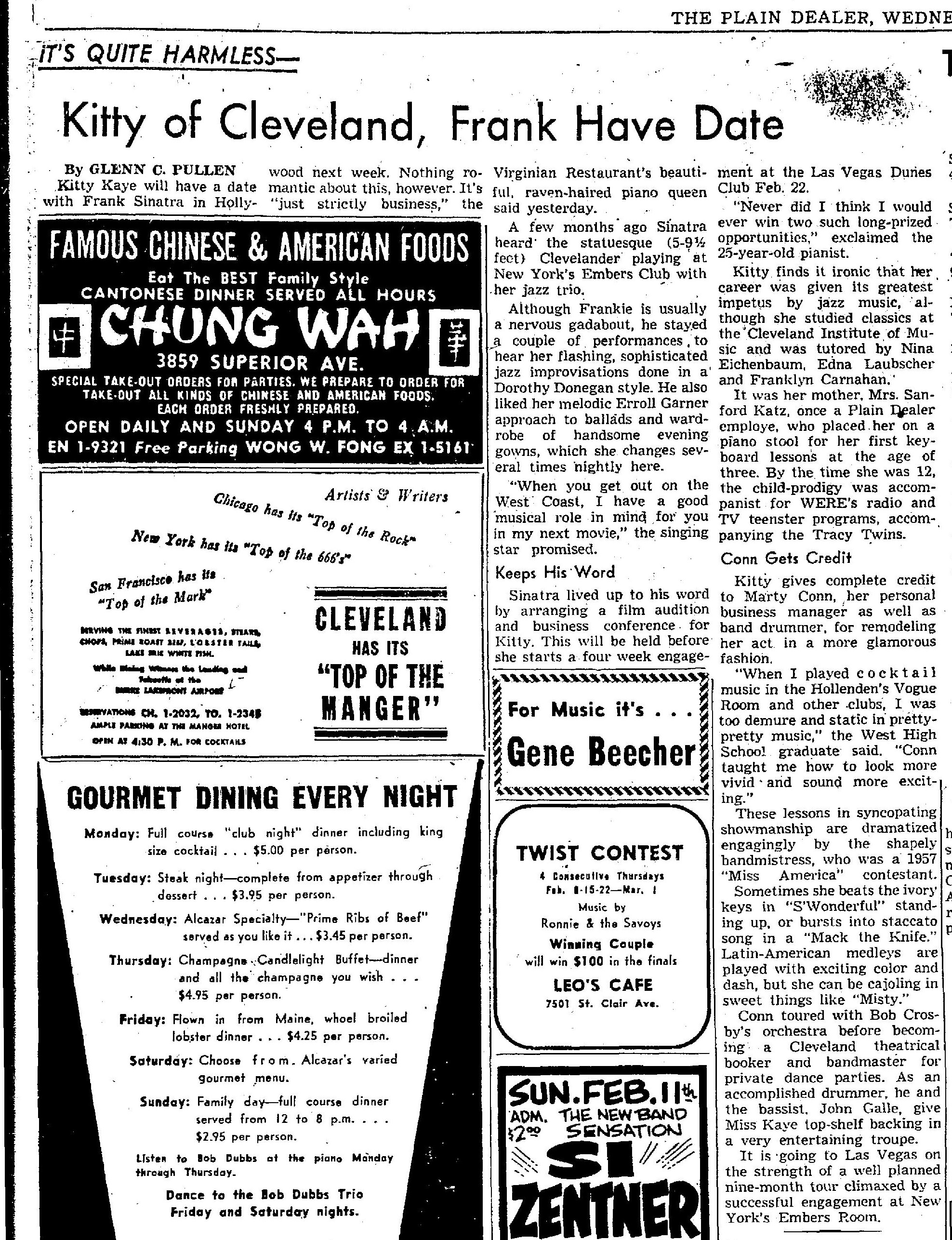 After 1964 she disappeared from the papers. In 1975 she returned to Cleveland, now married to Moki, her performing partner. The article says they were living in Arizona. In 1980/1 they were playing Reno, Nevada, and a short blurb says they were living in Hawaii, Moki's home.
Discography:
Fistruck Boogie / Blowing My Horn - Hawk 72053, Nov. 1953
La-Dee-Da / I Thought I Found Love Again - Hawk 72054, Nov. 1953