the Harmonics / Chicago Gangsters / Gangsters
---
Akron, 1967-1980s
The McCants family of Akron created some fine soul music in the many years of performing and recording. The group included James, Leroy, Chris, and Sam McCants, who all sang and played instruments. The first incarnation was the Harmonics, who recorded a couple 45s at Akron Recording which got the group on the radio and performing in NE Ohio. The original group had James and Leroy only. They did some recording in Detroit which led them to more recording in Nashville. The group formed a label called Gold Plate records which was eventually bought and distributed by Amherst Records in Buffalo. At the time, their soul ballad "Let Me Go" was their most successful recording.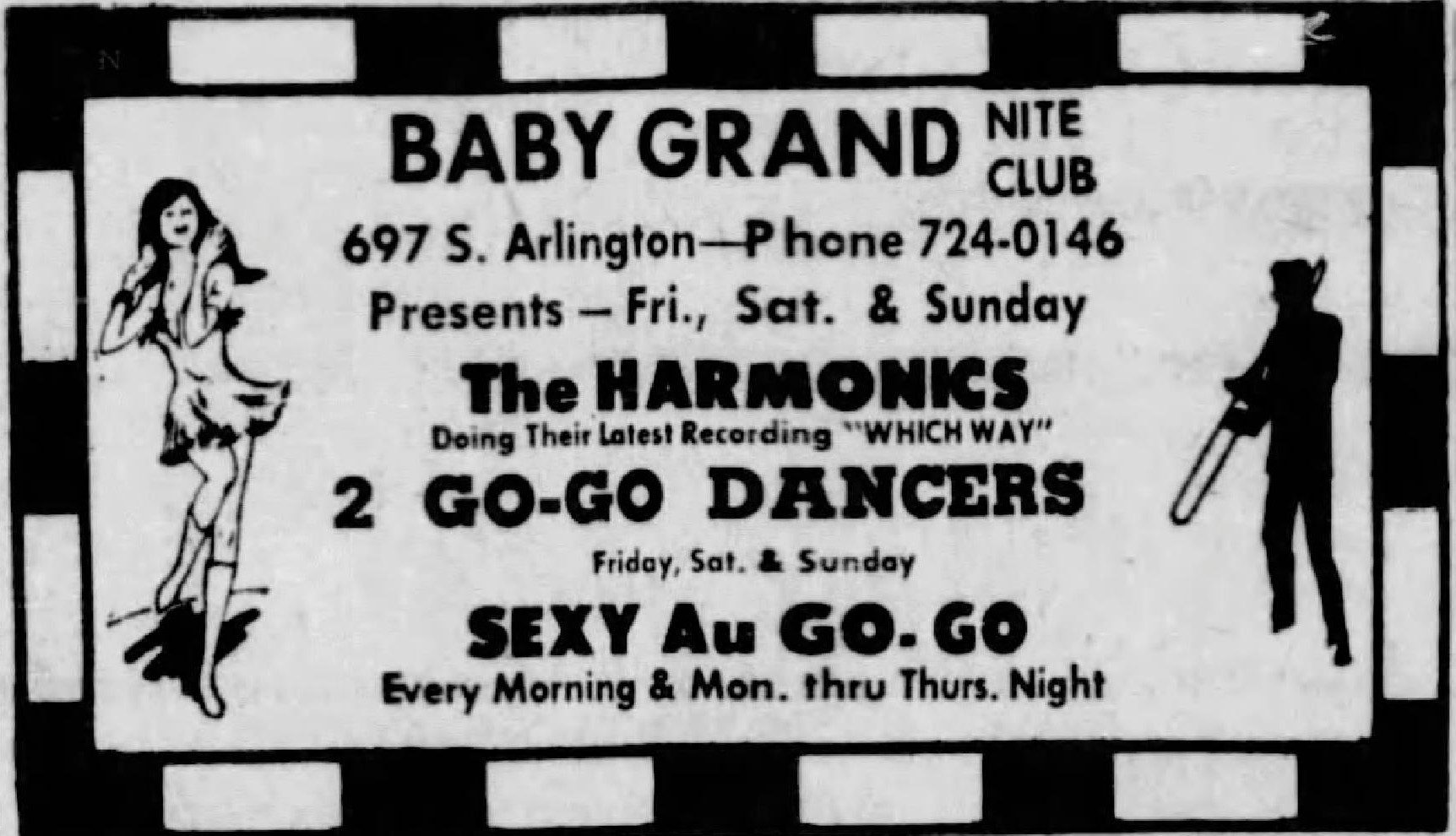 Around 1973 the group restarted as the Chicago Gangsters, while updating their sound to include more uptempo dance and proto-disco styles. By now all four brothers were on board. They released a 45 on the NYC based Red Coach label before reactivating the Gold Plate name. The group released a couple LPs, some 45s, and some 12" records made for the dance club market. During this period the group include James. Leroy (trombone), Sam (guitar/keyboards), Chris (drums), along with non relatives Paul Ware, Scooter Evans, Anthony Amos, Sammy Bryant, Ralph Flemm, and Dave Yauhasz – these were the personnel listed on their LPs.
Later in the 1970s they started a label called Heat records based in Akron. The first few records on Heat were by the group, now credited as the Gangsters. They also seem to have released records under the name Rumple-Stilt-Skin in order to have more recordings on the market.
Sorry to keep this short for now, we will be adding more details over the next few months
Discography:
As Harmonics
Missing You / Let Me Go (Dupree 11369) Jan 1969
Summer's Love (Falls In The Autumn) Pt. 1 / Summer's Love (Falls In The Autumn) Pt. 2 (Dupree 1355) July 1969
Scum-A-Doom-Doom (In The Ghetto) / Be Your Man (Sock-It 003/4) 1970
Let Me Go / People Get Ready (Gold Plate 7187) Oct 1971 - 1st pressing at Boddie, 900 stock/100 promo copies. 2nd pressing by Capitol Custom
Let Me Go / Scum-A-Doom-Doom (Gold Plate 7187) - Nashville pressing, white label promo and gold stock
As Chicago Gangsters
I Choose You / My Ship (Red Coach 809) 1974
Blind Over You / Your Self Conscious Mind (Gold Plate 1947) Sept 1975
I Choose You / Don't Be Gone (Gold Plate 1949) Feb 1976
Gangster Love / I'm At Your Mercy (PS) (Gold Plate 1950) July 1976
Music For The People (vocal) / Music For The People (inst) (Gold Plate 1953) Dec 1976
I'm An Outlaw / Windy City Boogie (Gold Plate 1954) Sept 1977
What's Going On / Windy City Boogie (RCA 11269) April 1978
As Gangsters
I Feel You When You're Gone / Smoke (Heat 1978) July 1979
Wop That Wandy / Chuga Chuga (Heat 2001) Jan 1980
Shake Your Body / Strung Out On The Boogie (Heat 2007) Nov 1981
Break Your Promise / 5-10-15-20-25-30 Years Of Love (heat 2012) 1982
Notes: The version of "Let Me Go" on Dupree is a different recording to the one on Gold Plate. All the Gold Plate releases have the same recording of "Let Me Go". The same recording of "Scum-A-Doom-Doom" is used on the Sock-It and Gold Plate releases. The 7187 number for the Gold Plate 45 was originally the Boddie pressing index number.
Thanks to Jeff Beckman