the Hard Road (Road) / Fifth Chapter / Slow Trane
---
Painesville, 1967-9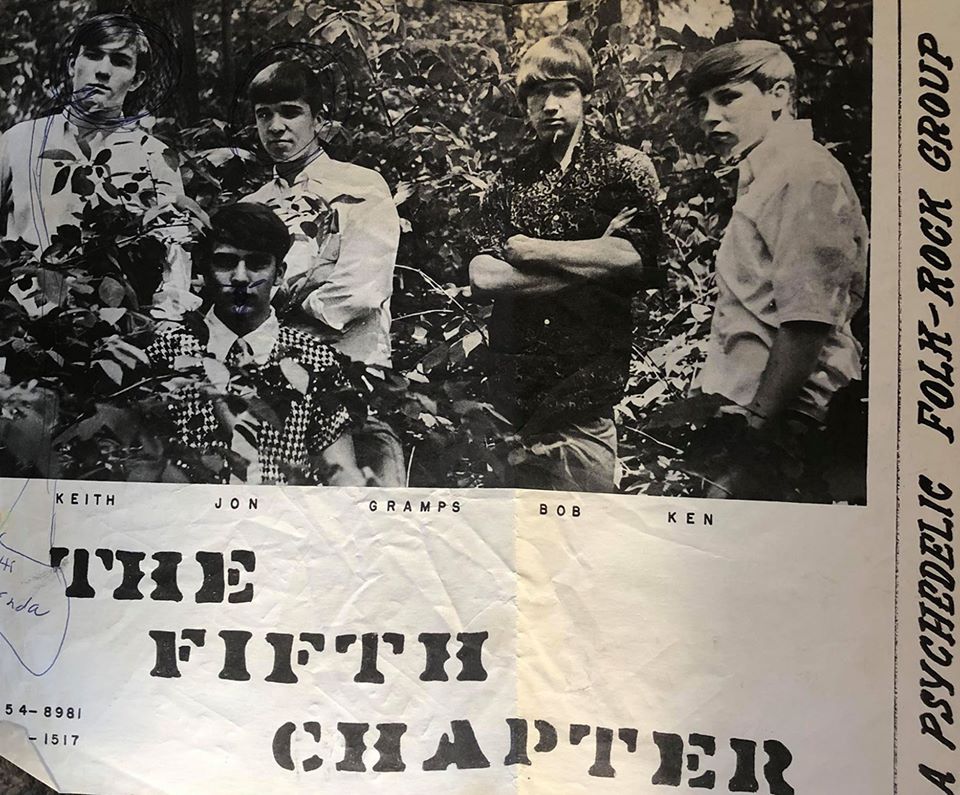 L-R: Keith Lipovich, Jon Winer, Dennis Szukay, Bob Yocum, Ken Jaskela
The Hard Road began as the Fifth Chapter, a band of students from Harvey High School in Painesville. The band included Keith Lipovich, Jon Winer on drums, Dennis Szukay (nicknamed 'gramps' as he was the oldest), Bob Yocum on lead guitar, and Ken Jaskela.
The band played many local teen dances and were pretty popular in Lake County.
Late in 1968 the band were recruited by Dave Rhode to be part of his Lemon-Lime record/ production company. Dave Passerallo, another Painesville resident, had been in the Four Escorts vocal group in the early 1960s. He contributed the song "You Rub Me The Wrong Way" for the band's recording session. The A side "It's So Hard To Find" was written by Jim Finan, who was in the Onion Rings. The connection between these three guys is not fully known but Passerallo was probably acting as Rhode's expert musician advisor/writer.
The band recorded the two songs, with most of the production invested in "It's So Hard To Find", a pop record with earnest 'sophistication' including overdubbed instrument parts. The B side is probably a better example of how the band sounded, it's a ripping garage rocker with Bob Yocum laying on the fuzz! There is a lot a good teen energy in the drumming and bass playing as well. The record was originally released by Rhode on his label, pressed at Rite. A second pressing was done at Pittsburgh's G&C plant. The record was issued a thrid time on Blue Onion with the band name shortened to the Road. The band never used the Road, the Hard Road was the correct name at this time.
Backing up a bit, the band had a couple member changes (Lipovich and Jaskela were replaced by John Malinak and William Babic) and a name change. The Hard Road came from Dave Rhode but also because there was already a Fifth Chapter band playing down in the Mansfield area (aka the Chapter).
In addition to the songs on the 45, the band recorded "By The Fire" which Dave Passerallo had cut with the Four Escorts 6-7 years eariler.
The band played out as the Hard Road into mid 1969, after which there are no mentions in the paper. Having a record got the band some good gigs at the Hullabaloos and the Stables in Painesville.
In mid 1969 Rhode recorded a couple more songs at Audio with the band, covers of "Ticket To Ride" and the Coasters' "Searchin'". These were cut onto an acetate, with the band's name changed again to Slow Trane. The band never played out under that name either!
The band came to an end later in 1969. Bob Yocum and John Malinak are still well known musicans in the area. Keith Lipovich manager the Stable(s) in the 1970s.
Discography:
It's So Hard To Find / You Rub Me The Wrong Way - Lemon Lime 101/Blue Onion 106
Ticket To Ride /Searchin' - Audio Recording 10" acetate