Gerri Diamond
---
Dayton, 1964 - 2014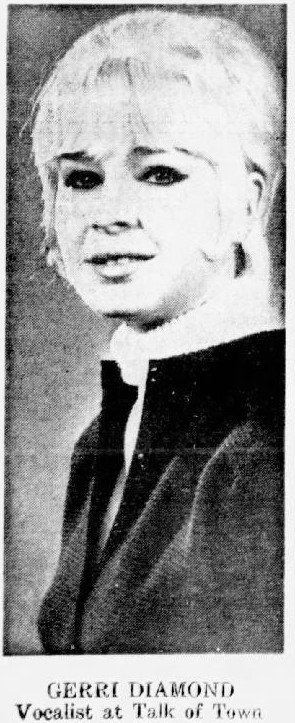 Gerri Diamond started performing as a young teen in Dayton and other SW Ohio clubs. Her first professional appearance was at the Twilight Club in Dayton, before that she was performing for the Dayton Recreational Parks. She was spotted by Bud Reneau of Saxony records who arranged some recordings that were unreleased until about 30 years after thet fact. She was then recorded by Counterpart records, who leased the recording "Give Up On Love" to HBR records, predating the start of the proper Counterpart label. The Counterpart productions pushed her into a commercial girl pop style, but her voice was a lot stronger and 'bluesier' than, for example, Jackie DeShannon (from nearby Kentucky) who wrote the songs Gerri recorded for Saxony.
Her second 45 was the first Countepart 45, and she recorded two more for the label, none of which was a big success. The songs she recorded were mostly written by Kenny Smith.
She doesn't seem to have released any more records, but she contiuned to be an active performer. In 1969 she was backed by Beau Dollar and his band for awhile. She was also noted for singing with London Fog and the Continentals. She was the singer for Melting Pot in 1972. She continued to perform locally until the 1990s when she moved to Florida.
Gerri Diamond is her stage name, FWIW her real name is Geraldine Broadstock. She was given her stage name by the owner of the Guys and Dolls in Newport, KY. She was featured on the Johnny Gilbert TV show (WLW-C in Cincinnati) and the "Do Your Thing" TV show in Dayton. She passed away on 2014.
Discography:
Give Up On Love / Mama, You Forgot - HBR 458, late1965
Sunshine Of Your Smile / Plain Old Everyday Boy - Counterpart 2570
Day By Day (By Day) / The Rookie - Counterpart 2575/6
Only You (Can Feel The Loss) / Little Soldier Man - Counterpart 2587/8
I'm Breaking The Law / Tender Touch - Saxony 3001 (recorded 1965, released 1997)