Fabulous Originals
---
Dayton, 1967-1973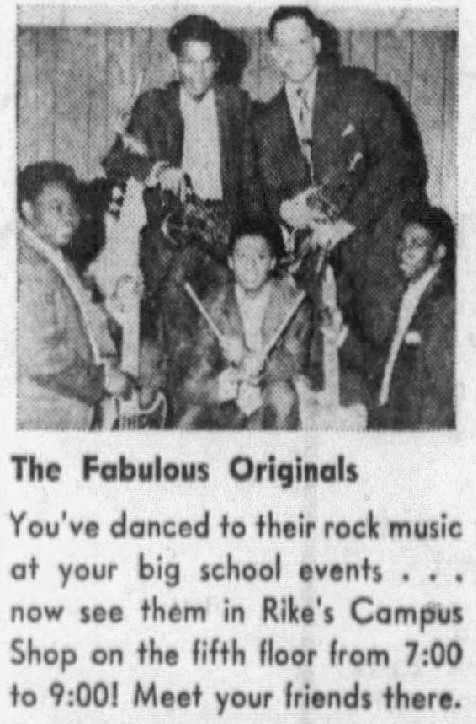 !969 pic of the band
The Fabulous Originals were one of Dayton's first big funk-soul-rock bands and while they didn't hit it big like many of the groups that followed them, they were well known and liked in the greater Dayton area.
The band was formed mainly by Roosevelt High School students in 1967. Lester Marbury was the guitarist, and his brother Raymond Marbury played bass. Bobby Allen was the drummer, Delbert Taylor played trumpet, and Reginald Harmon played sax.
The band was managed by Margaret Harris, who also managed the Four Corners. They started playing school dances and they got popular quickly, with an appearance on the the TV show 'Rising Generation' and shows at the Diamond Club. They also got a lot of prom and event gigs. They also backed up the Four Corners live and on their lone 45. The band played a lot of top 40 songs which helped them get good dance band gigs. The played shows in Greenville and Xenia which according to newspaper accounts were big successes.
In 1971 they recorded their only record, but what a great one, the hard driving funk instrumental "It Ain't Fair, But It's Fun", extended as Part 1 and Part 2 on the 45. The record was recorded at Jewel and released on the house label.
The band playing in Dayton's Soulmobile, 1972
The last mention we could find on the band was playing in 1973. Raymond and Lester Marbury are deceased.
Discography:
It Ain't Fair, But It's Fun (Part 1) / It Ain't Fair But It's Fun (Part 2) - Jewel 923, Feb 1971