Eugene and the Cyclones
---
Akron, 1961-4
Eugene and the Cyclones were one of the most successful early rock-n-roll bands. They made a couple records for the Bryte/Bright Star label that got local airplay and decent sales.
The band was led by signer/guitarist Eugene Darrah. As the articles read, the fist 45 (from June 1962) had Pat Gallagher (piano) and Gary Merriner (drums). 1962 was the year of the Twist and the band record a twist song.
About a year later, they made their second and last record. The band included Eugene and Pat, with new members Al Manns on guitar and Fred Standridge on drums. They do a twist rockin' update on the standard "You Are My Sunshine".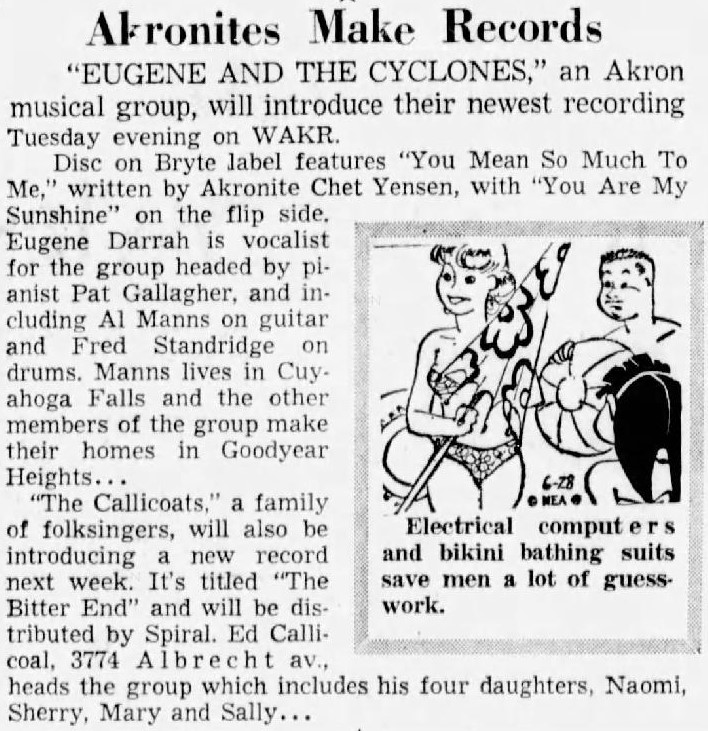 The band played a lot of local shows in 1962/3, a lot of them billed as Twist dances.
Discography
Don't Let These Things Happen / Thurnderbird Twist - Bryte 308, June 1962
You Mean So Much To Me / You Are My Sunshine - Bryte 860, July 1963