the Eighth Day
---
Steubenville/Cadiz, 1967-8
The story of the Eighth Day involves two bands, the Sons Of Liberty and the Opus IV, and two girls from SW Ohio, Nancy Pettit (from Cadiz) and Melanie Ross (from Hopedale).
According to former members of the Sons of Liberty, they were playing at Club 22 and owner Joe Gorlock called up one of his musical connection in NYC - Bob Feldman - and held the phone as they played so Feldman could hear them. Feldman was one third of the Feldman/Goldstein/Goteherer team that were the Strangeloves and produdced the McCoys. He ran Fireplace Productions and requested the band come to NYC to audition. The Sons of Liberty played their songs but Feldman had a different idea. Gorlock knew Nancy and Melanie and between Gorlock and Feldman they wanted to make a 'soft rock' style group with male/female vocals. The producers brought a couple of their 'go-to' songwriters, Gene Allen and Ron Dante, who pushed their songs onto the band. They auditioned for several record companies and signed with Kapp Records.

Over the summer of 1967 they all spent time at Mayfair Recording Studio in NYC working on a album's worth of songs. Eventually, the lack of control got to the young and eager SOL and they quit, leaving only drummer Jim Brandolino. Gorlock went right to Plan B, which was Club 22 favorite, the Opus IV.
The Opus IV completed the album recording and took over the identity. With two drummers among the 7 members, Bill Gunion and Jim Brandolino took turns. The other members were Bob Parissi (guitar), Vito D'Aurora (keyboards), and John (Dale) Lesnansky (bass). Finally, late in 1967, the first Eighth Day 45 "Hey Boy! (This Girls In Love With You) was issued in pic sleeve that showed the SOL version - with the Opus IV recording! the 45 took off and reached the charts in a few markets. with Nashville really getting behind the record, therefore the above article.
When the LP was released, the cover photos and promo material had the Opus IV version with the SOL version written off. According to the SOL webpage, they played/sang on 6 of the LP songs ("It Takes The Rain", "Brandy", "Building With A Steeple", "Glory", "Raining Sunshine", and "Million Lights"), and the Opus IV on the other five.
After the initial promo push with the first 45 and LP, Kapp seemd to lose interest. There were two more 45s released, and the band lasted until the fall of 1968. Bob Parissi joined the 006's
Bill Gunion is deceased.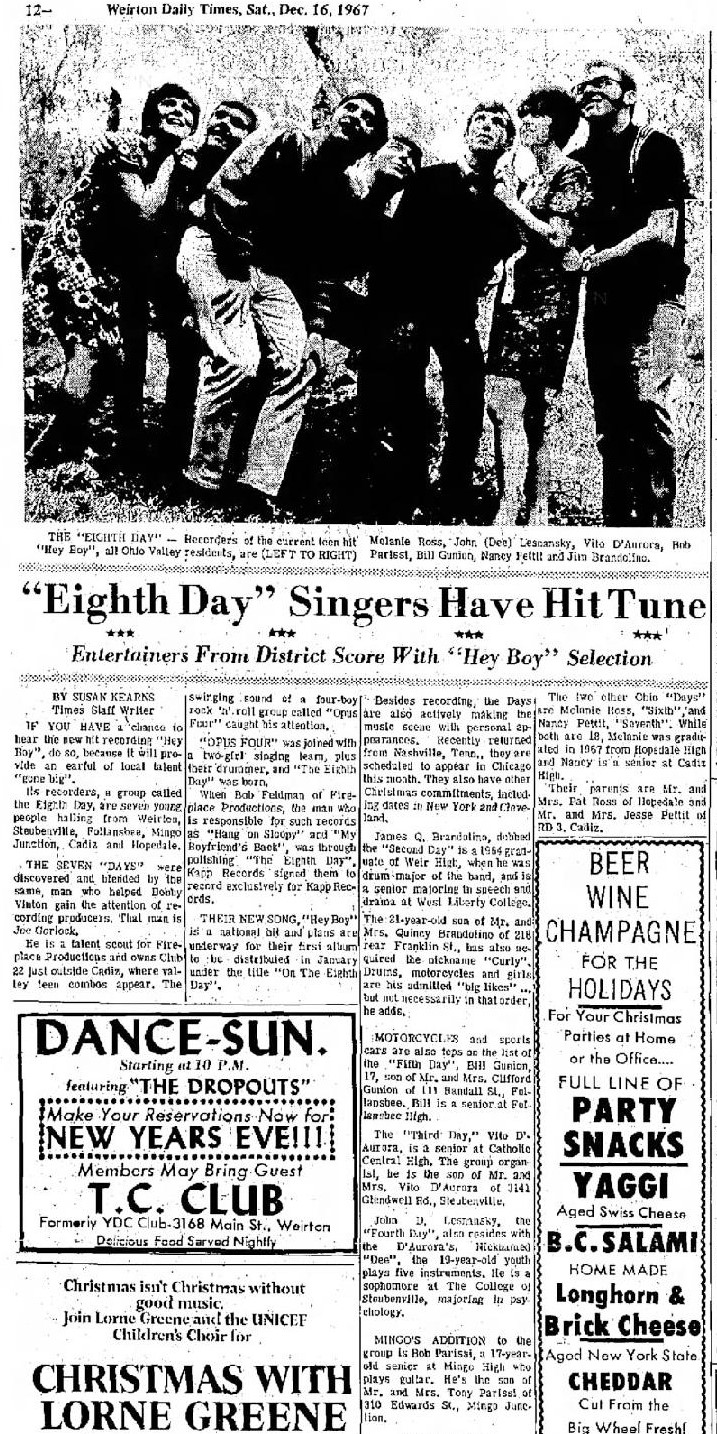 Discography:
Hey Boy! (The Girl's In Love With You) / A Million Lights - Kapp 862, Oct 1967
Raining Sunshine / That Good Old Fashioned Way - Kapp 894, Feb 1968
Glory / Building With A Steeple - Kapp 916, May 1968
LP - On the Eighth Day - Kapp 1554 (mono) / 3554 (stereo) Jan 1968