the Combined Forces / Hi-Tension Band
---
Cincinnati, early 1970s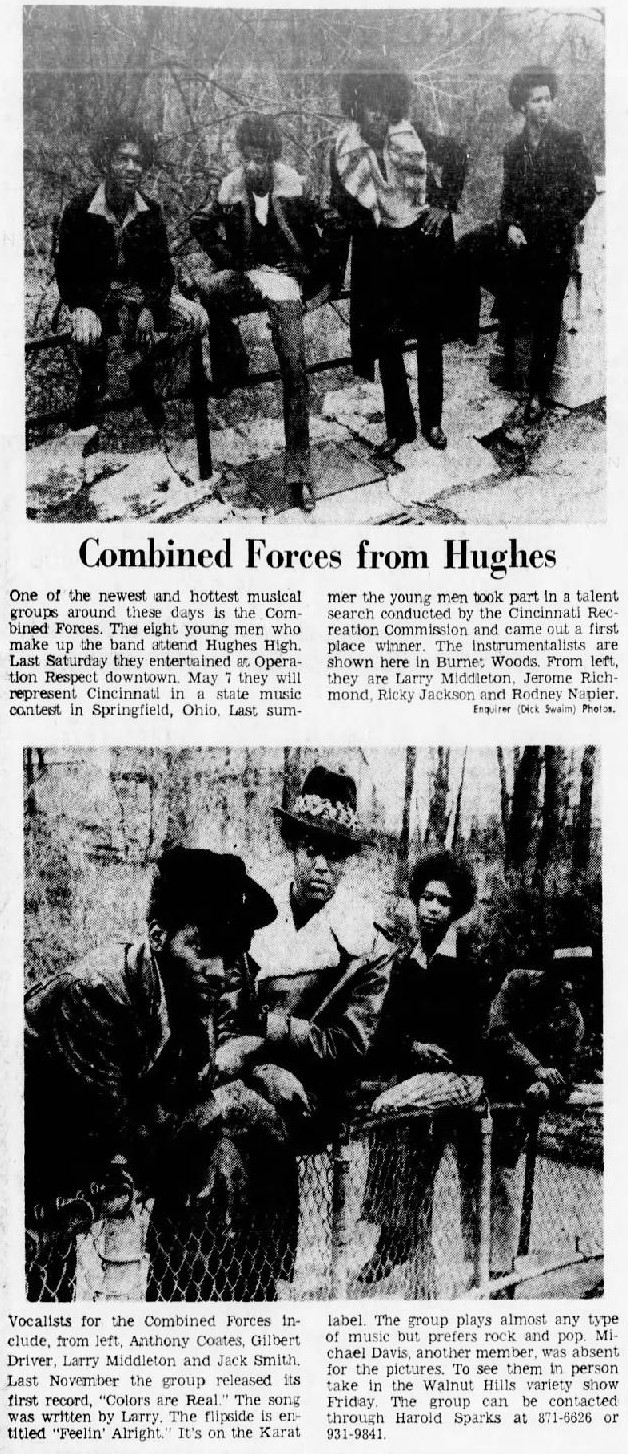 The above article was from April 15, 1972
The Combined Forces lived up to their name as a combination of an instrumental band, the Hi-Tension Band and a vocal group. The members, 8 total, were students at Hughes High School in Cincinnati. The members were Larry Middleton (primary lead singer), Jerome Richmond, Ricky Jackson, Rodney Napier, Anthony Coates, Gilbert Driver (bass singer), Jack Smith, and Michael Davis.
The group was managed by Harold Sparks. He started a record label, Karat, and released two 45s by the Combined Forces. The first 45 is a really nice ballad "Colors Are Real" written by Larry Middleton. The 45 seemed to have sold a number of copies. The flip side is a 'psychedelic soul' version of the Traffic/Dave Mason classic.
In 1973 they released a second 45, with a similar format, a slow song that is more progressive sounding, and an uptempo flip side. The songs were credited to Larry Middleton and Harold Sparks. Bobby Sparks is also credited. Bobby also had a 45 on Karat along with a 45 on the Brite Star related Geauga label. Bobby is certainly related to Harold, brothers? or father/son?
There's not much else we can find on the group for now, more info would be most welcome!
Discography (not confirmed)
Colors Are Real / Feelin' Alright - Karat No # (Rite masters 28451/2), Nov 1971
Check It Out / Like It Is - Karat 514/5, (Rite masters 32309/10), 1973