the Chylds / Echos
---
Canton, 1964-69
Canton's top 1960s teen band, the Chylds were one of the hottest bands in NE Ohio for about a year. The band started n as the Echos and released their first 45, covers of "Around and Around" (Chuck Berry via the Rolling Stones) and "You Make Me Feel Good" (Zombies) under that moniker, recorded at Akron Recording. The original band included John Berecek (guitar), John Garner (drums), Al Twiss (bass), and Tim Hogan (rhythm guitar, keyboards). John was a student at Glenwood HS in Canton, with Al and Tim attending Louisville HS.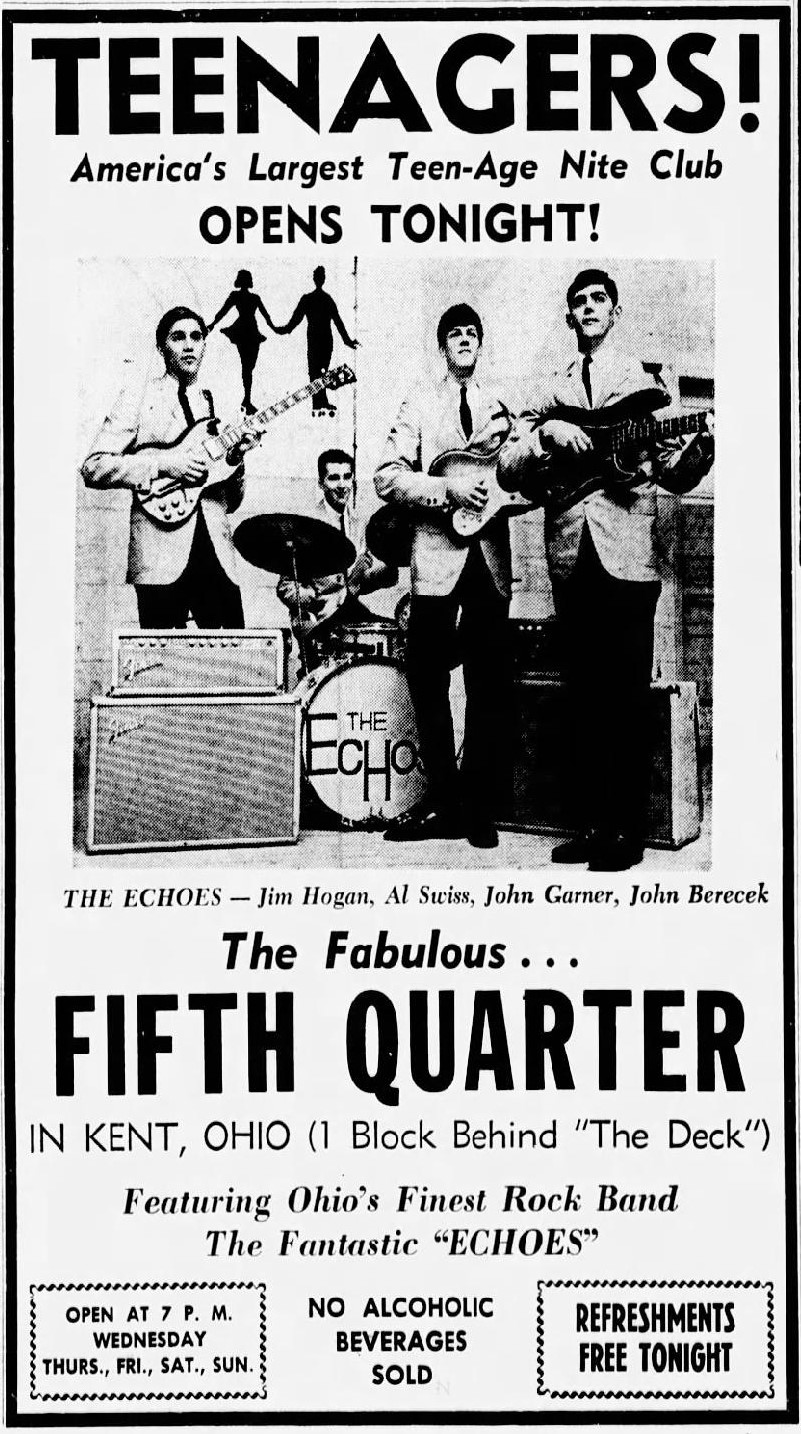 The ad above, from July 13, 1965, features two mispellings - but they got Berecek right! The jackets were supposed to be green.
Sometime later in 1965 Joe Vitale replaced Garner -according to a 2013 interview with Vitale, Garner couldn't make a gig and after sitting in, the band asked to to join, and the band started to hit their stride. Later in 1966, Nick Boldi from Massilon, who had written a few moderately successful songs, and had connections to folks like Canton natives the Glasser brothers, became their manager. He suggested they cut another record and contributed his song "I Want More (Lovin)" - based a bit on the Everly Brothers' fab "You Got the Power Of Love" (the organ solo is very similar as performed by Paul Revere and the Raiders/Mitch Ryder and the Detroit Wheels. Joe Vitale sand lead. To release the record, Nick wanted a new band name, so he suggested Wild Chylds, which the band didn't really like, so they compromised on Chylds. The record was a huge local hit, probably selling a few thousand copies. Initially issued by Boldi on the custom Giant label (mastered by Sound Inc in Detroit), the record was picked up for national release by Warner Brothers, probably through Boldi's relationship with Dick Glasser, in July of 1967.
While "I Want More" was nice success, it was the band's next 45, "Psychedelic Soul", that brought the band their biggest hit and came close to breaking nationally, reaching the 'bubbled under' rankings of the Billlboard Hot 100. With some money available from Boldi and Waner Bros, the band recorded at Cleveland Recording and added orchestration for a first class production from Boldi and his partner, Cleveland legend Carl Maduri. The record was a huge regional success, getting airplay in Cleveland and providing top bookings well into 1968.
In the spring of 1968, with the momentum of the record wearing off, Boldi paired the band with Charles Davenport, a black singer from Massilon who Boldi was hoping to get into the soul R&B market. This pairing happened along the same time that Vitale was injured in a car accident, depriving the band not only of his excellent drumming but also a lead singer. Joe Berecek, John's brother, filled in for while on vocals. The strain of these events and changes in the band member's lives led to the exodus of first Tim Hogan, replaced by Dave Jackson, and then John Berecek, replaced by Denny Jackson (no relation). Vitale returned and the new look Chylds continued on.
Around October of 1968 (assuming the article is correct) the new Chylds released the 45 "No More Tears" and "Grey Days". The band's style had changed to a more progressive psychedelic feel, a style that played well with the Kent college crowd, which became their primary fan base. The group seemed to have split with Boldi as the 45 makes no mention. It was released on the Ivanhoe label, a Chicago based operation run by Eddie Mascari.
The band continued to play through mid 1969, as best we can tell. Sometime in 1969, if not later, Boldi released a couple songs that had been recorded with Chartes Davenport, sharing vocals with Joe Vitale. We assume these songs were recorded with Berecek and Hogan in the band, early 1968, and kept in the can until after the band's demise. The b-side "Show the Peace Sign" was recorded by a couple other artists in Boldi's management.
The band was known for their unusual 'harlequin' type suits which appear in several promo shots. The suits were Boldi's ideas and according to Vitale's account, made in two versions, orange/white and black/white.
The Chylds opened for many touring acts including the Beach Boys, the Buckinghams, the Standells, and the Shirlelles. They were very popular in the Dover, East Liverpool, and Youngstown areas.
Joe Viltale had a great career playing with Joe Walsh in Barnstorm, and recording a solo LPs in 1974 and 1981 that are still well regarded. He wrote an autobiography with his wife in 2013. Tim Hogan passed away in 1988.
Discography:
I Want More (Lovin') / Hay Girl - Giant 101, Warner Bros 7058, July 1967
Psychedelic Soul / Deep Inside - Warner Bros 7095, Nov 1967
No More Tears / Grey Days - Ivanhoe 1801, c. Oct 1968
When I'm With You / Show the Peace Sign (PS) - Bold 3333/3337, 1969?