the Bare Facts
---
Portsmouth, 1965-70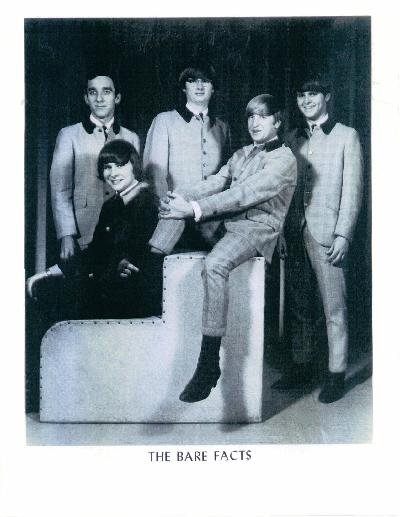 L-R: Dave Craycraft, Bill Williams, Russ Pruitt, Randy Boldman, Ron Pruitt
The Bare Facts formed in the spring of 1966, with all the members form the greater Portsmouth area The band included brothers Ron Pruitt (guitar) and Russ Pruitt (drums from Portsmouth. Dave Craycraft, from New Boston, played organ and trumpet. Bill Williams (from Wheelersburg) on guitar, lead vocals and harmonica, and Randy Boldman (from Portsmouth) on bass.
The band recorded two 45s for the Jubilee/Josie label. A local DJ, Dave Craig, liked the band and got them connected to Bill Dall in New York CIty. They were able to get a nice writeup in Go Magazine The recordings were done in New York City. The first 45 "Bad Part Pf Town" has all the elements of classic 1966 teen garage. Both sides of the first 45 were written by Bill Williams. Dave Craycraft wrote both sides of the second 45.
The band played all over southern Ohio, West Viginia, Kentucky.
In 1970 Randy Boldman left and Ron Pruitt moved to bass. They continued to play for a few more years.
Ron Pruitt passed away in 2016. Bill Williams changed his name to Boyd Williams.
Discography:
Bad Part Of Town / Georgianna - Jubilee 5544, Sept 1966
The Only Thing / To Think - Josie 978, July 1967