Barbara Howard
---
Cincinnati, 1968- 2008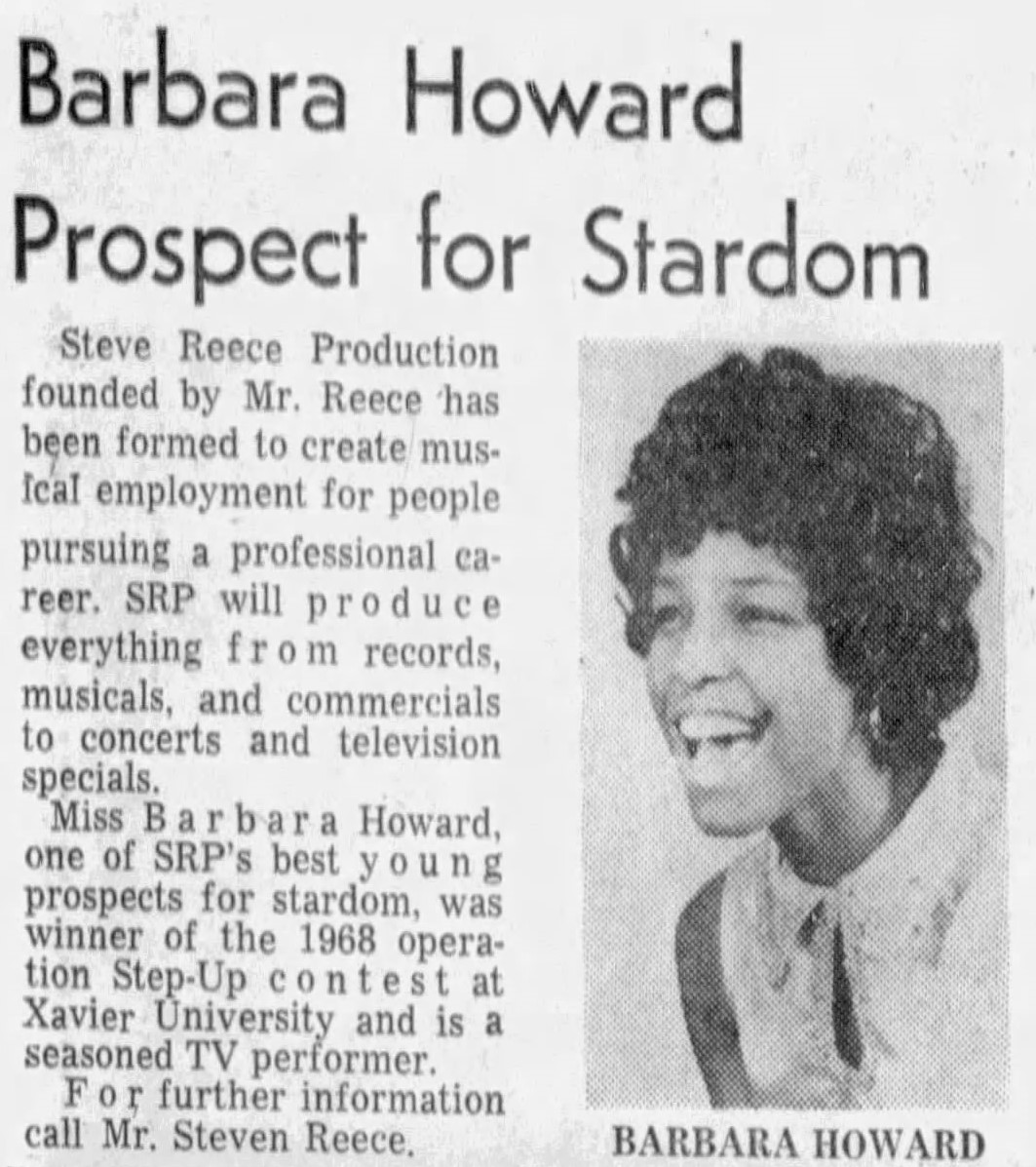 Barbara Howard was a local star who seemed on the verge of making it big on the national scene. She made her first record while still in high school, appeared on national TV, and had a lot of press and support in Cincinnati. There's always a bit of circumstance, and luck, that separates those who 'make it' and those who don't, and Barbara must have missed out on that break.
Barbara first appeared on the scene in 1968, when she won a talent contest that was part of Operation Step-Up, an summer long series of live music shows in Cincinnati, intended to spotlight talent from Cincy's Black community. The events were organized by Steve Reece, a Xavier University student. Reece became Barbara's manager, and their relationship became personal, as they married a year or so later.
Barbara soon became a local star, doing live shows and making local TV appearances. Steve put together a 'revue' type show with other local groups (including the Dapps and the Mystics who made a 45) that played the tri-state area. Steve was also an aspiring songwriter, and Barbara provided the muse and the voice he needed.
Steve set up his own label, and released their first 45 in late 1969. Steve had written the gospel-soul "The Man Above" as the intended A side, and to provide a different sound, he wrote the hard "sister funk" pounder "I Don't Want Your Love". Barbara could sing in any style - funk, soul, gospel, pop, jazz - and the selections on her records were intended to make that point. The arrangement was credited to Gordon Brisker, a Cincy tenor sax player who was part of the local jazz scene.
There were two more 45s, and a LP, released in the first half of 1970, "I Need You", another ballad written by Steve, backed with "You Made Me So Very Happy", the huge Blood, Sweat, and Tears song that was originated by Motown's Brenda Holloway. Barbara restores the soul to the song, which was a showstopper in her live shows. June, 1970 brought the release of "Light My Fire", the Doors song given a jazzy read, and "Welcome Home", a Chip Taylor written song that was a soul hit for Walter Jackson in 1965 and recorded a few more times.
The LP, "Barbara Howard On The Rise" was released together with the second 45 and included 5 of 6 45 sides, omitting "I Don't Want Your Love". The LP includes additional covers of the hits "Oh Me Oh My (I'm A Fool)", "For Once In My Life", and "It's Not Unusual" with a couple more lesser known covers. The LP seems to have been intended to show her versatility in performing different styles.
Also in 1970 she made two national TV appearances, on Phil Donohue's, and David Frost's TV shows. From news accounts, she probably performed "You Made Me So Very Happy" on at least one of the shows. She was also on the Upbeat show that aired on August 11. Local stories from the time mention possible dates on the Flip Wilson TV show. While all this was happening, she graduated from Taft High School in June 1970.
Through 1971 and 1972 she did not make any more recordings. She was very active as a live performer, and made more TV appearances, She was on the Upbeat show that aired locally on January 9, 1971, along with the Heywoods, one of the last Upbeat episodes that were produced. She was also on the local Nick Clooney show as few times (Nick, beside being George's father, was a major Cincinnati TV host/journalist who briefly hosted the nationaly televised 'Money Maze' game show in 1975. His TV show had many local performers). She also starred in a musical theatre production.
Starting in the summer of 1973, she was supposed to go out on the road and make more recordings. That's when her name disappears from the local papers. Something happened to alter that path, possibly she decided that family, or community, came first, or that she started having some of the health issues that caused her suffering and cut her life short. There is little mention of her until the late 1990s, when, already ailing from multiple sclerosis, she made a few public appearances. In 2004, now confined to a wheelchair and blind, she sang a couple songs for a July 4th event. She performed in public a couple more times before her death in December, 2008.
Steve Reece has kept the memory of Barbara alive by licensing and overseeing reissues of the LP and the 45s in the 2010s.

Discography:
I Don't Want Your Love / The Man Above - S. Reece no # (Rite master 25067/8), c. Dec 1969
LP - On The Rise - SR Production no # (Artists master 700301), March 1970
I Need You / You Made Me So Very Happy - SR Production no # (Artists master 700317), March 1970
Welcome Home / Light My Fire - SR Production no # (Artists master 700628), June 1970