Sleek Brothers
---
Kansas, 1954-present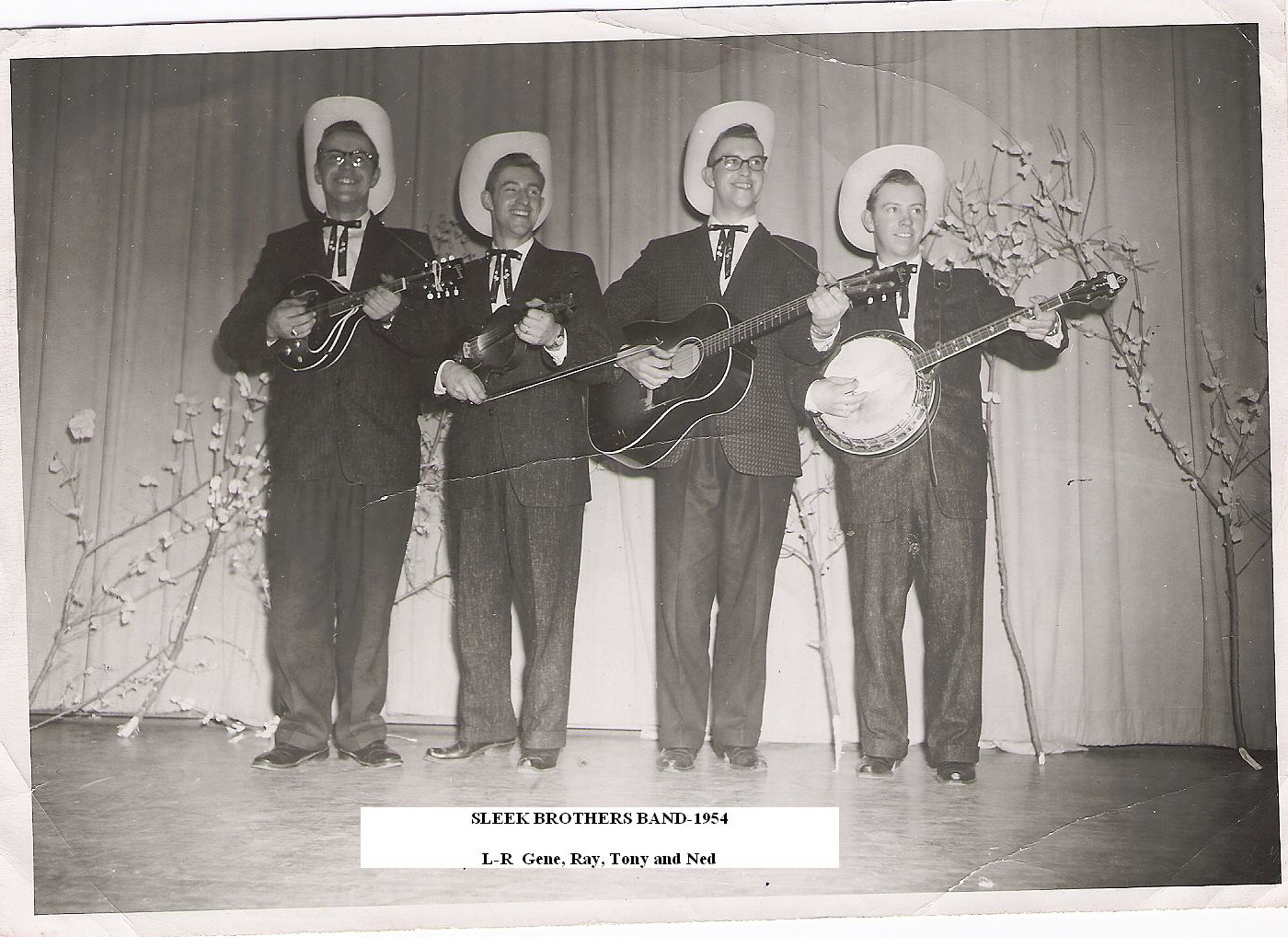 In early 1954 four brothers, Ray, Tony, Gene and Ned formed the Sleek Brothers Band. Ray played fiddle Tony rhythm guitar, Gene mandolin and Ned banjo. The Band's first job was in December of 1954 at the B&B Bar in Bettsville. From 1955 through 1957 the Band also played the Harley Bar in Bowling Green, Busy Corners in Gibsonburg and Bayshore Lodge near Vickery, Ohio.
In 1958, Johnny Fox joined the Band on banjo. Ned then switched to rhythm guitar and Tony started playing the steel guitar. For 6 months in 1960, the Band played a live half hour radio broadcast every Saturday evening on station WFOB in Fostoria, Ohio. Also from 1960 till 1972, the Band played every Friday and Saturday night at Rollersville Tavern. In 1971, Ray's 12 year old son Jim joined the Band on drums.
The Band was now playing the B&W Hall in Wayne, Nature Trails in Bettsville, Embers in Oak Harbor, Eagle and Moose clubs, street festivals, receptions and private parties. Because of all the traveling, the Band purchased a 1952 GMC tour bus. That bus was later replaced with a 1972 MCI tour bus.
In April of 1980, the Band recorded an 11 song cassette at Brownwood Studios in Gibsonburg, Ohio. The cassette was made to be sold at their shows. In 1984, Jim left to form his own Band called Uptown Country. Wayne Van Doren joined the Sleek Brothers on drums at that time.
From 1984 through 1989, the Band did a lot of traveling, playing shows in Indiana, Michigan, Pennsylvania and all through Ohio. On one of the Band's many trips to Pennsylvania, they recorded their second cassette of 10 songs at Raintree Studio in Bedford, PA. During this fun time, the Band was made up of Ray Sleek on fiddle, Ned Sleek on rhythm guitar, Roy Sleek on electric bass, Johnny Fox on banjo, Jim Fee on lead guitar and Wayne Van Doren on drums. The Band was playing county fairs, large campgrounds, street fairs and stage shows.
In 1990, Jim Sleek wanted to rejoin his dad's Band and because of family pressure outside the Band he was allowed to take Wayne's place on drums. (A few years later, Jim quit the Band again). Also in 1990, Jim Fee left the Band and moved back to Michigan. Jim Lash, Ray's brother-in-law joined in lead guitar at that time. Joe Saalmons began playing with the Band in late 1989 and by mid-1990 the Band had two rhythm guitar players.
The Band continued to do a lot of traveling. They also opened for or performed as stage Band for big acts like Bill Anderson, John Conley, Charlie McClain, Johnny Paycheck, Buck White and Family, Razzy Bailey, Tom T. Hall, Barbara Mandrell, Oak Ridge Boys (twice) and Porter Wagner. The Band played the Ohio State Fair, Indiana State Fair, Georgia State Fair and were the first country western Band to ever play at Casa Loma in Toronto, Canada.
While playing a show at Ponderosa Park near Youngstown, Ricky Skaggs flew in and was backstage to see the show. Two days later, Ricky appeared on Ralph Emery's Nashville show and was asked "Can you explain the roots of country music?" Ricky responded, "It's what I saw this weekend at Ponderosa Park." "A family Band with three brothers and a son, then the fiddle player had his two young daughters come on stage and play fiddle with him and the Band. That's what makes the music business so great." Nice compliment.
The Band recorded two more cassettes at Raintree Studio and one last cassette at Brownwood Studios. All five cassettes (now on disc) were made to be sold at shows and were not released on a label. The two most important things for the Band have always been "have fun and make the audience feel like family." In July 2005, Ray Sleek celebrated his 70th birthday at While Star Park near Gibsonburg. Ohio. Over 500 people, local and out-of-state came to wish Ray well. Over these many years Ray has made a lot of people feel like family.
For the last 53 years there have been at least three brothers in the Band at all times. As of 2007, the Band is still pickin and grinnin and can be seen at county fairs, festivals, receptions, private parties and any place the Band can set up. It's about making music and having fun.
Photos and particulars by Ray Sleek and Wayne Van Doren