the Shy Ones
---
Ashland, 1966-8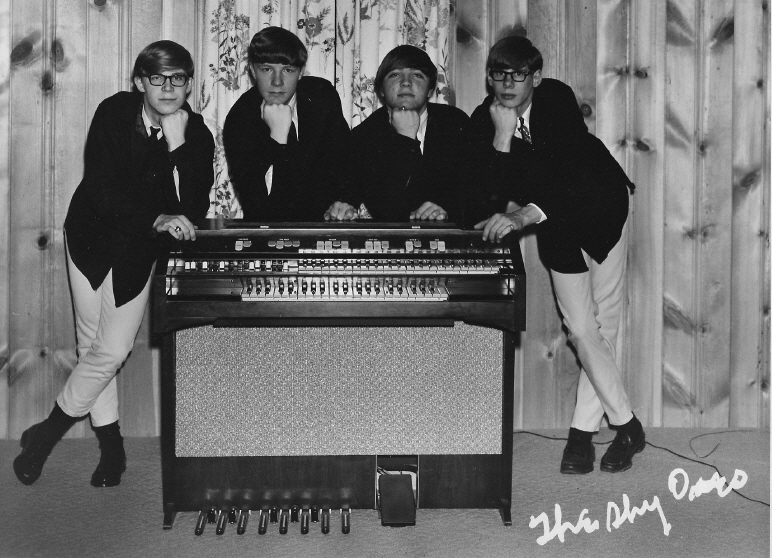 A swingin' quartet of Ashland High School students formed the Shy Ones in early '66. Neighbors Dave Shoemaker and Bob Ritz started the combo, which originally had Bob on bass, Dave on guitar, and Bob's cousin Rex Hard on drums, straight from school marching band. After one or two short lived members, Steve Pifer joined on guitar and Bob, who was accomplished in several instruments, got a full Hammond organ. Dave and Steve switched off guitar and bass.
The Shy Ones' mission was simple - provide fun danceable music for the Ashland/Wooster teen dance scene. With the prominent Hammond organ sound, somewhat unique in the Ohio Valley region, the group played a lot of Rascals songs, and standard teen dance action like Kingsmen, Kinks, and soul sounds. The group got connected to the WWST jocks, Dave Miller in particular, and got a lot of work through that connection as a live band for WWST DJ sponsored dances. Bob's father was the manager - his occupation as medium haul truck driver enabled him to make contacts wih club owners throughout the area and the group played around northern Ohio. The group usually wore matching sport coats or sweaters, with an occasional shot in mod casual.
It was Dave Miller who encouraged the group to record two live set favorites - "That's How Strong My Love Is" and "12 Months Later" - however, the Shy Ones treatment of the Strangeloves/Sheep frat stomper usually included some R-rated lyric alterations! Miller's Mennonite-cultured ears turned a bit blue when the group reheasred "12ML" so he forced a lyric change - so instead of taking off her (use your imagination) the narrator in the song takes off the girl's 'wig'! Listening to the recording you can hear the slight hesitation in Bob's voice when he sings that part. The 45 was recorded at WWST studios and released in May of '67 on the Disca/Tech label. Disca/Tech was actually 'owned' by a WWST DJ named Judson Rosebush, the first and only 45 on the 'teenage' division of his JayGee recording label.
With 45 in hand, and getting airplay on WWST, the Shy Ones hit the road throughout the summer of '67, playing teen dances, county fairs in Medina and Norwalk, and one memorable weekend trip to Ft. Wayne, Indiana. Dave Miller had moved to a Ft. Wayne radio station, and got the group two prestigious TV gigs out there (one which was taped, one live). While there they also did a live radio call in show and got 1967 'rock star' treatment!
According to Dave, the Shy Ones "weren't the best, but we did some unique things" compared to other groups - one one of which was their signature 'break song' - based on the Rolling Stones "2120 S. Michigan Ave". They would start and end the set with the song, and used the number to introduce the group, plug their record, etc. The group's success enabled group members to buy new cars - a '66 Mustang for Steve and a '68 Camaro for Dave.
The Shy Ones broke up in mid '68 when Bob and Rex graduated high school. Bob and Steve formed another band, the Pearl Street Scene, which played Ashland College gigs for several months. Bob has played in groups off and on since then, the only member to do so. Rex Hard is deceased.