the Shades / Leather Soul
---
Akron, 1964-70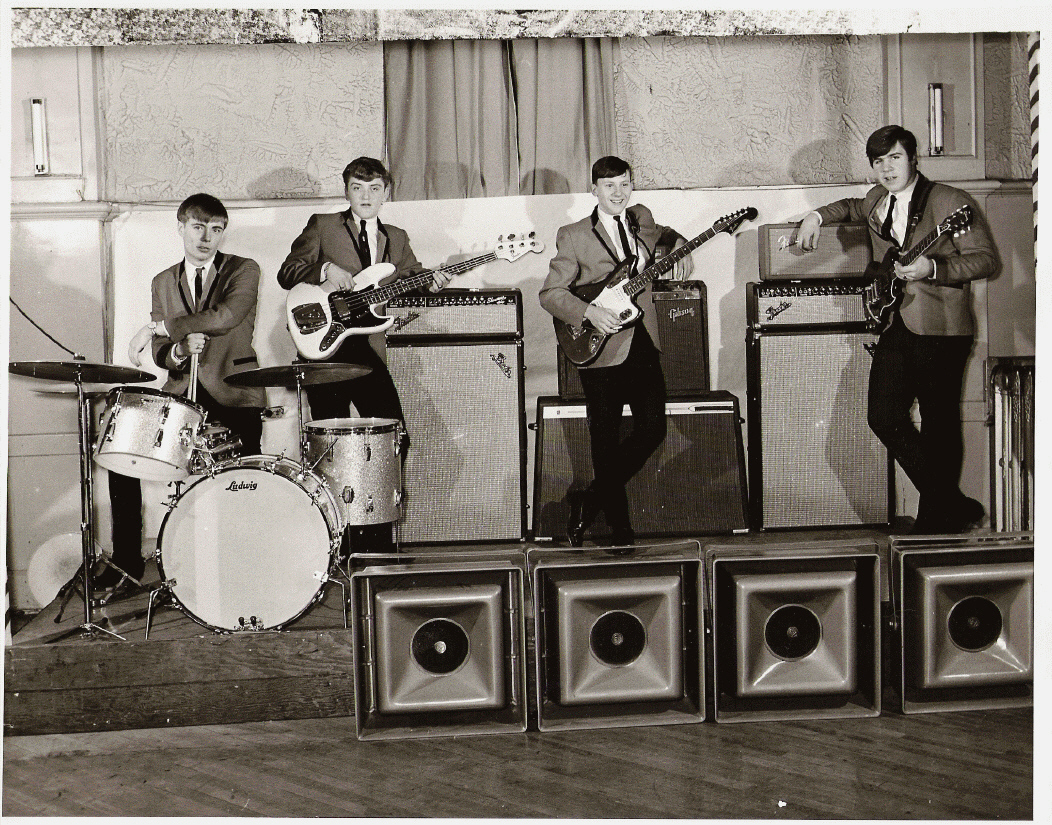 The Shades were the product of an illicit gathering in the France household c.'63. Steph France was hosting a few friends and passing around a guitar when his strict father caught him in the act. Instead of discipline, his father asked him to play, was impressed, and offered to get him guitar lessons. Shortly after, Steph started a band with his Bucthel High School classmate Jim Null. Jim had a Silvertone guitar that was missing two strings - so, instant bass player! Marty Block was on sax and Mike Rankin on drums. Their first paying job was some neighborhood teen mixer where they played in a garage earning $3 apiece. On their way to a post-party pizza, they were jumped and robbed. Steph's father decided to pay for a high quality Electro-Voice PA system and the parents became the managers.
The Shades (with name provided by Mr. France) played teen dances all over Akron, and teen clubs including the Note (the Cuyahoga Falls one, not the Sandusky club), Chippewa Lake, Silver Lake, and the Cuyahoga Falls Hullabaloo. As the group started gaining popularity, some personnel changes occured. Marty Block left, and Larry Swider (from the Chambermen) joined on lead guitar. Kevin "Kev" France, Steph's younger brother, came aboard on keyboards. The group slowly moved in a more soul/R&B direction which they persued for the rest of their existence
In the summer of '66 the Shades travelled to New York City in an attempt to get some recording companies interested. While there they recorded several songs at RKO Studios that were dubbed onto acetates - including a few Beatles songs, the standards "Maleguena", and a group original "I Need You". While nothing came of this, upon their return they won a battle of the bands at the Note which got them in contact with Akron Recording's Bill Palmer. Palmer got them into the studio where they recorded two excellent soulish rockin' originals, "With My Love" and a new recording of "I Need You". The 45 got on WAKR and it won a head to head rating against "Mairzy Doats" by the Innocence. WAKR jock Johnny Andrews made a personal visit to the France house to check out the group. The record sold well locally, about 400-500 copies, and used copies appear time-to-time in the collectors market. In the spring of '67 a follow up record was done at Audio Recording in Cleveland. This time they recorded covers of "Everybody Needs Somebody to Love" and "Walk On By". The record was pressed at Pama under their own France label. This record didn't do as well.
By the summer of '67 most of the group members had graduated high school (Steph and Kev from St. Vincent HS). The group decided to go in a more professional direction. First, the group dismissed the France's as managers and cast about for wider exposure. They changed name to Leather Soul and got a residency at the Dome that lasted for a couple years. The Leather Soul enforced the soul/R&B direction that Shades were pointing in. They would get the latest 45s from a Kent record store (now known as Spin More records under different ownership) and learn the new material in time for their Friday night Dome gig. Larry Swider left to attend college (he became a physician) and Jimmy Jones, who had played in several groups including an early version of the Chambermen, came on. Mike Rankin also left and was replaced by Keith (last name unknown). During the May 1970 student demonstrations, the group was playing a show at the St. Vincents field house when 13 National Guardsmen burst in and stopped them in mid song ("Whose Making Love" for the record). In '70 they were booked by a guy from New York for three months to places like Nova Scotia. The Leather Soul played for huge crowds and worked their way down to Pine Bluff, Arkansas for an engagement. While there they tried to get a residency in South Florida but thinfs weren't working. Unable to keep a positive cash flow, the group packed it in and headed back to Akron.
The Leather Soul ended there. None of the members continued in any professional musical endeavors, but they did leave behind one excellent 45 and a lot of great memories.