the Scruffy Group
---
Cleveland, 1965-7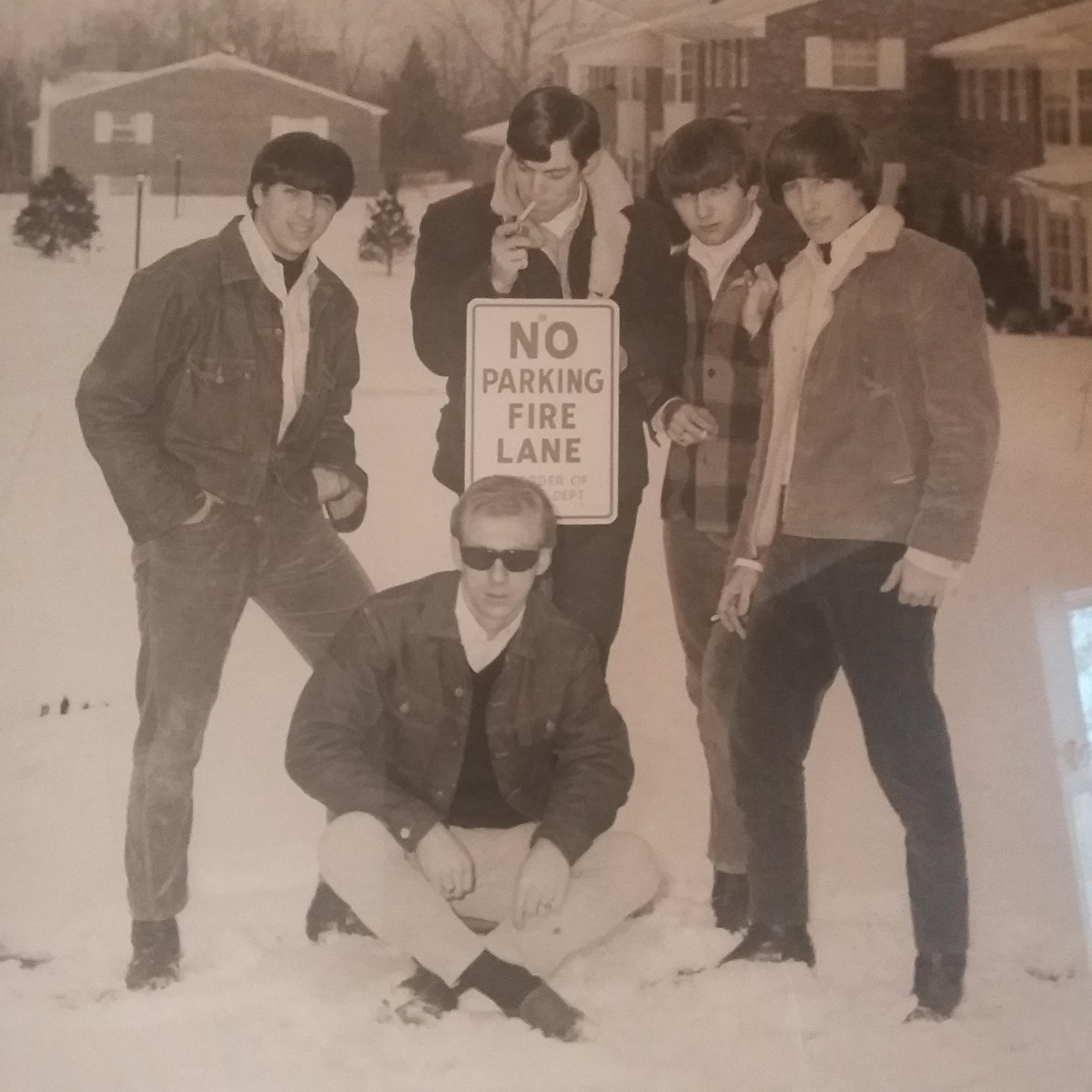 WInter 1966-7, L-R standing: Jim Melillo, Jack Van Pelt, Kerry Rosala, Alan Ulrich. Sitting: Denny Phillips
The background on the Scruffy Group eluded us for years, until former members Jack Van Pelt and Jim Melillo stepped forward, and finally we are able to post their story.
In early-mid 1965 Jack Van Pelt and Max Freeland, both from Lima, were students at Ohio State. They shared an apartment, one of 8, and like many college students living off campus, the apartment complex had a good amount of parties. Occasionally Jack would get out his guitar, and Max would set up a few drums, and they would play some rock and roll.
Gloria Newell, who was several years older than the college kids, saw Jack and Max playing. After some talk she asked them if they were interested in forming a working band and relocating to her home town of Cleveland. They all agreed, so the guys quit OSU and went to Lima and found Jim Buehl on rhythm guitar, and Alan Ulrich on bass. The four practiced a bit and moved to Strongsville. Gloria and her husband Jim Newell got the band, named the Scruffy Group, a gig at the Skyline Inn in Strongsville, playing every Wednesday and Saturday night. The Newells, along with Sue, who ran the Skyline, placed the band in an apartment above the Skyline.
The foursome clicked from the start and soon they were drawing full houses at the Skyline. Around August of 1965 the Newells suggested that they make a 45, mainly as a promotional item. So Jack, back at the Buell house in Lima, wrote the songs "Little Girl' and "Do" in four hours. They went to Audio Recording in Cleveland and had the songs down in a few hours. The Newells pitched the songs to Jimmy Testa and his Tema label. Testa gave the record a full release, pressing special promo copies and the usual pink label stock Temas. The record didn't get much local action, but it's a good representation of the greaser/British Invasion hybrid, with the moody "Little Girl" as the A side and the rocker "Do" on the flip. Jack sings lead and plays the lead guitar parts on both sides. A few months later, the Illusions heard the song from a record found by a band member at Audio Recording and they did their own version of "Little Girl". Neither band had much if any recollection of each other.
The original lineup of the Scruffy Group lasted for about 6-8 months before Max got tired of being a full time musician and left. He was replaced by Bill McEwen who was from Lakewood. Bill lasted a few months before he was replaced by Denny Phillips. The band also added a keyboard player, Kerry Rosala, and then Jim Buell left and was replaced by Jim Melillo on rhythm guitar and harmonica. This lineup lasted until the end of the band. They continued to hold down Wednesdays and Saturdays at the Skyline. The band on Friday nights during some of this time was Larry and the Avengers, with Jim Quinn (Damnation of Adam Blessing). The Scruffy Group were so popular with the Skyline and Sue that they could take a better gig elsewhere if offered, and be welcomed back anytime.
In addtion to the Skyline, the band played CYO dances, after proms, and private parties. They also played a few times in Cleveland's downtown area clubs like the Americana. Their setlist included a lot of club dance favorites, but as 1966 went into 1967 they started expanding their range a bit. Jack recalls them doing "Morning Dew" using the Grateful Dead recording (from their 1st LP) as the source. They recorded a couple more of Jack's songs in a recording studio, probably Audio again, but no trace of these recordings is known to exist.
The band was booked by a Canadian promoter to play a few dates up north....billed as "Ronny and the Daytonas". The original Ronny and the Daytonas had a big hit with "Little GTO" in 1964, and a few lesser hits. They were from Nashville and probably never played Canada before. The Scruffy Group's appearences included Montreal.
Later in 1967 the band decided to split. Jack headed to California while Jim, Denny, and Kerry continued to play in a band named Yesterday and Today. Jack eventually moved to Florida and has cotinued to write and record songs over the years. Bill McEwen is deceased.
Discography:
Little Girl / Do - Tema 127, August 1965