the Crystal Rain
---
Dayton, 1968-71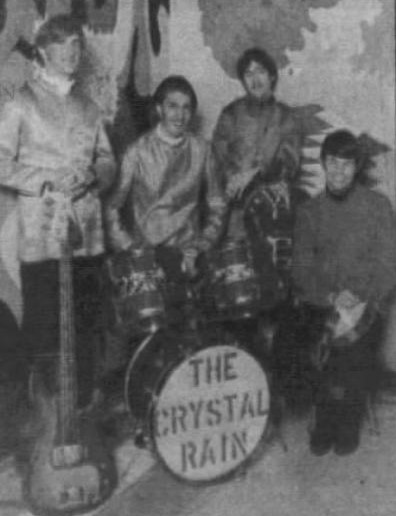 Featuring the harder psych/rock sounds of the late 60s, they recorded two excellent 45s at ALRS studio in Dayton. The band included Jerry Scott (organ), Chuck Hodell (lead guitar), Ralph Wilson (bass), and Bill Moan (drums), all in high school except for Chuck who graduated in 1968. Bill Moan was the original lead singer. By 1970 the band expanded to 5 and then 6 members with Tommy Warner.
The band played local dances often in 1969-70. They were known for using a couple distinctive band vehicles, first a 1957 Cadillac hearse, and later a customized 12 seat bus that was painted red white and blue. The band practiced in Bill Moan's family home basement, which he painted in a 'psychedelic' design that's visible in the pic.
In October 1970 they were listed as making an appearance on the 'Shortgun' TV show in Dayton. The last show we could find was in 1971. Bill Moan continued on in another band that seems to be called Crystal Rain for a short time before changing the name.
The two 45s, issued within a few months, are really high quality, and it's too bad they didn't record more. Bill Moan wrote and sang "Hey Ma Ma", "You And Me", and "World On Fire", while Jerry Scott wrote "Funeral At Dawn", an instrumental that shows off his Farfisa combo organ sound well.
Bill Moan passed away on 2019.
Discography:
Hey Ma Ma / Funeral At Dawn - Vangee 306, April 1969
World On Fire / You And Me - Dynamic Sound no #, Nov 1969