the Vandaliers
---
Fremont, 1962-67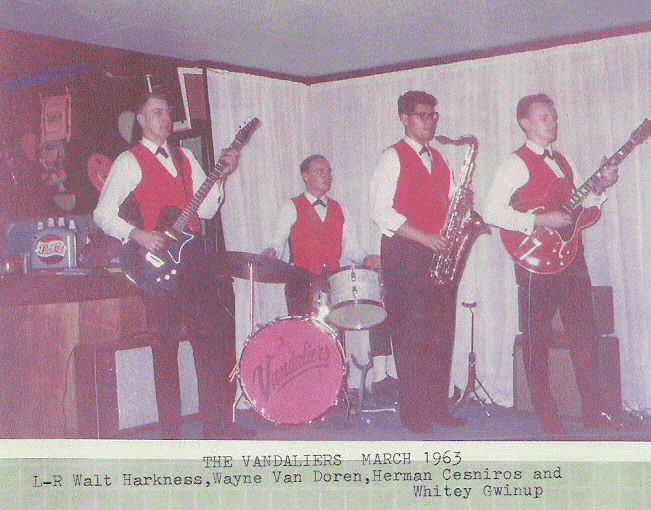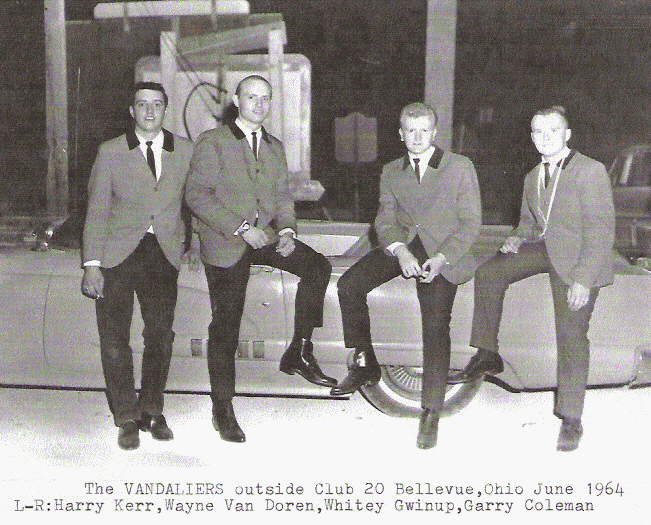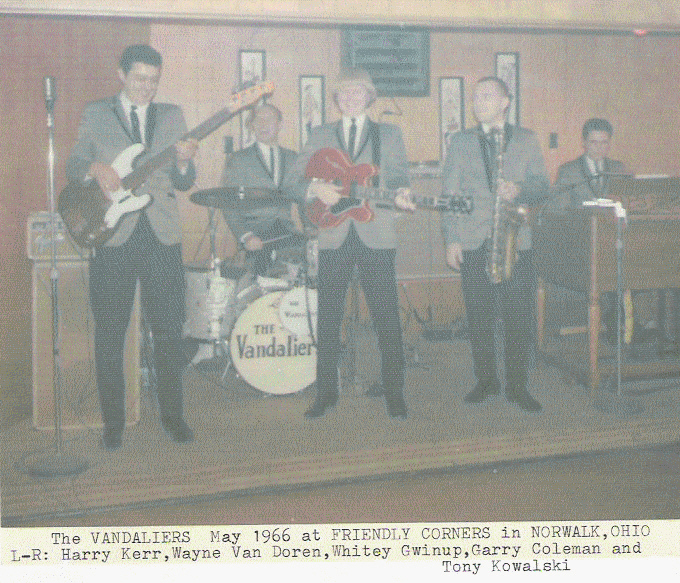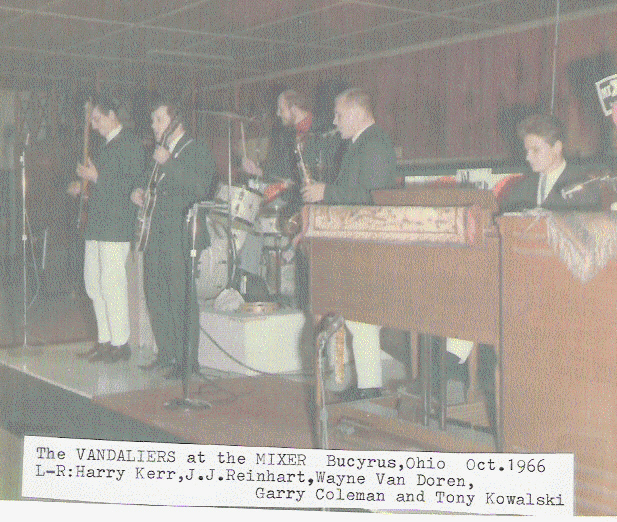 In August of 1962, the Vandaliers came together as a 4 piece garage band. The name Vandaliers came from the name "VAN" hat was painted on Wayne's bass drum. The band members were; Whitey Gwinup of Fremont (lead guitar), Walt Harkness of Fremont (bass guitar), Herman Cesniros of Hessville (saxophone) and Wayne Van Doren (drums).
The band played teen dances and at one dance in Tiffin, Ghoulardi (Ernie Anderson) of Cleveland was also there to entertain. The band also played night clubs in Fremont, Bellevue and Tiffin.
On February 2, 1964, the band made a demo record at Courier Records in Fremont. On the record were 2 songs; She's Mine (written by Whitey Gwinup) and Office Party, an instrumental (written by Herman Cesniros).
In May of 1964, Herman left the band to travel with a road band. Garry Coleman of Fremont took Herman's place on saxophone. In June of 1964, Walt also left the band and was replaced by Harry Kerr of Bowling Green on electric bass. In July of 1964, Tony Kowalski of Sandusky (organ) became the 5th. Vandalier.
The band played 10 week shows at club 224 in Tiffin to large college crowds and fans from the area. They played 12 week shows at Friendly Corners in Norwalk and had fans from Toledo, Cleveland and Columbus coming to Norwalk to see the show. The band also played 6 week shows at the Peppermint Club in Toledo and 8 week shows at the Circus Club in Bowling Green. The band played that 4 club circuit for 2 years, playing, 3, 4 and 5 nights a week plus other 1 night shows and worked 40 hour a week day jobs.
On May 20, 1965, the Vandaliers opened a show for the Beach Boys at the Sports Arena in Toledo. They also played back-up for Glen Campbell on the same show. Glen was an up-and-coming star on the T.V. show Shindig and was with the Beach Boys to help fill in for Brian Wilson who was back in California. Over 6,000 teenagers were there to enjoy the show.
In June of 1965, the band recorded 4 songs on tape at Audio Recording in Cleveland for Bob Brown of Courier Records. The songs were; Need Your Lovin, You Talk Too Much, True Love I Found (by Whitey Gwinup) and If It's Love You Want (by Whitey Gwinup and Harry Kerr).
On September 2, 1965, a promoter from Cleveland took the band to Cleveland Recording to cut a demo record. The band recorded 3 songs; True Love I Found, If It's Love You Want and an instrumental.
On July 9,1966, Whitey Gwinup left the band to go on the road with a band called "The Other Ones"(later changing their name to the Turfits). Whitey was replaced with J. J. Reinhart from Toledo.
On September 16, 1966, the band played the grand opening of a new teen club in Bucyrus, Ohio. It was called the Mixer and was billed as Ohio's Largest Young Adult Nite Spot and had an 11,000sq.ft. Dance floor. The band was advertised on WKYC Cleveland and WCOL Columbus.
In March 1967, Tony Kowalski left the band to enlist in the Coast Guard. Tony was replaced by George"Butch" Kelly an organ player from Toledo. In May of 1967, Garry Coleman also had to leave the band. Garry was replaced by Larry Mann a sax player from Toledo.
On June 30,1967, the band played the grand opening for a new teen dance center in Danbury, Ohio. It was called Harbor Lites and would accommodate 2,000 people.
With the loss of Whitey, Tony and Garry, The band lost that great sound that made it so popular. In October of 1967, the Vandaliers, one of Northern Ohio's best known bands through the 1960's, broke up. In November of 1967, Wayne and Harry put together a 4 piece band called Mail Order. For more information, go to Mail Order.
Whitey went on to play with The Other Ones and other bands in the Fremont area. As of March 2007, Whitey owns Whitey's Custom and Collision (an auto body shop) in Clyde. He also plays dobro in a church band called In Spirit and is working on recording a C.D. of Gospel music.
After the Vandaliers, Wayne played in Mail Order, Mod Country Trio, The Sleek Brothers Band and Last Shot Country Rock Band. As of March 2007, he owns a painting business in Clyde. He also works stage crew at the Ritz Theatre in Tiffin and the State Theatre in Sandusky. He still plays a few shows each year with local musicians.
Garry Coleman went on to play with Mixed Company and Night Watch He also played in a band from Fremont called Robbie and The Ramblers. That band went on to play the Peppermint Lounge in New York City. On September 6, 2003, Garry was inducted into the Music Hall of Fame in Fremont. As of March 2007, he lives in Titusville, Fl. and is a development manager for Allstate Ins.
Harry Kerr played in Mail Order and then put his electric bass in storage. He was promoted to Sales Manager for Brush Wellman and transferred to California. As of March 2007 he lives in San Clemente, Ca. and is retired from Brush. He owns a D. J. Mobil Music Service called Music Ala Cart and has started playing the electric key board.
After his discharge from the Coast Guard, Tony Kowalski taught music at the High School in Sandusky. He also played in We Three, New Pastels and other show bands. .As of March 2007, he lives in Sandusky and has retired from teaching.
The band stays in touch with each other and whenever possible they will meet, go to dinner and talk about the music.
Particulars supplied by Wayne Van Doren.