Tyler
---
Columbus, Nov 1976 – June 27, 1977
OMG! What can you say? Tyler….One of Columbus' first super groups! Phenomenal songs played and arranged by great musicians dealing with major alcohol and substance abuse issues – and glaring personality conflicts – but finding a way to come up with that perfect performance chemistry.
Frank Pierce (Child, Frank Pierce Group) and John Durzo (J.D. Blackfoot, Strongbow, Muff Bros, Money) met in the summer of 1969 and formed the group Sweat Bighouse with Billy Carroll (Fifth Order, J.D. Blackfoot) and Michael Shortland (J.D. Blackfoot, Strongbow). Frank and Billy were both singers AND drummers, so they would take turns fronting the band while the other would play drums. Sweat Bighouse only did a few fraternity gigs on the OSU campus, but a strong friendship was formed among the members. In late 1976 – fresh from the flames of a breakup with Strongbow – Durzo approached Frank about recording some of his songs at Owl Recording. The band Tyler, names after Frank and Liz Pierce's son Tyler, was created from those sessions. Frank brought in Terry Finneran, Dan Hoogland, Dick Mackey, and Ted Lenker, and then added Randy Huff on drums when it became apparent Frank would concentrate on piano and vocals. I recall that Frank's brother David had been in the initial plans, as well as another bass player, but Huff and Durzo became the drummer and bassist, forming a scary rhythm section foundation. I'm not sure how Charlie Bleak was enlisted but his addition definitely gave the band another sound. There were over twenty originals from Frank and Charlie (from his solo album) plus another twenty covers ranging from stock blues classics to the Beatles, including Lady Madonna in 5/4 time!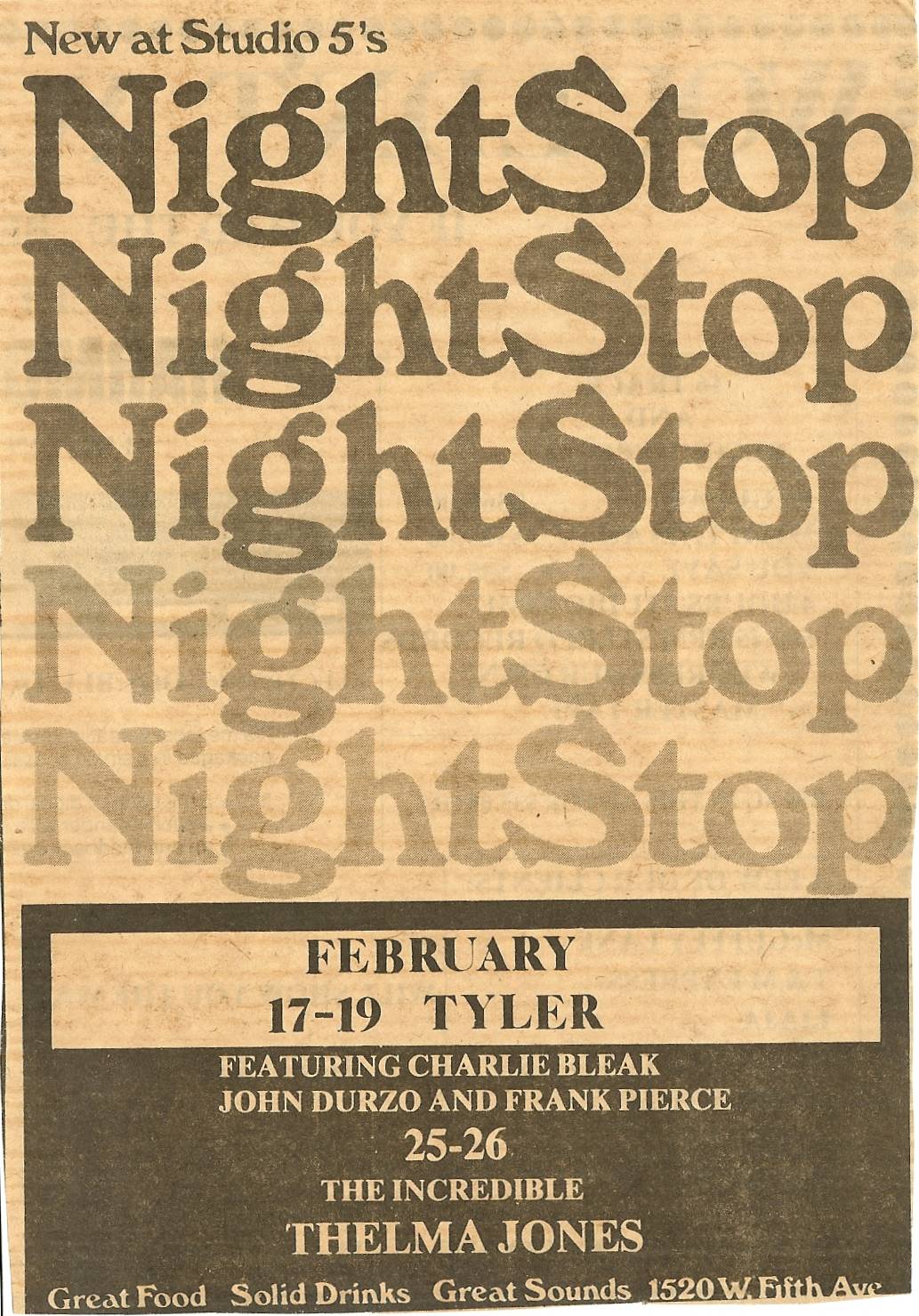 The band would have never gotten off the ground if they did not have help from two club owners: Randy Reichenbaugh (Studio 5 on 5th Avenue in Grandview) and Ray Rogers (Mr. Brown's & Cinema Disco/Café Rock'n'Roll, both located around 7th Avenue and High Street on South Campus). The band would alternate gigs at Studio 5 and Mr. Brown's with an occasional stop at Absolutely Positively 4th Street. Sometimes after the Mr. Brown's gigs, you could see the band members dodging traffic on High Street as they carted their gear across the street to Cinema Disco for an all-night jam with Fritz the Night Owl. David Durzo and Jeff Carpenter ran sound and lights for the band for beer, and you could always find some underage thugs checking IDs at the door. At some point in March, David Durzo let Charlie Bleak take his care home. The car and a rather large oak tree ended up French kissing on Lane Avenue, with Charlie winning a free trip to the emergency room with a broken thighbone. Jimmy Lynch was recruited to fill the void in Charlie's absence.
Terry Finneran left the band sometime in May. Through all kinds of mild freak-outs, near ODs, and general artistic differences, the band came to an end on July 27, 1977. They were offered two recordings contracts (one from Buddah records in New York, and one from CBS records in Los Angeles), managed to play with Tom Scott for about two weeks at Mr. Brown's while he was in town with the Capital University Jazz Arts Group, and won the hearts and respect of every decent musician in the area…all within 8 months.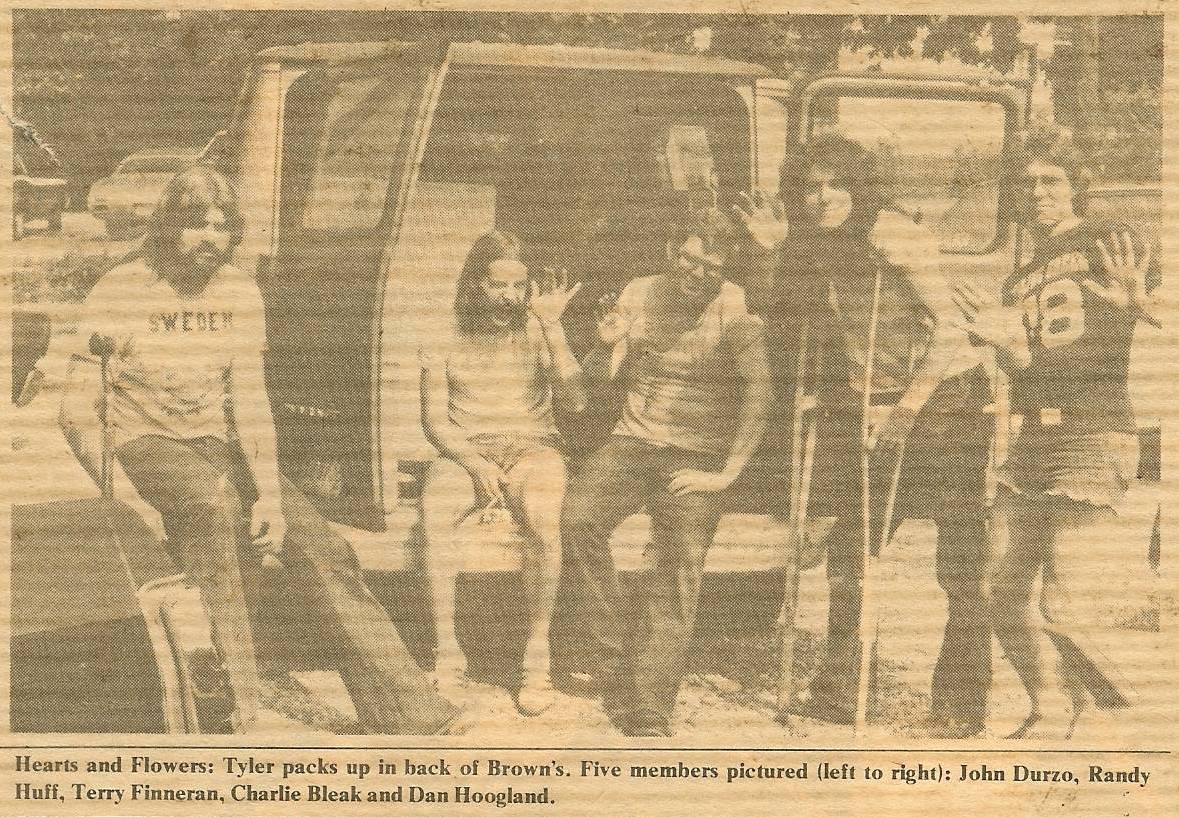 Frank Pierce – THE songwriter, piano, drums, vocals, lapses in reason. Dick Makey – vocals, psychoses. Ted Lenker – guitar, attitude. John Durzo – Fender/Rickenbacker bass, Moog Taurus pedals, vocals, beer,. David Pierce – drums, percussion, shyness. Randy Huff – drums, percussion, sailing. Terry Finneran – piano, sax, flute, harmonica, vocals, blue funk. Danny Hoogland – sax, vocals, screams. Charlie Bleak – rhythm guitar, vocals, imbalance. Jimmy Lynch – rhythm and lead guitar, vocals, u-turns.