Twister
---
Akron, 1975-8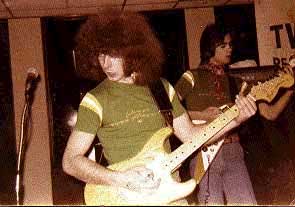 For the whole story on Twister, let's get it right from guitarist Mike Fred - "Twister's birth is kind of humorus. I was living in Maple Heights in 1975 working nights in a machine shop and practicing 6 hours a day where I was living. Drummer Joe Tedarro was looking for a lead guitarist. I auditioned and got the gig. I told (bass player) Dave Smith the other guitar player had to go. The guitar player and Joe were friends so of course Joe threatened to leave when we fired his friend. I said no problem as I had his replacement (brilliant drummer named Mark Walter who I had played with for years prior) already on the way in from Florida. Mark and I had played in bands in Kentucky and Florida as well as several high school basement bands. I asked Dave to get another guitar player. The only one he knew was the kid they got rid of to get me in. So we reactivated Marc Lee Shannon.
Dana Darrow was called in as lead vocalist. Dave and Dana had gigged together in the past as well. TWISTER stayed together until late in 1978. There was a concern about Marc Lee as he was still in high school, but he was so good, we figured we would lie if we had to in order to get him in a bar!
TWISTER'S first gig was a battle of the bands at Walsh Jesuit High school which we won. Our biggest attended gig was the 4th of July fireworks show at Fairlawn Mall (20,000 plus people showed up for the fireworks. I wish I could say it was for us, but that would be stretching things). TWISTER played a lot at St Vincent's High school (Marc Lee went there) and numerous other high schools and even Akron U and Kent State. There were gigs at Filthy McNasty's in Kent and the Flying Machine. Then there was the infamous deaf convention at the Holiday Inn grand ballroom downtown Akron (complete with strippers hired by the convention and the craziest audience we had ever seen).
We started working on original material and that caused a strain in the band due to different directions by various band members. We were scheduled to open for Manfred Mann's Earthband at the Akron Civic Theater, but they canceled the tour that year.
After Marc Lee and Mike Fred left the band carried on under a different name for a year or so then folded.
Marc Lee went to LA to GIT (Guitar school). Marc played sessions for the Rave Ups, and was in a movie called Fast Forward in the early 80's. He now lives in Akron and plays with Michael Stanley and he just released his first CD titled NO ORDINARY MAN.
Mike Fred quit playing guitar in 1981, but started again in 1991 after seeing Ohio legend Phil Keaggy in Florida. Mike has released 4 solo fingerstyle acoustic guitar CD's since 1999. Mike has performed mostly in Salt Lake City since 1999, but also plays locally in Florida where he lives and goes fishing with old friend Mark Walter.
Mark Walter quit playing drums in the late 90's and Dana Darrow is no longer involved with music.
As a side note, soundman Jerry Falcone (considered the 6th band member) went on to run sound for Spyro Gyra, Beatlemania, Joe Savage, and numerous mega bands."
TWISTER line-up:
DANA DARROW- LEAD VOCALS (AKRON)
MIKE FRED- LEAD GUITAR, VOCALS (CUYAHOGA FALLS)
MARC LEE SHANNON- LEAD GUITAR, VOCALS (AKRON)
DAVE SMITH- BASS GUITAR, VOCALS (AKRON)
MARK WALTER- DRUMS (CUYAHOGA FALLS)
JERRY FALCONE- SOUNDMAN (AKRON)
STEM- DRUM TECH (CUYAHOGA FALLS)
EDDIE QUINN- GUITAR TECH (CUYAHOGA FALLS)
Check out Mike Fred's latest CD at www.mikefred.com or myspace.com/mikefred51