Thoughts of Life
---
Akron, 1967-8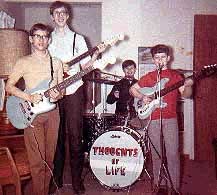 Mike Fred recalls the Thoughts of Life: "They were my first "combo" (they were not bands in those days they were combos). The time frame was 1967-68. There was a local band in Cuyahoga Falls at the same time called the Facts of Life, so this was a close rip off on their name.
The drummer was Rick Popeck (he went to St Vincent) Rick and the other members were all from North Hill area of Akron, and I was from Cuyahoga Falls.
Mike Fred (me) was the short little guy with the Hagstrom guitar and little Vox amplifier. The 2 guys with the Fender guitars were cousins. The tall one's name was Ken Lesnick. The other guy was Dave and I do not have a last name in my memory banks.
Our first gig was the Akron Polish American Club. We made $5 each and all the Polish sausages and hot dogs we could eat. That may also explain why they never laughed at my Polish jokes as their families were members there! Go figure. Being the huge Ghoulardi fan I was (he was infamous for Polish jokes), I had a million Polish jokes and these guys NEVER laughed at them. Might also explain why they fired me too! :-)
We also played some parties and our big gig was a battle of the bands at the YMCA in Cuyahoga Falls. I knew we were in big trouble when these college looking guys came in with big Vox amps, a Farfisia organ and suits! They trounced us."
THE THOUGHTS OF LIFE line up was:
Mike Fred- guitar and vocals
Ken Lesnick-guitar
??- guitar
Rick Popeck- drums and vocals